I'm admit to it up front, I'm biased. My portfolio is loaded with North American unconventional oil producers so I would like to see that pesky discount between North American and Global Oil prices disappear.
As of the writing of this article WTI is selling for roughly $89 per barrel while Brent is selling for $112 per barrel, an incredible $23 gap.
The part that really makes it unbelievable is that the United States (where WTI is priced) needs to import more oil than any other country in the world. As of June the United States was still importing over 9 million barrels per day. Given that the United States on a daily basis consumes far more oil than it produces wouldn't you think that its oil price should be at least as high as everyone else?
The WTI discount to Brent has been caused by the rapid increase in tight oil production in the US Bakken and Canada. This oil is transported to the storage facility in Cushing Oklahoma which is the delivery point for WTI crude futures. This delivery point has a limited amount of storage facilities and a lack of pipeline access to other crude oil demand areas.
So while other areas of North America are still importing oil this insufficient outflow infrastructure in mid-west area of US has depressed the price of WTI crude.
I decided to check in on the third quarter conference call of large oil producer (and WTI spread victim) Canadian Natural Resources (NYSE:CNQ) to see if there was any hope for this discount to narrow in the near future.
And based on what Canadian Natural had to say there is near term hope. Here is the key part of the conference call on the subject:
WTI or light oil pricing has been under pressure relative to Brent and LLS due to the pipeline bottlenecks at Cushing and the rapidly growing light oil production in the U.S. and, to a lesser degree, in Canada. The Cushing bottlenecks are well on the way to being removed. C will be expanded to 400,000 barrels a day of takeaway capacity in Q1 2013 and 850,000 barrels a day in Q2 2014. Plus, the Keystone Cushing market link will add 700,000 barrels a day of capacity by Q3 2013. As a result, we expect to see WTI to LLS differentials narrow to essentially a transportation cost between Cushing and the Gulf -- about $5 a barrel.

Currently, there's about 500,000 barrels a day of imported light into the Gulf, and there are some concern that North American light oil production will continue to grow to the point that it pushes all these foreign barrels out, causing the WTI to Brent differential to again widen. However, we need to remember that light can be blended with heavy to produce a medium crude look-alike and compete for the medium crude oil refining capacity on the Gulf Coast. And today the Gulf imports about 1.5 million barrels a day of medium crude. There's also 2 million barrels of light oil refinery capacity on the East Coast of Canada and the U.S. Today, there are significant real infrastructure being built to displace these 2 million barrels a day of foreign imports with North American light oil. And longer term, there's likely going to be a pipeline access for Canadian heavy oil -- or Canadian oil -- light oil and heavy off both the West and East Coast. However, they face their own regulatory and stakeholders challenges.
Just based on the numbers involved with the pipeline solutions that are coming on in 2013 and 2014 I am optimistic that this discount will be reduced as CNQ suggests.
2013 will see the second phase of the Seaway reversal take another 250,000 barrels per day from Cushing and the Keystone Gulf Coast leg will add another 700,000 barrels per day. That is almost 1 million barrels and 2014 will add a similar amounts of capacity.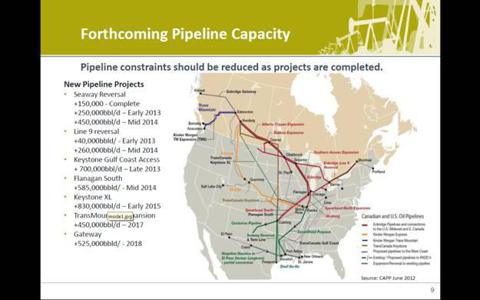 So what is an investor to do to take advantage of this? Get long North American unconventional oil producers that are going to get a big uptick in cash flow when they start selling oil at global prices.
My single favorite unconventional light oil producer is still Petrobakken which is currently in the middle of a very rapid ramp up in production from 39,000 barrels per day in September to an expected 54,000 barrels per day of production by the end of 2012. In addition to that catalyst which should get the stock price moving, Petrobakken (PBKEF.PK) pays a dividend of over 8% and has an inventory of drilling locations that will keep the company growing for the next decade.
Disclosure: I am long PBKEF.PK. I wrote this article myself, and it expresses my own opinions. I am not receiving compensation for it (other than from Seeking Alpha). I have no business relationship with any company whose stock is mentioned in this article.