A perfect storm of steeply falling demand and continued additions to refining capacity are hitting independent oil refiners' profit margins, and the industry is expected to experience "maximum stress through at least 2009," said Moody's Investor Services in a report explaining its ratings downgrade of the group to negative from neutral.
While cyclicality is built into our refining outlooks, the move to a negative outlook stems from demand changes that appear to be structural and enduring.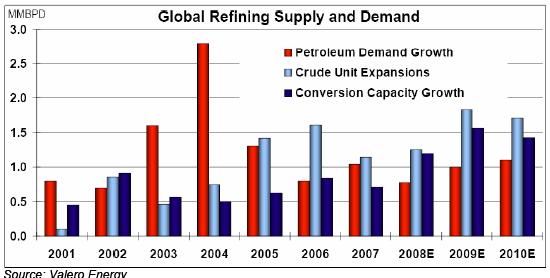 Moody's said the fall-off in demand is the steepest since the early 1980s, suggesting more lasting damage to worldwide refined oil demand in coming years.
High complexity refiners, such as Tesoro Petroleum (NYSE:TSO) and Valero Energy Corp. (NYSE:VLO), are better positioned to ride the down-cycle, Moody's said, and noted that refiners came into the downturn after four straight years of strong margin growth.
See Moody's full industry outlook at "Independent Refining and Marketing."