Insider activity is very important for investors in any company. The SEC still requires insiders to report all of their transactions. As insiders have an insight into the workings of their company, it may be wise for an investor to look at these reports to see how insiders are legally trading their stock. For this reason, I decided to write this article about Durect Corporation (NASDAQ:DRRX). I am going to talk a little about the company and its next catalyst.
Durect is a specialty pharmaceutical company that develops pharmaceutical systems technologies based on its proprietary drug delivery technology platforms. It focuses on the development of products for the treatment of various chronic and episodic disease areas, such as pain, central nervous system disorders, cardiovascular disease, and other chronic diseases.
A Glimpse Into Its Clinical Developments
Click to enlarge images.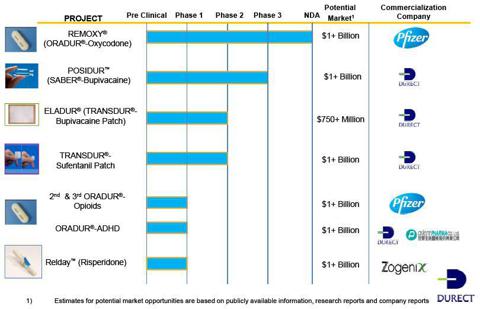 Click to enlarge
Source: Durect.com.
Remoxy: The Nearest Opportunity
Among its candidate products is Remoxy. This drug is an oral, long-acting oxycodone gelatin capsule, similar to blockbuster drug oxycontin. This candidate is under development with Pain Therapeutics (NASDAQ:PTIE), to which Durect has licensed exclusive, worldwide, development and commercialization rights under a development and license agreement entered into in December 2002. Subsequently, Pain Therapeutics has sublicensed the commercialization rights of Remoxy to King Pharmaceuticals, which in turn was acquired by Pfizer (NYSE:PFE) in February 2011.
Remoxy is formulated with its ORADUR technology, which combines properties designed to resist common methods of prescription drug misuse and abuse with the convenience of twice-a-day dosing of oxycodone. Extended-release oxycodone oral painkillers achieved annual sales greater than $3.0 billion in 2010 in the U.S. Durect will receive payments if certain development and regulatory milestones are achieved. Analysts estimate that Remoxy has the potential to achieve annual sales in the billion-dollar range.
Possible Financial Impact on Durect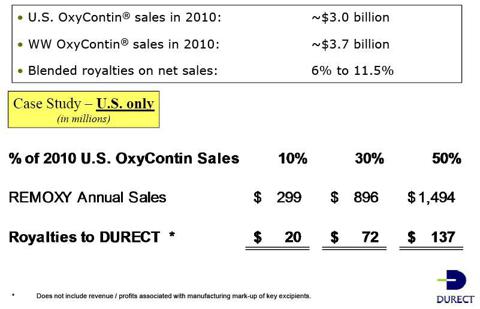 Click to enlarge
Source: Durect.com.
Pain Therapeutics and Pfizer know the market potential of Remoxy. Various analysts expect the opioid market to grow from $11 billion in 2011 to $15.3 billion by 2016. For example, during its most recent earnings call with investors, Pfizer President and General Manager of Specialty Care and Oncology Geno Germano said:
We remain cautiously optimistic to be able to bring Remoxy to the marketplace. We have preliminary results from two bioavailability studies that are currently being analyzed along with data from experiments designed to optimize the formulation composition and our analytical methods for that product. And upon completion of those analyses we will determine the timing and the nature or our engagement with the FDA to address the complete response letter that we received in June last year and at this time we are certainly hoping to meet with the FDA in the fourth quarter of 2012.
This cautious optimism of Pfizer can be a sufficient reason for those investors who are thinking about buying shares of Durect. But if you see that Durect's insiders are buying shares, as I will demonstrate below, you can be more than enough of a reason.
First Catalyst
Durect has the first important catalyst in March 2013 because Pfizer has initiated a confirmatory bioavailability study, with results expected in early 2013. It is targeting a meeting with the FDA in late March 2013 to discuss that data. Based on feedback Pfizer receives from the FDA at that meeting, Pfizer will determine the next steps and/or required timing to respond to the CRL.
Fundamental Basic Review
Durect has a market cap of $86.66 million and an enterprise value of $68.32 million. This stock trades at a expensive valuation without considering its clinical developments. Its trailing P/E is 4.49, and its forward P/E is just incalculable. Durect's estimated growth rate for this year is 18.56%. It has a total cash position on its balance sheet of just $24.78 million, and its total debt is at zero.
For the nine months ended September 2012, Durect's revenue increased 102.85% to $49.80 million from $24.55 million from the same 2011 period. Durect is trading at $0.99 per share (as of Nov. 16, 2012) and the basic share count is 87.67 million.
Insider Activity
The last time insiders bought shares was in 2010. In 2012, insiders have started to buy shares in Durect. The total number of bought shares is 367,923 in 2012.
Felix Theeuwes, chairman and CSO, has just bought 100,000 shares, or $101,000 worth of stock, at $1.01 per share.
Jon S. Saxe, director of Durect, has just bought 7,810 shares, or $7,600 worth of stock, at $0.97 per share.
Some remarkable information I would also like to mention is that Robert Bruce, founder of the Bruce Fund, holds 1,215,973 shares in Durect, or 1.39% of shares outstanding. Also, Jean-Marie Eveillard, CIO of the Arnhold and S. Bleichroeder Advisers LLC Global Value Team and portfolio manager of First Eagle Global, Overseas, Gold, U.S. Value and Overseas Variable Funds, holds 2,720,409 shares in Durect, or 3.1% of shares outstanding.
Risks
These types of stocks are generally considered to be highly speculative and high risk because of their lack of liquidity, small capitalization, and limited following and disclosure. The most important risks are the possibility of being de-listed from the Nasdaq or that the company makes a reverse split.
Conclusion
Durect is positioned to have a significant changes in the price of its shares. Its association with Pain Therapeutics and Pfizer is a guarantee for the final development of Remoxy. The insiders know this, and for this reason they are buying shares this year.
Disclosure: I have no positions in any stocks mentioned, and no plans to initiate any positions within the next 72 hours. I wrote this article myself, and it expresses my own opinions. I am not receiving compensation for it (other than from Seeking Alpha). I have no business relationship with any company whose stock is mentioned in this article.