Historically Black Friday and Saturday account for 25% of November sales, and 10% of overall holiday sales. Additionally, the last week of November accounts for 30-40% of sales for the month, and Black Friday weekend accounts for 25% of the sales for the month. According to the National Retail Federation (NRF), 147 million shoppers in 2012 plan to be at the malls making the most of the sales. This is in comparison to 152 million people who shopped during Black Friday weekend in 2011.
Why the 2012 slowdown? Consider that Hurricane Sandy kept people away from shopping given the financial loss from the destruction, and the loss of power at retail locations. In essence, all eyes are on Black Friday weekend, with the hope it will make up for the loss of sales in November.
We wanted to take this opportunity to focus on the stocks to watch during the shopping holiday. A name of focus for us is Macy's (NYSE:M), the historical winner of Black Friday weekend. Macy's stock is trading at around $40.93 versus its 52-week range of $29.43-$42.17, up 38% in the past year. The stock trades at a P/E multiple of 12 times, and a forward P/E of 11 times. Also, Macy's stock pays a dividend of 2%. Other companies in its peer group such as Kohl's (NYSE:KSS) trades with a P/E multiple of 11 times, and a forward multiple of 10 times, Nordstrom (NYSE:JWN) trades with a P/E multiple of 16 times, and forward P/E of 14 times, and Kohl's trades with a P/E multiple of 12 times, and a forward P/E of 10 times. Nordstrom, and Kohl's pay a dividend of 1.9, and 2.4%, respectively.
Macy's Expectations
This Back Friday Macy's comes with fresh inventory, and the 15% off WOW! Pass, which will be offered November 23rd through November 24th. This pass allows shoppers to take an extra 15% or 10% off with a Macy's card or WOW! Pass. Kohl's has more than 500 early bird specials, and $15 Kohl's Cash for every $50 spent. Macy's will once again open its doors at midnight, unlike its competitors J.C. Penney (NYSE:JCP), which will open at 6 a.m. As per NRF, last year 24.4% of shoppers visited stores at midnight, up 3.3% from 2009, and up 9.5% from 2010. Hopefully the improving trends will continue. Furthermore, Macy's is expected to benefit from its dot.com initiatives, which have approximately 480 stores fully integrated. The fourth quarter contributes 55% to overall sales for department stores. Hence it will be a significant period for Macy's for top line growth.
For Q3-2012, Macy's reported that sales increased 3.8% year-over-year to $6.1 billion, in-line with consensus. Earnings were reported as $0.36 per share, exceeding consensus estimates. The company has ample liquidity on its balance sheet. As of end quarter Q3-2012 the company had $1.3 billion of cash on its balance sheet. Management has shown discipline in returning cash to its shareholders by using the cash balance for a dividend payout and share buybacks.
The chart below compares share performance over the past year. "D"s mark dividends paid.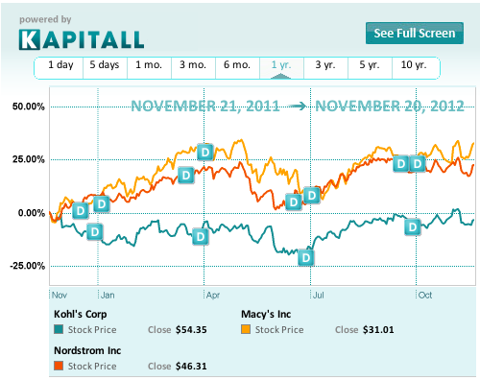 In conclusion, Macy's is an attractive opportunity to be involved in a winning retailer on Black Friday. The company's solid balance sheet and dividend yield is an added incentive for investors.
To help you play the Black Friday trends Kapitall released this video, which explores the economy of Black Friday, the importance of its sales for businesses, and the rising popularity of Cyber Monday. An infographic of the data can be found here.
Disclosure: I have no positions in any stocks mentioned, and no plans to initiate any positions within the next 72 hours.
Business relationship disclosure: Business relationship disclosure: Kapitall is a team of analysts. This article was written by Sabina Bhatia, one of our writers. We did not receive compensation for this article (other than from Seeking Alpha), and we have no business relationship with any company whose stock is mentioned in this article.