A few short years ago, investors welcomed global diversification as insulation against domestic recession. Companies with geographically diverse revenue streams, such as Mettler Toledo (NYSE:MTD), were seen as offering a healthier alternative to companies generating all their revenue at home.
Today, Mettler's diversified revenue is hamstringing growth as a third of its sales come from the austerity impacted Europe.
But, amid the weak results in the EU there is a silver lining.
The majority of Mettler's business in both the U.S. and Europe is tied to replacing older equipment. Customers shunning upgrades today are merely deferring purchases, which suggests Mettler will recoup lost sales over time.
Even better, those future sales are likely to be leveraged against cost cutting for greater earnings leverage. Much like cost cuts in the U.S. in 2009 and 2010 sparked significant earnings growth despite weak GDP growth, cost controls put in place at Mettler today in Europe will boost margins in late 2013 and 2014.
The company is already doing a good job managing analysts expectations. They've beat the Street in each of the past 4 quarters, prompting analysts to boost 2012 earnings per share estimates to $9.36 from $9.24 in the past 30 days.
The impact of European slowing has brought the percentage of sales from the region down to 32% from 37% in 2011. This decline is masking emerging markets growth, which has helped increase sales from Asia to 33% from 29%. In the most recent quarter, Europe sales dropped 5% while Asia Pacific rose 7%.
The company's cost cutting program has helped boost operating cash flow, which increased 5% to $281 million last year. In Q3, operating cash flow rose to $103.9 million, up from $84.1 million a year ago.
Gross margins rose to 53.3% from 52.3% a year ago and SG&A fell to 29.6% of sales, down from 30.9% last year. This resulted in a 19% lift in earnings per share to $2.40.
In Q4, the company expects EPS to grow 8-11% on flat revenue. In 2013, EPS should tack on another 7-10%, according to the company.
Historically, this has been a good time to own shares.
Over the past 10 years, shares have gained ground 9 times, producing a median return of 13.73%.
Source: Seasonal Investor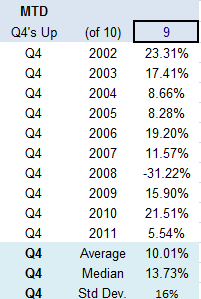 On balance, the majority of upside has come in the month of November, with shares historically lagging the broader market in December.
This suggests interested investors can take their time building positions through year end. If these deferred European sales materialize in the back half of 2013, investors should find themselves nicely rewarded.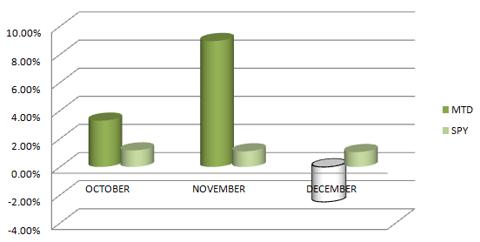 Disclosure: I have no positions in any stocks mentioned, but may initiate a long position in MTD over the next 72 hours. I wrote this article myself, and it expresses my own opinions. I am not receiving compensation for it (other than from Seeking Alpha). I have no business relationship with any company whose stock is mentioned in this article.