Silence is golden -- in Washington. That was the message conveyed by U.S. equity markets during the first two days of the holiday-shortened Thanksgiving week. With the President a world away in Myanmar and Cambodia and Congress adjourned, the market was free to grasp at the verbal straws (faintly conciliatory comments regarding the possibility of a fiscal cliff compromise) held out by some Democrats and Republicans last Friday and over the weekend. The result: a rally of 2% in the S&P 500 on Monday, and a market with a stable enough psyche to hold those gains Tuesday.
Monday's dramatic move higher erased nearly one-third of the Dow's post-election losses in a single session. Investors searching for a concrete reason to believe in the move won't likely find one. As one high level equity trader quoted by CNBC noted, nothing has fundamentally changed from last week in terms of the fiscal cliff negotiations, and big moves are more likely to occur in weeks where volume is historically thin such as the Thanksgiving holiday week.
No matter what happens during the last part of November, the outlook remains extraordinarily uncertain, a reality that is likely to pressure stocks in the coming month. Just ask Goldman Sachs' chief U.S. equity strategist David Kostin who, in a note, reminded investors that in the past, fiscal policy debates have generally been resolved with eleventh-hour decisions at best and given the complexity of the current issue, no one should expect this time to be any different.
Kostin notes that the extension of the Bush tax cuts was delayed until December 17, 2010, and adds that the debate over the extension of the payroll tax cuts dragged on until December 23, 2011. In the end, Goldman believes that the chances of a deal being reached before the end of the year are just 55%.
On the other hand, analysts at both HSBC and Societe Generale have voiced optimism about the prospects for a deal. Similarly, Wharton School professor Jeremy Siegel told CNBC last Thursday that any sort of a deal could:
"...buy you 500 to 1,000 Dow points very quickly... and you will not wish you were on the short side of this equity market."
Siegel opines that the main reason the market has fallen so far in the past several weeks is the prospect of a rise in the tax on capital gains:
"Honestly I think people are locking up capital gains... there's a couple of trillion dollars in capital gains locked in this market and I think that is the pressure."
It isn't at all clear why this pressure should let up anytime in the very near future. Indeed, if the past is any indication, investors would do well to be short the market going into December. Here's Goldman's Kostin again:
"The nearly 9 pp [scheduled] hike in capital gains taxes is similar in magnitude to the 9 pp rise in 1970 and the 8 pp rise in 1987. In both prior cases, S&P 500 posted negative returns in December as investors locked-in the lower rate. The S&P 500 fell by 1.9% in December 1969 and 2.8% in December 1986."
Meanwhile, Bank of America Merrill Lynch warns that politicians are habitually creating dramatic situations in order to -- effectively -- force themselves to get things done. The predictable consequence has been unpalatable market volatility:
"...policymakers have recently made a habit of creating deadlines, thresholds and cliffs to force themselves to act. The result has often been severe market volatility around key decision dates."
The following chart shows equity market returns around what Bank of America Merrill Lynch calls "brinksmanship events":
(click images to enlarge)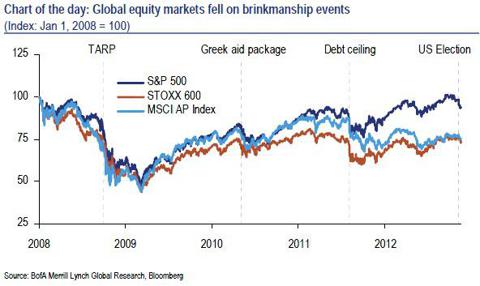 Source: Bank of America/Merrill Lynch, Bloomberg
The next chart shows volatility surrounding important cliffs, deadlines, and milestones: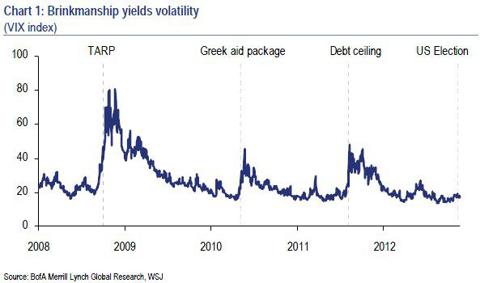 Source: Bank of America, Merrill Lynch, The Wall Street Journal
Market participants should expect the uncertainty surrounding the fiscal cliff, combined with the pressure exerted by investors selling to lock-in the 15% capital gains rate, to weigh on stocks in December. Combined with historical data on volatility surrounding so-called brinksmanship events, this suggests that investors should stay short the broad market (NYSEARCA:SPY), (NASDAQ:QQQ) and long volatility in the near term.
Disclosure: I have no positions in any stocks mentioned, and no plans to initiate any positions within the next 72 hours. I wrote this article myself, and it expresses my own opinions. I am not receiving compensation for it (other than from Seeking Alpha). I have no business relationship with any company whose stock is mentioned in this article.