One company that continues to impress me each quarter is Whole Foods Market (NASDAQ:WFM). Back in August I recommended investors be patient and wait for a pullback before entering into new positions. Since the writing of that article the stock has traded down a few dollars and provided essentially no return for investors. I am a believer in the business model of this company and eagerly want to initiate a position. However the stock still trades at price multiples which are very lofty and is forcing me to sit on the sidelines.
This shouldn't turn you away from reading the remainder of this article however. Stocks move up and down, and I strongly believe that patience will provide for a more favorable entry point. Whole Foods is doing two things that every business owner dreams of, rapidly growing operations and generating tremendous cash flow. In this article we will highlight each of these points and what it means for the stock moving forward. I would urge you to put Whole Foods Market on your watch list as any pullbacks in price may create attractive entry points for certain investors.
Growth
Whole Foods has a very unique business model which I believe is worth paying attention to. They are truly a company who puts their customers and employees first. While every company may describe themselves in this same manner, Whole Foods can back it up. The company recently celebrated 15 years on the Fortune "100 Best Companies to Work For" list. Employee cash compensation is capped at 19x the company average. Co-CEO John Mackey earns just $1 per year (although his stock options tell another story). Customers are extremely loyal, which is a rare occurrence for companies in this day and age. Co-CEO Walter Robb says that 20% of the customers generate 75-80% of sales.
The points in the paragraph above are mentioned because I truly believe the company has achieved such tremendous growth due to their uniqueness. In today's marketplace consumers want a product at the lowest possible price, regardless of where it comes from. Whole Foods breaks this rationale by giving customers an exciting shopping experience which invites them back for more. The numbers don't lie either, the company is booming on all levels.
Whole Foods reported fiscal year 2012 revenue of $11.97 billion a few weeks ago, growing just under 16% year over year (see revenue table below). Revenue growth has come from a variety of factors ranging from new store openings, increase in same store sales, and an increase in average transaction size from customers.
| | | | | | | |
| --- | --- | --- | --- | --- | --- | --- |
| | 2007 | 2008 | 2009 | 2010 | 2011 | 2012 |
| Revenue | $6,591,773,000 | $7,953,912,000 | $8,031,620,000 | $9,005,764,000 | $10,107,787,000 | $11,698,828,000 |
| Rev. Per Share | $46.47 | $56.81 | $57.20 | $52.45 | $57.02 | $63.43 |
| Rev. Growth Rate | | 20.66% | 0.98% | 12.13% | 12.24% | 15.74% |
Source: Whole Foods SEC Filings
New store openings will continue to be the primary driver of growth for Whole Foods moving forward. The company currently operates 342 locations and sees potential for roughly 1,000 in the United States alone. The table below shows the number of new stores opened over past five years. Note that just five weeks into FY13, the company has already opened 7 new locations. International store expansion is still in its infancy stage, but has the potential to be a revenue driver in the future. In Canada the company operates seven locations, has four in development and anticipates $1 billion in revenue over the next ten years. Across the pond in the United Kingdom, Whole Foods operates six stores with three in development.
| | |
| --- | --- |
| Fiscal Year | # of New Stores |
| FY 2008 | 20 |
| FY 2009 | 15 |
| FY 2010 | 16 |
| FY 2011 | 18 |
| FY 2012 | 25 |
| FY 2013* | 7 |
FY 13 through Nov 7thSource Whole Foods SEC Filings
One of the best metrics to evaluate this company is same store sales. For stores open at least one year, sales growth grew 8.7% last fiscal year. Compared to other retailers like Kroger (NYSE:KR), SuperValu (NYSE:SVU), Target (NYSE:TGT), and Wal-Mart (NYSE:WMT), this is an extremely strong number. Last year wasn't just an anomaly, the number is up from FY11 (8.5%) and FY10 (7.1%). I strongly believe that the uniqueness of Whole Foods is what continues to provide same store sales growth.
On the recent quarterly earnings call Co-CEO John Mackey said the following:
In line with the trends we have seen all year, transaction count increased seven percent, with broad-based sales momentum across regions, departments, and store age classes. Year over year, our customers continued to shift their purchases toward organic products and discretionary categories. We also continued to see meaningful increases in $50 plus sized baskets.
As consumers become more and more health conscious, Whole Foods stands ready to deliver. We are already seeing a shift in consumer purchases and Whole Foods is gaining a larger market share in the grocery space. With more private label brands and a growing amount of products under the "365" brand (Whole Foods discount brand label products), customers are receiving a great value when they shop.
Cash
During the recession of 2008 Whole Foods ran into some liquidity problems, and it appears management has not forgotten this event. As a result the company utilizes a conservative cash position. When asked by an analyst during the recent earnings call what the company was going to do with its ballooning cash pile, management cited three areas, which I will describe momentarily, and also made this statement, "We have got lots of money being pumped into the economy by the Fed. We got this so-called fiscal cliff about to hit. We have got tax rates going up. I think Whole Foods wants to keep a lot of powder dry. We are just not sure what's going to happen. So we like the position we are in."
Whole Foods generated roughly $920 million in operating cash flow last fiscal year, a 22% increase from the prior period (see table below). I expect this number along with free cash flow to grow in fiscal year 2013 as well. As of the recent quarter end the balance sheet showed roughly $1.5 billion in cash and investments. Whole Foods is extremely healthy (no pun-intended), with only $24 million in debt. If you factor in non-cancellable operating leases, that amount would be higher. Updated data on this will not be available until the SEC 10-k filing is released.
| | | | | | | |
| --- | --- | --- | --- | --- | --- | --- |
| | 2007 | 2008 | 2009 | 2010 | 2011 | 2012 |
| Operating Cash Flow | $391,486,000 | $334,992,000 | $587,721,000 | $585,285,000 | $754,845,000 | $919,715,000 |
| OCF Per Share | $2.76 | $2.39 | $4.19 | $3.41 | $4.26 | $4.99 |
| OCF Growth Rate | | -14.43% | 75.44% | -0.41% | 28.97% | 21.84% |
Source: Whole Food SEC Filings
The first and largest use of cash is store growth and improvements. I mentioned earlier the rapid expansion Whole Foods is embarking upon. CEO John Mackey reiterated this point, "So that's our primary focus, is to accelerate our growth and to transfer some of that cash into stores that will increase value for our stakeholders." In order to keep older stores relevant and vibrant for customers, the company is constantly updating various locations. Again, this displays the uniqueness of Whole Foods.
The second largest use of cash is dividends. The company recently announced a 43% increase in its quarterly dividend payment from $0.14 to $0.20. The current dividend yield is still relatively small, under 1%. While I do not anticipate any more dividend increases during the current fiscal year, next year another bump higher is likely.
Share repurchases are the final way the company is planning on investing its cash. Currently in place is a $471 million stock repurchase plan. Last quarter the company repurchased $29 million of common stock. This is helpful to offset stock option dilution, but with shares trading at such lofty levels, in my opinion this is probably the weakest use of cash.
Conclusion
While competitors like Wal-Mart, Target, and BJ's are all displaying organic produce on their shelves, I don't see them presenting a major threat to Whole Foods. The company has branded itself in such a way that makes the mundane task of grocery shopping somewhat enjoyable. With the premium brand image and impressive growth Whole Foods has exhibited, they demand an above average price multiple from the market. The only problem I see is that no matter which metric you use to evaluate the stock, P/E, P/S, P/CF, P/FCF, P/B, you will certainly struggle to fund value. Patience is my recommendation when looking to enter new positions in the stock.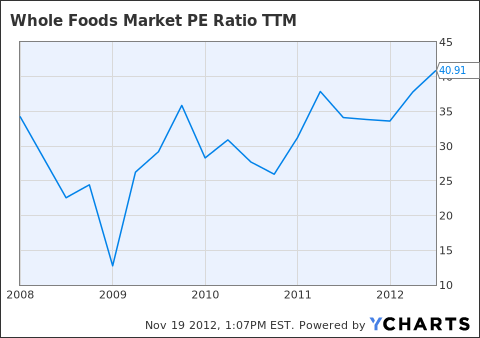 WFM PE Ratio TTM data by YCharts
*Note: All data reported and graphed is pulled directly from Whole Foods SEC filings (10K's and 10Q's)and press releases.
*Past performance is no guarantee of future results.
Disclosure: I have no positions in any stocks mentioned, and no plans to initiate any positions within the next 72 hours. I wrote this article myself, and it expresses my own opinions. I am not receiving compensation for it (other than from Seeking Alpha). I have no business relationship with any company whose stock is mentioned in this article.