Trading biophama stocks before a catalyst event, if done correctly, can be a very profitable proposition. Some traders and investors who enjoy bringing more risk into play often times will hold through the actual catalyst event. While this does bring more risk into play, the reward from engaging in this can be a massive one. Today, I have listed 4 companies for traders and investors to consider for both catalyst trades and possible longer term investments.
AVEO Pharmaceuticals (NASDAQ:AVEO)
Aveo engages in discovering, developing, and commercializing targeted cancer therapies using its Human Response Platform. Its lead product candidate, Tivozanib, which in Phase III clinical development stage, is a small molecule oral cancer drug to prevent tumor growth by inhibiting angiogenesis. The company also has a pipeline of monoclonal antibodies, including Ficlatuzumab, a hepatocyte growth factor inhibitory antibody in Phase II clinical development stage for the treatment of non-small cell lung cancer; AV-203, an ERBB3 inhibitory antibody in preclinical development stage for the treatment of solid tumors; and programs directed towards the RON receptor.
Tivozanib is the company's lead drug candidate which has completed Phase III clinical testing. Tivozanib is an oral, once-daily, investigational tyrosine kinase inhibitor for which AVEO has submitted a New Drug Application (NDA) to the U.S. Food & Drug Administration (FDA) seeking approval for Tivozanib in patients with advanced renal cell carcinoma (RCC). Tivozanib is a potent, selective and long half-life inhibitor of all three vascular endothelial growth factor (VEGF) receptors that is designed to optimize VEGF blockade while minimizing off-target toxicities.
Results from the Phase III study were first presented in early June 2012 at the American Society of Clinical Oncology (ASCO) 2012 Annual Meeting in Chicago, IL.
Tivozanib delayed the time before patients' kidney cancer started to grow by a median 12.7 months compared to 9.1 months for Nexavar, which is very significant. Tivozanib was also better tolerated than Nexavar, as many patients do not tolerate Nexavar very well which equates to a nice clinical benefit.
Overall Survival (OS): At one year, 81% of Nexavar patients were still alive compared to 77% of Tivozanib patients -- at first glance, this would not seem to be a very good sign for the drug -- but there is a logical explanation for this.
It's possible that OS rates with Nexavar compared against Tivozanib were higher because more than 60% of the patients randomized to the Nexavar arm "crossed over" to receive Tivozanib or some other therapy upon tumor progression. These crossover Nexavar patients might be living longer because they benefited from treatment with two active kidney cancer drugs.
Johnson & Johnson (NYSE:JNJ) ran into a similar problem with the Zytiga pivotal trial extension for OS -- Zytiga is a drug used in castration-resistant prostate cancer (formerly hormone-resistant or hormone-refractory prostate cancer) -- ie, prostate cancer not responding to androgen deprivation or treatment with antiandrogens. After an expedited six-month review, Zytiga was approved by the FDA in April 2011. In Phase III trials, it extended median survival to 14.8 months versus the 10.9 months placebo, and the trial was stopped because of the successful outcome.
Studies have shown that when Dendreon's (NASDAQ:DNDN) Provenge was prescribed first, then Zytiga afterwards, OS rates went up, but Zytiga on its own failed to show any improvement in OS. In other words, when doctors prescribe Zytiga first, they put their patients at risk of having the disease progress.
RBC Capital believes that there is a 70% chance that AVEO's NDA application for FDA approval for the drug will be accepted around November 27. The firm predicts that this development has the ability to minimize the risk that faces the company, which should cause the stock price to increase significantly. It keeps its Outperform rating and an $18 price target on the stock.
Between the 6 analysts that have set a target price on the stock, the mean target price is $14.17, which is more than double the current stock price. An additional analyst firm rated the stock a sell, but failed to give a price target.
| | |
| --- | --- |
| Mean Target: | $14.17 |
| Median Target: | $14.50 |
| High Target: | $18.00 |
| Low Target: | $9.00 |
| No. of Brokers: | 6 |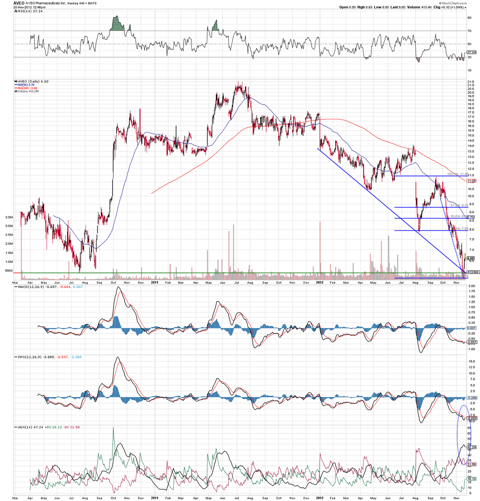 The chart above is showing an evident Percentage Price Oscillator (PPO) and Average Directional Index (ADX) pinch with a couple of reversal candles. The Moving Average Convergence Divergence (MACD) and PPO looks set to cross into a positive signal. The stock also has a trendline support, shown with the dashed blue line and solid blue line as well. I believe the stock could see a rise to the 38.2% retrace level which also happens to be a solid line of support. In the event of the NDA acceptance which I believe is likely, the stock price could very well retrace all the way up to the 61.8% mark, or $9.29 a share.
Considering all the factors above, my price target opinion for the short term is $7.50 to $9. Getting to the high end of my price target range will be dependent on good overall market conditions. Regardless, I feel investors and traders may not be seeing a clear picture here with Tivozanib as evident by a decent size of the short interest in the stock.
| | |
| --- | --- |
| Shares Short (as of Oct 31, 2012): | 4.59M |
| Short Ratio (as of Oct 31, 2012): | 18.50% |
The combined factors here might be setting up a short squeeze soon. With a market cap of $283.36M, along with a deep pipeline of clinical drugs, AVEO is very undervalued and has been oversold in my strong opinion.
Sarepta Therapeutics (NASDAQ:SRPT)
Sarepta focuses on the discovery and development of RNA-based therapeutics for the treatment of serious and life-threatening rare and infectious diseases. Its lead clinical candidate is Eteplirsen, which is in Phase 2 clinical stage for the treatment of Duchenne muscular dystrophy.
Sarepta, along with many advocate groups, are asking the FDA to grant the company an early market approval for its lead drug, Eteplirsen.
The FDA can choose to grant early approval if the drug shows clear potential to treat life threatening conditions prior to a Phase III clinical trial. Eteplirsen could be given accelerated approval based on its data that seems to show the drug was successful in creating the clinically required level of dystrophin in the Phase IIb trial.
Dystrophin is a rod-shaped cytoplasmic protein, and a vital part of a protein complex that connects the cytoskeleton of a muscle fiber to the surrounding extracellular matrix through the cell membrane. This complex is variously known as the costamere or the dystrophin-associated protein complex. Many muscle proteins, such as α-dystrobrevin, syncoilin, synemin, sarcoglycan, dystroglycan, and sarcospan, colocalize with dystrophin at the costamere.
Dystrophin deficiency has been definitively established as one of the root causes of the general class of myopathies collectively referred to as muscular dystrophy. The large cytosolic protein was first identified in 1987 by Louis M. Kunkel, after the 1986 discovery of the mutated gene that causes Duchenne muscular dystrophy (DMD).
The company will meet with the FDA late this year/early next year to present results from the Eteplirsen phase IIb study and request permission to file for accelerated approval. With pressure mounting from advocate groups, I think it's a good bet Sarepta gets the early approval, which would likely cause the stock price to explode from its current price level of $27 a share -- I can easily see a stock price approaching $75 or higher here.
DMD is a very rare disease that affects mainly children -- a potential cure for any form of MD would be on par with Jonas Salk's discovery of the Polio vaccine in my strong opinion.
Between the 5 analysts that cover the stock, the mean price target is a whopping $44.20.
| | |
| --- | --- |
| Mean Target: | $44.20 |
| Median Target: | $50.00 |
| High Target: | $70.00 |
| Low Target: | $9.00 |
| No. of Brokers: | 5 |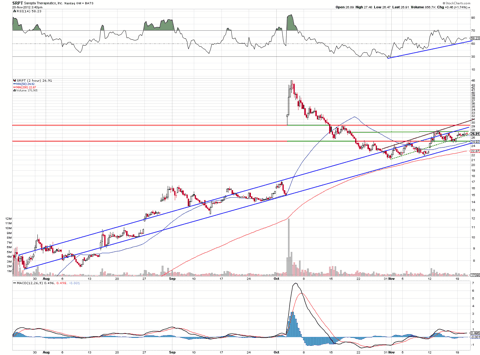 We can see from the chart above that the stock became very overbought when the positive Eteplirsen 48 week data was released in early October of this year, causing the price to shoot over $45 -- too far above its original trendline and where it should have been trading. Since then, the price has pulled back considerably, down to its old uptrend and is now set up to move higher. The green lines drawn on the chart show the stock is consolidating rather well at this level, and it would appear the price could make a move up to test an old resistance level just above $29.
Theravance (THRX)
Theravance engages in the discovery, development, and commercialization of small molecule medicines primarily for therapeutic areas of respiratory diseases, bacterial infections, and central nervous system (CNS)/pain. The company offers VIBATIV (telavancin), a bactericidal injectable antibiotic for the treatment of Gram-positive infections. Its principal development programs with GlaxoSmithKline (NYSE:GSK) include the RELOVAIR that has completed Phase 3 clinical studies for the treatment of patients with chronic obstructive pulmonary disease (COPD) or asthma; the LAMA/LABA combination, a Phase 3 program for patients with COPD; and the Bifunctional Muscarinic Antagonist-Beta2 Agonist (MABA) program that has completed Phase 2b study for the treatment of COPD.
On 11/29/12, the FDA Anti-Infective Drugs Advisory Committee (AIDAC) will discuss and vote on whether or not to recommend VIBATIV for approval. VIBATIV is a sterile powder injection for the new indication to treat nosocomial pneumonia, including ventilator-associated pneumonia (VAP), caused by susceptible isolates of Gram-positive bacteria -- VIBATIV has already been approved for the treatment of other Gram-positive infections, including MSRA.
This above catalyst event should make for a very good upside trade opportunity.
During its Q3, 12 earnings conference call, Theravance provided a number of positive updates to its studies:
Phase III data for FF/VI (fluticasone furoate and vilanterol) was presented, and a review of the regulator findings began in the United States and in Europe. Registration is in progress for FF/VI, known as "Relvar" in the European Union and Japan and "Breo" in the United States.
Phase 3 for umeclidinium bromide (UMEC), vilanterol (VI), and Chronic Obstructive Pulmonary Disease was completed and was on track for regulatory filing for COPD from the end of this year.
Results were positive for phase 2B for TD-1211. TD-1211 is used to alleviate constipation in patients receiving opioid therapy. Discussions with regulators to continue to the next study phase could take place before the end of the year.
TD-9855, a norepinephrine serotonin reuptake inhibitor, is undergoing a Phase II safety and efficacy study for adult ADHD.
As we can see above, Theravance has a good amount of positive factors that not only makes for a good short term catalyst trade, but also for a longer term investment.
| | |
| --- | --- |
| Mean Target: | $30.67 |
| Median Target: | $34.00 |
| High Target: | $40.00 |
| Low Target: | $13.00 |
| No. of Brokers: | 6 |
Between the 6 analysts that cover the stock, the mean price target is $30.67. Of note, well known analyst firm Piper Jaffray has placed a $35 price target on the stock.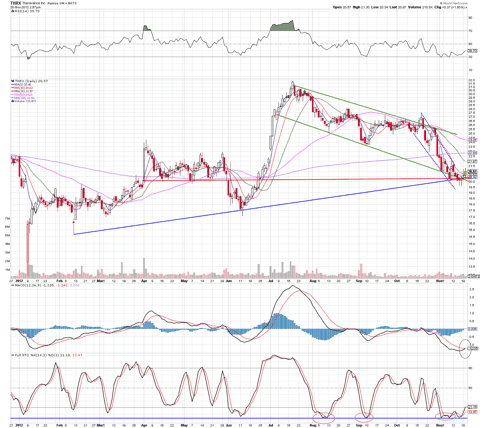 The above chart shows a nice rounding bottom reversal, good trendline support, and MACD cross. The stock price is showing a potential move up to $24.50.
Exelixis (NASDAQ:EXEL)
Exelixis engages in developing small molecule therapies for the treatment of cancer. Its focuses on developing its drug Cabozantinib, which is a product candidate that inhibits MET, VEGFR2, and RET proteins, which are key drivers of tumor growth, vascularization, and/or metastasis. The Cabozantinib has completed Phase III clinical trials for the treatment for medullary thyroid cancer.
On 5/30/12, EXEL announced that it has completed the filing of its rolling NDA with the FDA for the drug Cabozantinib. The FDA granted the drug priority review with a Prescription Drug User Fee Act (PDUFA) target date of 11/29/12.
On 8/29/12, the company was notified by the FDA that its new drug application for Cabozantinib had been removed from the agenda for the November 8 and November 9, 2012 meeting of the FDA's Oncologic Drugs Advisory Committee (ODAC). As a result, the company does not anticipate a discussion of the NDA by the ODAC. The previously announced Prescription PDUFA action date of 11/29/12 still remains.
Cabozantinib is a small molecule inhibitor of the tyrosine kinases c-Met and VEGFR2, and has been shown to reduce tumor growth, metastasis, and angiogenesis.
Positive data from clinical trials indicate Cabozantinib is particularly beneficial in metastatic advanced prostate cancer. 97% of patients either had stabilization or improvement in bone malignancies. The median time to disease progression was 29 weeks.
Cabozantinib qualifies as a drug designed to treat an unmet need. The FDA defines an unmet medical need as a "medical need that is not addressed adequately by an existing therapy."
The data looks good to me for Cabozantinib, so this catalyst event should offer a very nice long trade opportunity -- better than most catalyst trades because the drug qualifies as an unmet need treatment.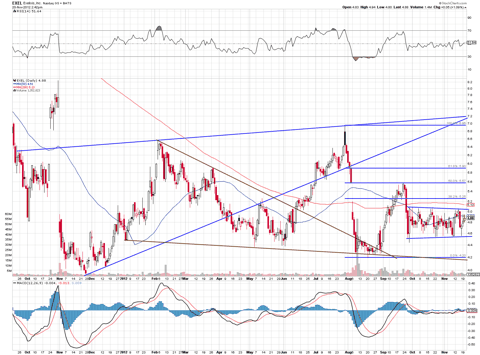 The chart above shows a strong consolidation move after their admittedly messed up financing deal, but this could be a great opportunity seeing as there is a good trend line support and huge potential in the name.
All of these trades offer nice upside potential in my strong opinion. I have taken a position in AVEO as I feel it has been grossly oversold. I also feel the stock has the best shorter term potential percentage gain.
*Data sourced from Yahoo Finance.
Disclosure: I am long AVEO. I wrote this article myself, and it expresses my own opinions. I am not receiving compensation for it. I have no business relationship with any company whose stock is mentioned in this article.
Additional disclosure: Disclaimer: This article is intended for informational and entertainment use only, and should not be construed as professional investment advice. They are my opinions only. Trading stocks is risky -- always be sure to know and understand your risk tolerance. You can incur substantial financial losses in any trade or investment. Always do your own due diligence before buying and selling any stock, and/or consult with a licensed financial adviser.