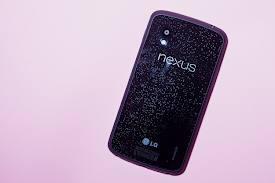 Google's Nexus 4
Google (NASDAQ:GOOG) just released its latest in-house Nexus branded smartphone and if you read the various reviews of this device over at The Verge, All Things D, VentureBeat, etc. you'd likely come away rather underwhelmed.
Mind you, most of these reviews are on the whole rather positive about the Nexus 4's hardware and Android 4.2 (Jelly Bean) software. But many of the reviewers couldn't see their way past the Nexus 4's lack of LTE 4G data speeds.
For example, here's the conclusion of a Nexus 4 review by The Verge's Josh Topolsky, arguably gadgetdom's #1 geek:
The Nexus 4 is absolutely wonderful, but it's also vexing. Frustrating. Annoying. It's easily the best Android phone on the market right now, and has some of the most powerful software that's ever been put on a mobile phone. It's an upgrade from last year's Galaxy Nexus in every way. It's terrific - save for one small thing.

In the US, a flagship phone without LTE is like a muscle car with no wheels. For other networks in other countries, and for the lucky T-Mobile customers out there that are getting great speeds on its HSPA+ network - great. No problem. Go get this phone. But for others - many others - it's hard to imagine buying this device when you know it's a generation behind in terms of network technology.

For a phone and an OS built for the cloud, I think it's unacceptable to not offer a version that takes advantage of our fastest mobile networks.
That's a pretty damning indictment from the former Editor-in-Chief of Engadget, and not exactly the kind of endorsement one would be looking for if you're interested in making the case, as I will be in this article, that Google's latest offering represents a very real threat to Apple's (NASDAQ:AAPL) iPhone business.
No-LTE Is Not The Big Nexus 4 Story
Gadget gurus like Josh are primarily based in metropolitan areas like New York and the San Francisco Bay Area, and these are markets where LTE is already well established. As you can tell from his conclusion, it absolutely chafes a bleeding edge guy like Josh to see Google's flagship smartphone lacking the latest and greatest in high speed data capability. This omission is made all the more frustrating as the Nexus 4 is launching on the heels of the new LTE-equipped iPhone 5.
But here's the thing: while the vast majority of U.S. tech reviewers happen to live in San Francisco and New York only a small fraction of the world's smartphone consuming population lives in these two cities. In fact most of the rest of the world doesn't have LTE (yet).
In other words, the obsession with LTE by gadget geeks is more reflective of their own personal disappointment than any shortcoming in Google's product feature strategy. (For why Google deliberately omitted LTE read this.)
In short, Josh and his fellow gadgeteers are not seeing the forest through the LTE tree. The Nexus 4, inspite of its lack of LTE, is the biggest smartphone game changer to come along in a long time.
Why The Nexus 4 Matters to Apple Investors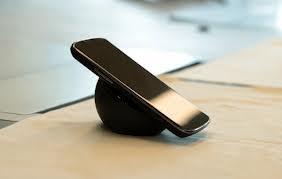 Unplugged: The Nexus 4 on its wireless charging orb
I've been using the Nexus 4 for the past week now and if you're an iPhone user who has been thinking about making the switch to Android I can recommend the Nexus 4 without hesitation.
The Nexus 4 is every bit the top of the line smartphone that someone who is used to an iPhone would expect. In Josh's words the Nexus 4 has "the most advanced mobile operating system on the market". Android has come a long way. It's now smooth, intuitive and dependable, and not anything like the rickety Android you may have experienced in years past.
The Nexus 4's hardware build quality is excellent and it offers a number of innovative features, like wireless charging. The screen is on par with the iPhone 5's superb retina display (not surprising since they're both made by LG).
Crucially, the Nexus 4 also offers nearly all the same apps you can get with an the iPhone. Apple may still maintain a slight app ecosystem lead (e.g., iOS's CNBC app is much, much better than Android's) but this is likely to change in the not too distant future (more on this below).
Still, the Nexus 4 being simply as good or even somewhat better than the iPhone 5 is not reason enough to make you want to switch. To get an iPhone user to make the jump the Nexus 4 has to offer something very special. It does.
The iPhone 5 Costs 2-3x More Than a Nexus 4
For years smartphone customers have been getting fleeced by the carriers. New smartphones are typically purchased on a two-year contract for the seemingly reasonable up-front price of $199. However, after calculating total cost of ownership over those two years, customers on carrier contracts pay approximately 2-3x more than customers who purchase unlocked smartphones like the Nexus 4 which can then be used on less expensive pay as you go carrier plans. Unlocked phones also offer greater flexibility to shop around and switch carriers for the best deal.
Savvy consumers these days shop for smartphones based on their unlocked price, not contract price, and right now there is nothing that comes anywhere close to an unlocked Nexus 4's total value proposition.
In the U.S. an unlocked Nexus 4 retails for a stunningly low $299 (or $350 for the 16GB version). This makes the Nexus 4 roughly just one-third (33%) the cost of an unlocked iPhone 5, which retails for around $850-$1,000 (at least $500 more than the comparable Nexus 4).
Further, leading Android phones like an unlocked Samsung Galaxy S3 still come in at a much higher price of $540 (a $240 difference to the Nexus 4).
Bottom line: the Nexus 4 represents an incredible value even when compared to other Android smartphones. It's such a great deal that it begs the question of whether Google is even making any money on the Nexus 4? Or is Google playing an entirely different game?
Smartphone Wars: Android Is Crushing iOS
The iPhone is an incredibly important part of Apple's revenue and profits, and the company's iPhone business is growing robustly with year-over-year unit sales growth up 57 percent, according to IDC. However, Android's unit sales are up even more over the same period at 91%, or nearly double Apple's growth.
The following chart should scare the pants off any Apple investor.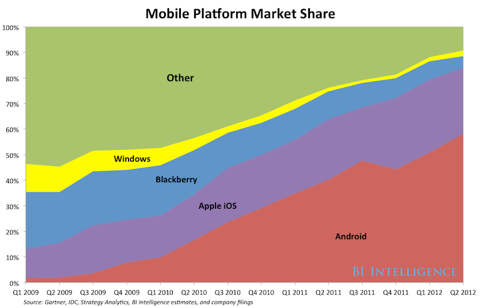 Why is market share so important?
Henry Blodget's lifetime ban from the securities industry is a boon for who those otherwise can't get access to top notch investment analysis. Blodget's latest must read piece of mobile market analysis is titled 'This Trend Is Very Worrisome For Apple' and does an excellent job of explaining the importance of smartphone market share:
the reason market share is important in a platform market has nothing to do with "current profit share." When confronted with Apple's declining market share, Apple fans often snort that Apple doesn't care about market share--it cares about profit share--and obviously Apple is cleaning up on that score. What this conclusion misses is that, in a platform market, having dominant market share is critical to maintaining long-term profit share.

The risk is that, ultimately, the mobile market will see a repeat of the history of the PC market, in which Apple went from being the dominant innovator to a marginalized niche player.
As bad as the above market share chart looks for Apple the reality is actually far worse. In some of the fastest growing markets Apple has little to no share. Take China for example, where Android has 90% of the market. Apple is also performing poorly in India, where Apple's products are simply too expensive to be competitive.
Blodget's conclusion:
As the market matures, Apple will not be able to protect both its market share and its profit margin--it will be forced to choose between one or the other. And given the importance of market share in a platform market, the smart strategic decision is almost certainly to protect market share.

Apple's recent decision to price its iPad Mini at $329 was instructive. Almost everyone agrees this price is expensive relative to the competition. In this case, Apple is clearly trying to protect its profit margin rather than driving for more market share. More decisions like that could begin to seriously erode the value of Apple's platform.
In other words, in the long run the company's unwillingness to 'slum it' and make an inexpensive smartphone risks relegating Apple to an artisanal gadget maker, which is exactly the position it was in during the 1990s after losing the desktop OS war.
Apple's strategy of pricing for profit rather than market share is short sighted and will ultimately be judged as one of the key reasons for why the company lost its way in the smartphone wars.
Disclosure: I have no positions in any stocks mentioned, and no plans to initiate any positions within the next 72 hours. I wrote this article myself, and it expresses my own opinions. I am not receiving compensation for it (other than from Seeking Alpha). I have no business relationship with any company whose stock is mentioned in this article.