A partial shutdown of rare earths production in North and South China has led to a 20 percent rise in the materials' prices. The price of neodymium-praseodymium oxide, an important rare-earth mineral, is now between $54,604 and $57,880 a ton. Many of praseodymium's industrial uses involve filtering yellow from light sources.
Based on this news, I screened for rare earth companies with insider buying during the month of November. Here is a look at three companies that I found.
1. Molycorp (MCP) is a leading rare earths and rare metals company, and combines a world-class rare earth resource at Mountain Pass, California, with world-class ultra-high-purity rare earth and rare metal materials processing capabilities. With 26 locations across 11 countries, Molycorp is vertically integrated across the global rare earth mine-to-magnetics supply chain. It produces rare earth magnetic materials as well as a variety of high-purity, custom engineered products from 13 different rare earths (lights and heavies) as well as five rare metals (gallium, indium, rhenium, tantalum and niobium), and the transition metals yttrium and zirconium. Through its Molycorp Magnequench subsidiary, the company is a leading global producer of neodymium-iron-boron (NdFeB) magnet powders used to manufacture bonded NdFeB permanent rare earth magnets. Through its joint venture with Daido Steel and Mitsubishi Corporation, Molycorp expects to begin manufacturing next-generation, sintered NdFeB permanent rare earth magnets in early 2013.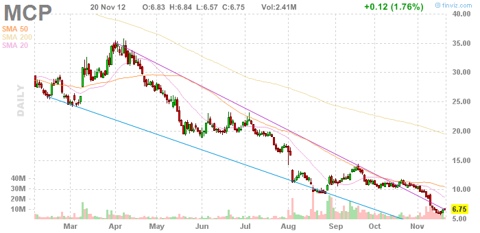 Insider buys
Financials
The company reported the third-quarter financial results on November 8 with the following highlights:
| | |
| --- | --- |
| Revenue | $205.6 million |
| Net loss | $15.5 million |
| Cash | $436.0 million |
| Debt | $1.2 billion |
Outlook
Molycorp continues to ramp up Project Phoenix operations at its Mountain Pass, California, facility, and it remains on schedule to achieve a Phase 1 operational rate of 19,050 metric tons [mt] per year in the fourth quarter of 2012. To date, 80% of Project Phoenix facilities are at Phase 1 or greater than Phase 1 operational capabilities.
Mark Smith, President and Chief Executive Officer commented on November 8:
"We are seeing customer demand beginning to stabilize. We have customer agreements in place, or are in advanced discussions and product qualification efforts with customers, on sales in excess of our Phase 1 capacity. In the Lanthanum and NdPr markets, we are seeing demand that will move us into Phase 2 production relatively quickly. With cerium, our commercialization of SorbXTM products continues to gain traction in the marketplace.

Several of our customers continue to work to deplete large volumes of stockpiles. We are seeing signs these customers are coming back into the market, which is very positive going forward.

With regard to global trends, output from China continues to be significantly reduced. Chinese government officials are stepping up their efforts to enforce tougher environmental regulation and to curb illegal mining, and these efforts are putting pressure on production. In addition, a growing number of China's largest producers have either halted operations or are in the process of halting production, including Baotou Steel Rare-Earth, China Minmetals, Chalco Rare Earth, and China Nonferrous Metals. Government and industry leaders in China acknowledge that these and other actions are being implemented for the express purpose of stabilizing or strengthening prices for all rare earth products."
My analysis
The stock made a new 52 -week low just two days ago. There have been nine insider buy transactions and there have not been any insider sell transactions this year. There are four analyst buy ratings, four neutral ratings and one sell rating with a average target price of $29.13. The stock is trading at a forward P/E ratio of 31.57. The company has a book value of $11.61 per share. I have a bullish bias for the stock currently.
2. U.S. Rare Earths (OTCQB:UREE) is a mineral exploration, mining and claims acquisition company based in Lonoke, AR. Formerly Colorado Rare Earths, Inc., the company holds over 12,000 acres of mining claims for rare-earth elements in Colorado, Idaho and Montana. In Colorado, these claims include the Powderhorn Property in Gunnison County, and Wet Mountain Property in Fremont and Custer Counties. Additional claims include the Lemhi Pass Property in Lemhi County, Idaho and Beaverhead County, Montana; Diamond Creek and North Fork Properties in Lemhi County, Idaho and the Sheep Creek Property in Ravalli County, Montana.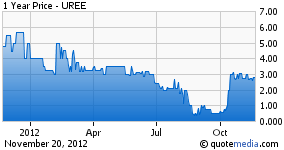 Insider buys
John Lattimore purchased 2,067,549 shares on September 12 - October 25 by Unique Materials. Mr. Lattimore was appointed Chairman of the Board of Directors on June 27, 2011.
Financials
The company reported the third-quarter financial results on November 19 with the following highlights:
| | |
| --- | --- |
| Revenue | $0.5 million |
| Net loss | $1.3 million |
| Cash | $0.1 million |
| Shares outstanding | 27.6 million |
Outlook
The company has budgeted expenditures for the next twelve months of approximately $4,000,000, depending on additional financing, for general and administrative expenses and exploration and development. The company may choose to scale back operations to operate at break-even with a smaller level of business activity, while adjusting overhead depending on the availability of additional financing.
My analysis
There have been five insider buy transactions and one insider sell transaction this year. The company has a projected $1.2 billion inferred REO resource base. I have a cautiously bullish bias for the stock currently.
3. Matamec Explorations (OTCQB:MHREF) is a junior mining exploration company whose main focus is in developing the Kipawa HREE deposit with TRECan. Following the positive conclusion of the PEA study filed on SEDAR in March 2012 and the hiring of a V-P Project development and Construction, Matamec and TRECan decided to move directly to the feasibility study. The March 2012 press release highlighted that the project has robust economics such as: $606 million before-tax value (NPV8%), a 36.9% before-tax IRR, $2.8 billion revenue, $1.67 billion EBITDA, a before-tax payback period of 2.4 years.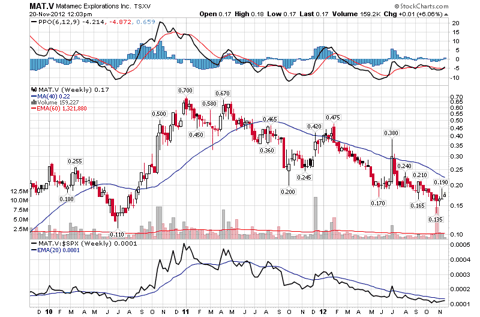 Insider buys
Sheldon Inwentash purchased 1,250,000 shares on October 31 - November 14.
Laval St-Gelais purchased 5,300 shares on October 29, 4,700 shares on August 29, 3,000 shares on July 11 and 4,500 shares on May 22. Laval St-Gelais serves as a director of the company.
Financials
The company reported the second-quarter financial results on August 30 with the following highlights:
| | |
| --- | --- |
| Revenue | $0 |
| Net loss | $0.9 million |
| Cash | $1.0 million |
Matamec Explorations announced on November 1 that the company has received a second payment of $1.1 million from its Japanese partner Toyotsu Rare Earth Canada, a subsidiary of Toyota-Tsusho Corp.
Upcoming milestones
The company has the following upcoming milestones:
Feasibility study completion in May 2013
Environmental and social impact study in April 2013
Permitting process from now to February 2014
Detailed engineering from June 2013 to mid-2015
Construction 2014 and 2015
Start up of mining operation in November 2015
My analysis
The company has a 5% insider ownership and institutions own 30% of the company. There have been seven insider buy transactions and one insider sell transaction during the last six months. The company is expecting to start up the mining operations in November 2015. I have a cautiously bullish bias for the stock currently.
Disclosure: I am long MCP. I wrote this article myself, and it expresses my own opinions. I am not receiving compensation for it (other than from Seeking Alpha). I have no business relationship with any company whose stock is mentioned in this article.