AVEO Pharmaceuticals (NASDAQ:AVEO) is dedicated to discovering, developing and commercializing targeted therapies to impact the lives of patients living with cancer. The company has built a pipeline of anti-cancer therapeutics through the use of its proprietary Human Response Platform™.
The Human Response Platform was designed to overcome many of the limitations of traditional approaches to modeling human cancer. In the traditional method of modeling human cancer, cells are adapted from a human tumor to grow in a petri dish and then injected in a mouse, where they grow into tumors. However, the tumors differ from the original tumor in important respects, resulting often in poor predictors of the success of cancer drugs in human clinical trials.
Aveo's Human Response Platform uses patented genetic engineering techniques to grow populations of spontaneous tumors in animals containing human-relevant, cancer-causing mutations and tumor variation akin to what is seen in populations of human tumors. Because these populations of tumors better replicate what is seen in human cancer, its Human Response Platform provides Aveo with unique insights into cancer biology and mechanisms of drug response and resistance, and represents a significant improvement over traditional approaches.
The company's lead product candidate Tivozanib is a potent, selective, long half-life inhibitor of all three vascular endothelial growth factor (VEGF) receptors that is designed to optimize VEGF blockade while minimizing off-target toxicities. Tivozanib is an oral, once-daily, investigational tyrosine kinase inhibitor for which AVEO has submitted a new drug application (NDA) to the U.S. Food & Drug Administration (FDA) seeking approval for Tivozanib in patients with advanced renal cell carcinoma (RCC). RCC is cancer that starts in the kidneys. About 90 percent of all kidney cancers are renal cell carcinomas. Tivozanib is also being evaluated in other solid tumors including colorectal and breast cancers.
Aveo has this big decision due to them very soon since the NDA was filed at the end of September. The goal of the FDA is to respond within sixty days of submission which is November 27th. RBC Capital thinks there is a 70% chance for the treatment to be accepted by the FDA and also has an outperform rating with an $18 price target. This seems pretty aggressive considering the current price is $6.50.
Cash on Hand and Share Structure:
For the quarter ending September 30th, 2012, Aveo reported cash on hand of about $114 million. This is pretty high which may bring investors confidence that they will not need to do a share offering anytime soon. Obviously, an offering is rarely something shareholders hope for as it would dilute the company.
Currently, the company has a little less than 44 million shares outstanding giving Aveo a market cap of about $283 million. With the short interest at about 16%, or close to five million shares, it is possible to see a short squeeze prior to the upcoming FDA decision as a catalyst event. Shorts may want to sit on the sidelines in case an approval comes which could move the stock price significantly in the direction of RBC's near three fold price target.
Aveo's goal with the FDA:
While doing the Phase III trial for Tivozanib, Aveo had the confidence to compete against an active kidney cancer drug from a company with a market cap around $5 billion, or more than seventeen times its size. The company that it went up against is Onyx Pharmaceuticals (NASDAQ:ONXX) and its drug, Nexavar.
There were two primary end points during the trials for Tivozanib. In one of these end points, Aveo knocked it out of the park by demonstrating a progression-free survival median of 12.7 months in Tivozanib compared to 9.1 months for Nexavar. Progression-free survival is the length of time during and after medication or treatment during which the disease being treated does not get worse. It is sometimes used as a metric to study the health of a person with a disease to try to determine how well a new treatment is working.
In a recent interview with another Seeking Alpha contributor, Michael Bailey, Chief Commercial Officer at Aveo Oncology, had the following to say about this result:
To put this into perspective, Phase III efficacy data from TIVO-1 presented at ASCO earlier this year demonstrated a statistically significant improvement in progression free survival (NYSE:PFS) for Tivozanib compared with Sorafenib in treatment-naïve metastatic renal cell carcinoma (RCC) patients. A median PFS of 12.7 was demonstrated for Tivozanib versus 9.1 months for Sorafenib (p=0.037; HR=0.75). In the absence of head-to-head studies with other agents, direct comparisons cannot be made. However, based on these results, Tivozanib is the only agent to demonstrate a median PFS of greater than a year in patients who were treatment naive for metastatic disease.

Now we have a detailed safety analysis from TIVO-1 that shows that patients treated with Tivozanib experienced fewer Grade 3 and off-target adverse events, stayed on treatment longer, and required fewer dose reductions and interruptions compared with Sorafenib. So together these results mean that Tivozanib, an investigational therapy, is the first agent to demonstrate the unique combination of superior PFS and favorable tolerability in a pivotal study for advanced RCC versus an approved targeted agent.
On the surface, the second end point is what looks to be the concern for Aveo. Here, the company showed an Overall Survival (OS) rate after one year of 77% compared with 81% for Nexavar. While this appears to be a negative, Aveo believes OS trended against Tivozanib because more than 60% of the patients randomized to the Nexavar arm "crossed over" to receive Tivozanib or some other therapy upon tumor progression. These Nexavar crossover patients might be surviving at a higher rate because they benefited from receiving treatments with two active kidney cancer drugs.
It will be interesting to see the conclusion the FDA comes to regarding Tivozanib. If it is made clear that the medications were crossed over and this skewed the Tivozanib results to the negative for end point number two, the 4% differential could become more of a wash, or statistically speaking, no difference. If that is the case, the significant progression-free survival end point edge in Aveo's favor is clearly what the company wants the FDA to focus on, notwithstanding Nexavar is known to have harsh side effects, whereas the side effects with Tivozanib have been reported to be mild.
The recent stock sell off was caused by traders/investors thinking the FDA will not accept the Tivozanib NDA, which seems very unlikely since the primary endpoint was met, and the secondary endpoint issue here seems to have a logical explanation for it.
Johnson & Johnson (JNJ) ran into a similar problem with the Zytiga (abiraterone) pivotal trial extension for OS -- abiraterone is a drug used in castration-resistant prostate cancer (formerly hormone-resistant or hormone-refractory prostate cancer) -- i.e, prostate cancer not responding to androgen deprivation or treatment with antiandrogens. It is formulated as the prodrug abiraterone acetate and marketed under the trade name Zytiga. After an expedited six-month review, abiraterone was approved by the FDA in April 2011.In Phase III trials, it extended median survival to 14.8 months versus 10.9 months placebo, and the trial was stopped because of the successful outcome.
Dr. Tim Eisen, a renal oncologist at Cambridge University Hospital in England (and also an investigator on the Phase III trial), reviewed Dr. Motzer's presentation. Dr. Eisen first indicated that OS with Tivozanib was not a measurement of efficacy, and probably could not be, since patients who progressed on Sorafenib (another small molecular inhibitor of several Tyrosine protein kinases) were given the option of crossing over to tivozanib, which would compromise any overall survival figure for this arm of the study -- which further could explain why the OS data for Tivozanib was lacking a bit as described earlier.
Studies have shown that when Dendreon's (DNDN) Provenge was prescribed first, then Zytiga afterwards, OS rates went up, but Zytiga on its own failed to show any improvement in OS. In other words, when doctors prescribe Zytiga first, they put their patients at risk of having the disease progress.
Along with Tivozanib, the company also has a pipeline of monoclonal antibodies, including ficlatuzumab, a product candidate that is currently in phase two clinical development, and AV-203, a monoclonal antibody that targets the ErbB3 receptor. For AV-203, the company has partnered with Biogen Idec, Inc (NASDAQ:BIIB). In March 2009, the company entered into an exclusive option and license agreement with Biogen Idec International GmbH, a subsidiary of Biogen Idec Inc., regarding the development and commercialization of the company's discovery-stage ErbB3-targeted antibodies for the potential treatment and diagnosis of cancer and other diseases outside of the United States, Canada and Mexico. Both ficlatuzumab and AV-203 were derived from the company's Human Response Platform.
In March 2007, the company entered into an agreement with Schering-Plough Corporation, or Schering-Plough [now Merck & Co (NYSE:MRK)], under which the company granted Merck exclusive, worldwide rights to develop and commercialize all of the company's monoclonal antibody antagonists of hepatocyte growth factor, or HGF, including ficlatuzumab, for therapeutic and prophylactic use in humans and for veterinary use. Aveo also granted Merck an exclusive, worldwide license to related biomarkers for diagnostic use. The company also conducted translational research using its Human Response Platform to guide the clinical development of ficlatuzumab. Merck was responsible for all costs related to the clinical development of ficlatuzumab and clinical and commercial manufacturing. On September 28, 2010, Aveo received notice from Merck of termination of the collaboration agreement effective as of December 27, 2010, at which point the company became responsible for the performance and funding of all future research, development, manufacturing, and commercialization activities for ficlatuzumab.
In June 2010, the company earned and received an $8.5 million milestone payment in connection with the enrollment of patients in the company's phase 2 clinical trial of ficlatuzumab under the agreement. Since the $8.5 million milestone payment earned in June 2010 was considered substantive, it was included in revenue for the year ended December 31, 2010.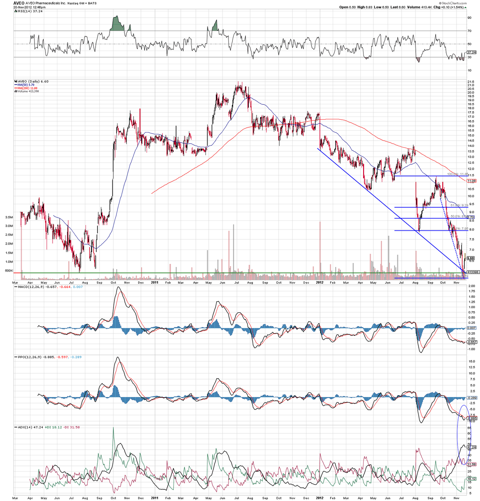 The chart above is showing an evident PPO ADX pinch with a couple of reversal candles. The MACD and PPO looks set to cross into a positive signal. The stock also has a trendline support, shown with the dashed blue line and solid blue line as well. My personal opinion is that the stock could see a rise to the 38.2% retrace level which also happens to be a support line. In the event of NDA acceptance which I believe is likely, the stock could very well retrace all the way up to the 61.8% mark -- $9.29 a share.
Between the 6 analysts that have set a target price on the stock, the mean target price is $14.17. This implies a potential of over a double in stock price from the current price level which is around $6.50. An additional analyst firm rated the stock a sell, but failed to give a price target.
| | |
| --- | --- |
| Mean Target: | $14.17 |
| Median Target: | $14.50 |
| High Target: | $18.00 |
| Low Target: | $9.00 |
| No. of Brokers: | 6 |
The short interest in the stock is rather high here, which could make for a possible short squeeze upon the FDA's likely acceptance of AVEO'S NDA for Tivozanib.
| | |
| --- | --- |
| Shares Short (as of Oct 31, 2012): | 4.59M |
| Short Ratio (as of Oct 31, 2012): | 18.50% |
Overall, I like the prospects of this company and feel the stock has been grossly oversold. At a price $6.50 with a market cap of $283.36M, the company provides both an attractive entry point for a long side trade and for a speculative investment.
My long term price target opinion for AVEO is $15 a share.
*Data sourced from Yahoo Finance.
Disclosure: I am long AVEO. I wrote this article myself, and it expresses my own opinions. I am not receiving compensation for it. I have no business relationship with any company whose stock is mentioned in this article.
Additional disclosure: Disclaimer: This article is intended for informational and entertainment use only, and should not be construed as professional investment advice. They are my opinions only. Trading stocks is risky -- always be sure to know and understand your risk tolerance. You can incur substantial financial losses in any trade or investment. Always do your own due diligence before buying and selling any stock, and/or consult with a licensed financial adviser.