Wal-Mart (NYSE:WMT), the leading US retail giant, has released its earnings for Q32012. The company has shown mixed results, beating analysts' estimates for some financial indicators while underperforming on others. EPS of $1.08 have beaten analysts' estimate of $1.07, an improvement of 11.3% compared to Q32011. This has resulted mainly because of improvements in cost control measures. For example, the company has reduced its shipping costs by 4.2%. Although net sales have gone up by 3.4%, we consider it a sign of underperformance as it is short of the analysts' consensus of 4.3%. Wal-Mart missed street's estimate, driving share price down by 3%.
A closer analysis of WMT reveals some interesting insights about its warehouse merchandise subsidiary called Sam's. The subsidiary has been able to outperform its parent, growing by 2.7% as compared to Wal-Mart's US comp of 1.5% and international comp of 2.4%. We are confident that such performance would enable WMT to strengthen its position versus a very key warehouse merchandise rival, Costco (NASDAQ:COST).
Costco has been able to become the world leader in warehouse retailing by relying on its membership fee. This core focus on membership fee has been of strategic importance to COST, comprising 75% of its profit. This stream of revenue is going up by 10-11%, increasing EPS quite swiftly. However, Sam's has emerged as a potential threat to the long held dominance of COST.
Wal-Mart appears to be on strong footing as compared to many of its competitors.
A Relative Analysis Based on Multiples (X)

Company

Trailing P/E

Forward P/E

PEG

P/S

EV/EBITDA

Wal-Mart

15.03

13.21

1.58

0.52

8.04

Costco Wholesale Corporation

24.27

18.78

1.70

0.42

10.24

Target (NYSE:TGT)

14.07

12.48

1.19

0.57

7.74

Competitor Average

17.79

14.82

1.49

0.50

8.67
The stock seems to have value for many investors as we expect its earnings to improve to $1.59 in the next quarter. Its P/E is lower than that of many of its competitors and same is the case with other multiples like EV/EBITDA. This somewhat undervalued nature of the stock, along with impressive growth in EPS, suggests the stock's attractiveness. It is interesting to see that WMT is being valued higher than Target Corp . WMT's P/E and EV/EBITDA is higher than that of TGT. This becomes even more interesting when it is realized that the comparable store sales of TGT have grown by 2.9% while those of WMT have grown by 2.5% only.
We feel that this is mainly because of the future growth estimates of both companies. Although TGT is an attractive stock to buy, Wal-Mart's revenue growth is 1.1% higher than that of TGT. Moreover, WMT's capital structure is more conservative than TGT. TGT's debt ratio climbed 2% in the recent quarter and the company plans to use its sale of credit card receivables for servicing the debt. WMT, on the other hand, has seen a decline in its debt ratio from 58% to 49% which seems more optimal than TGT's high debt financing.
The Driving Catalysts:
We attribute this fair performance to some catalysts which the company has been able to unveil. Some weeks before the announcement of Q32012 results, WMT announced cutting back on CAPEX by $500 million for 2013 and 2014. WMT plans to strengthen its performance internationally by focusing on existing investment rather than making new ones. We feel that the decision to reduce CAPEX is quite wise from a strategic perspective.
Some would argue in favor of a probable improvement in international performance by investing more. However, we strongly feel that the economic conditions around the globe are too challenging to keep investing without improving the existing investment base. Moreover, we also feel that in this way there would be some free cash available, which can not only be used to work on the online and small store formats in the next quarter, but also benefit shareholders in the form of better potential dividends.
Some might question this decision as its impact on stock price cannot be precisely predicted at this point in time. However, inferring from the past, such cuts in CAPEX can be highly beneficial for WMT and can boost stock price significantly. Actually, this decision to cut the CAPEX is more like a 2nd version of the CAPEX cut in 2007. The last time that WMT cut its CAPEX, a sustained period of stock outperformance was seen, with significant benefits in the form of greater productivity, less cannibalization, and more efficiency in day to day operations. The stock price saw a drastic increase of 44% over the year as shown in the figure below.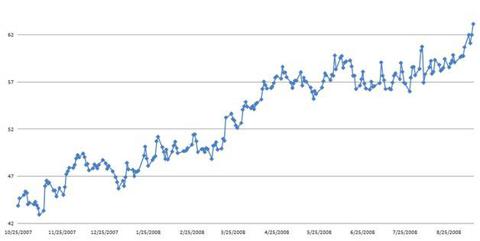 We also feel that one of the key determinants of future stock performance is WMT's performance in the coming Christmas holidays. We feel that Wal-Mart will see a growth in sales because of enhancement of its Christmas and Holiday plan. Each year, WMT provides 10% discount on food items during most of the month of December. The company has decided to start these two weeks earlier, which could turn out to be a good boost for sales.
Another catalyst for Wal-Mart is it's strategy of focusing more on smaller store formats, online sales and warehouse merchandise. In the wake of worsening economic conditions, the company plans to open 80-100 small sized stores in the coming fiscal year. These stores will on average be 38,000 square feet in area while the Wal-Mart Express stores will be much smaller; 15,000 square feet. This focus on small sized stores adds to its strategic competitive advantage.
Our Stance:
Wal-Mart has shown impressive growth in Q32013. Although its revenue has risen lesser than expectations, its EPS have bypassed estimations. We are bullish on new developments such as strong performance shown by Sam and a greater focus on online sales. Having become more specific and focused on its strategies, we feel Wal-Mart can be an ideal investment opportunity and, therefore, have a buy rating for it.
Disclosure: I have no positions in any stocks mentioned, and no plans to initiate any positions within the next 72 hours.
Business relationship disclosure: The article has been written by Qineqt's Retail Analyst. Qineqt is not receiving compensation for it (other than from Seeking Alpha). Qineqt has no business relationship with any company whose stock is mentioned in this article.