It is common wisdom that risk-off regimes come along with an outperformance of safe haven assets. But what about risky assets? Here I focus on the relative behavior of emerging and high yield markets.
The chart below shows how the MSCI Emerging and the US high yield market behave in periods of heightened risk aversion. There is a "home bias" in the relative performance of both assets: the higher the VIX the lower the MSCI/HY. This is not to say that risk aversion always imported from abroad, but we can safely assume that investors prefer to get rid of foreign (as opposed to domestic) assets in such circumstances. Relative liquidity differences might be at play, but it is not enough to explain the robustness of the relationship.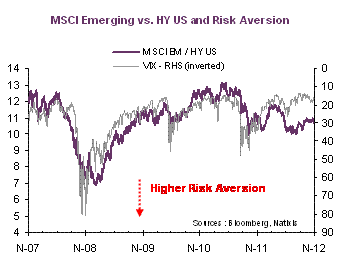 However, a closer look at the recent period shows that the link is not straightforward. The disconnect observed since the summer of 2012 suggests that emerging stocks have been lagging. This is in line with my previous message (http://seekingalpha.com/article/1019731-credit-market-and-stocks-get-the-message-right) on credit that the search for yield was mostly domestic through a sharp disconnect between US stocks and US HY.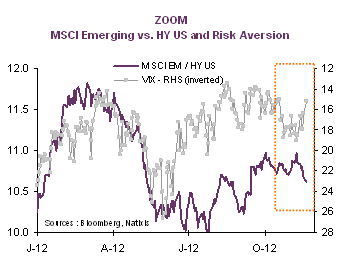 This trend is likely to remain ongoing (see chart above). Over the last few days, a lower VIX came along with an outperformance of US HY, meaning that even though optimism is edging up in regards to Asia, the lack of genuine confidence of policy makers (from the latest Minutes of the RBA: "members considered that further easing might be appropriate in the period ahead") precludes strong outflows towards emerging markets.
Disclosure: I have no positions in any stocks mentioned, and no plans to initiate any positions within the next 72 hours. I wrote this article myself, and it expresses my own opinions. I am not receiving compensation for it (other than from Seeking Alpha). I have no business relationship with any company whose stock is mentioned in this article.