Shubh Divali - greeting meaning Happy Divali
Recently the Hindu community celebrated the festival of lights, also known as Divali. On this occasion Hindus celebrate the triumph of good over evil and one of the customs during this time is the lighting of the deya. As the story of Divali goes, after a great battle between the warrior Prince Rama and the evil King Ravana over the beautiful princess Sita, after Rama defeated Ravana with a magic arrow everybody lit oil lamps known as deyas to guide Rama and Sita back home. Similar to the battle of Rama and Ravana, there is a battle between buyers and sellers over the attractive technology sector.
Over the past three months the technology sector, as observed through the ETF QQQ, fell approximately 15% as investors exited the sector and kept the technology index in darkness. However, given the shift from PCs to laptops and Ultrabooks, the growing tablet and smart phone industry, the rise in cloud computing and increasing tech demand from emerging markets, QQQ should be seen as the light at the front of the deya, ushering investors back to 52-week highs over the next 3 to 6 months.
Global PC growth has dimmed and this is reflected in traditional PC makers such as Dell (NASDAQ:DELL) and HP (NYSE:HPQ). Consumers are choosing mobility, gearing themselves for the latest tablets and smartphones rather than the latest PC. This trend is resonated in global PC shipments which fell 9% year over year. While this may be attributed to the October launch of Windows 8, other analysts suggest that this may be a secular trend out of PCs and into smartphones and tablets.
Laptops seem to be a viable option within some brands. Lenovo (OTCPK:LNVGY) global portable units rose 11% year over year in the third quarter of 2012, along with Apple (NASDAQ:AAPL) and Asustek which grew 10% and 8% respectively. The IDC expects smart phones to grow over 10% in 2013 after growing over 35% in 2012. Furthermore Tablets and e-Readers sales are estimated to have grown by 48% in 2012 and can grow by over 30% in 2013.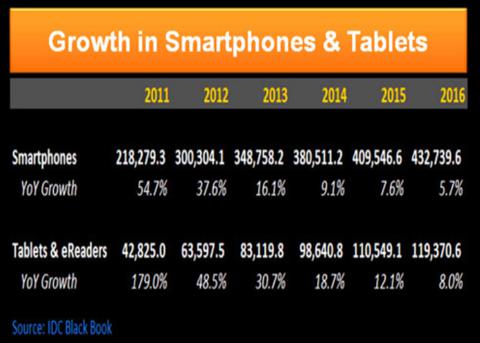 With Android and the iOS platforms dominating the smart phone market, Apple and Google (NASDAQ:GOOG) are sure to enjoy the double digit growth in smart phone and tablet markets. Apple and Google represents 17% and 6% of QQQ respectively so any continued demand for smart phones and tablets should keep QQQ shining bright over the next couple of months.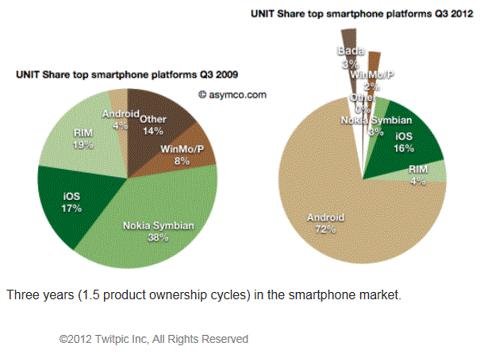 Emerging-market global mobile phone growth is also foreseen to continue to blaze a trail, particularly in China. The sovereign with the second largest economy has been stimulating its economy to propel growth to an 8% annual rate in 2013. The accommodative monetary policy should drive credit demand in China and its Asian environs. Consumer spending is also expected to pick up, including within the mobile phone market. The Asia Pacific region already comprises approximately 38% of the global mobile phone market and with the region's shipments already growing at over 10%, the smart phone market should remain firm.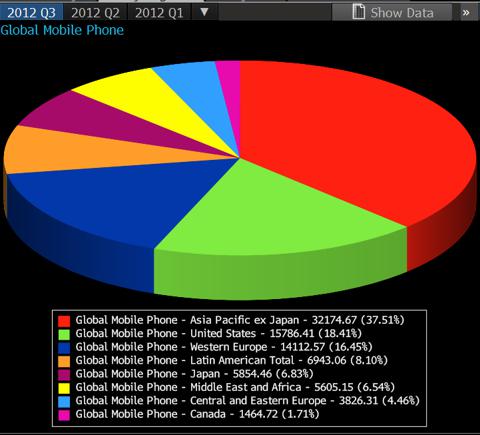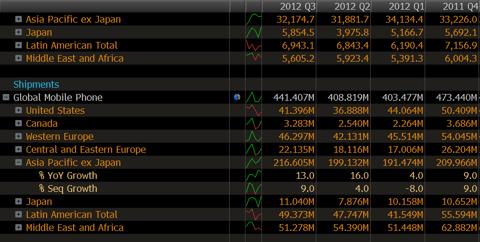 Source: Bloomberg
Another development in the tech space which should aid QQQ over the next couple of months is cloud computing. According to IDC, global cloud services are forecast to grow at an annual rate of 29%. This should drive opportunities in IT consulting, custom application development and system integration. It is anticipated that clients turn to IT vendors for assistance with strategy and implementation. Such benefactors include Microsoft (NASDAQ:MSFT) and Oracle (NASDAQ:ORCL) which are also in QQQ's top ten holdings and they represent 8% and 5% respectively.
Along with cloud computing, mobile devices and social media are blazing the big data market. IDC states that data generated is growing by more than 60% a year. Hardware consists approximately 30% of the $5Bn big data market with the fastest growing segment expected to be Storage. Storage represents 12% of the big data market and has a CAGR of 61%. With these growth rates it is difficult to see the technology sector being left in the dark.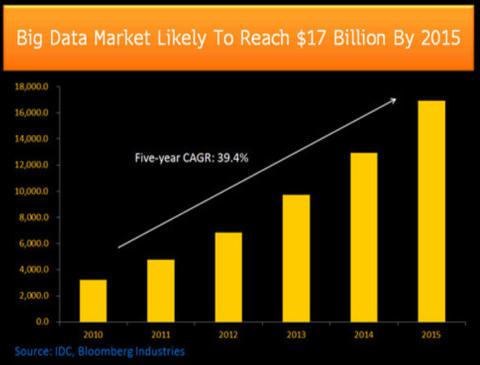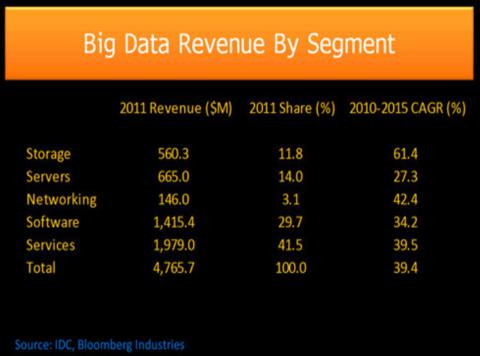 Global capital expenditures were murky in July and August and this, along with the strengthening US dollar, compounded the decline in the technology index. Only 40% of IT's profits were made in the US, thus with the US dollar expected to decline against major currencies and consumer spending and the labor market remaining resilient in the US, the technology sector should shine brightly over the next couple of months. There is room for upside seeing as Tech's PEG ratio is near 2009 lows.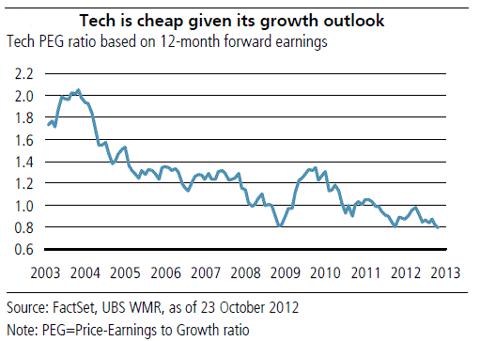 QQQ slumped into darkness after it peaked in the middle of September 2012 around the $70.58 price level. This continued for approximately 3 months as the ETF made lower highs and lower lows. The ETF also broke its 50, 100 and 200 DMAs which are all bearish signs. In mid November the downside price action seemed exhausted as QQQ's RSI slumped below the 30 level. Also there is also a morning star around the same period of the RSI's oversold signal. Expectations over the next couple of months are for the ETF to return to the historical resistance zone of 70, which is almost 10% from current levels. As a result; if investors were to position themselves at current levels they can potentially receive approximately 10% in capital appreciation over the next couple of months.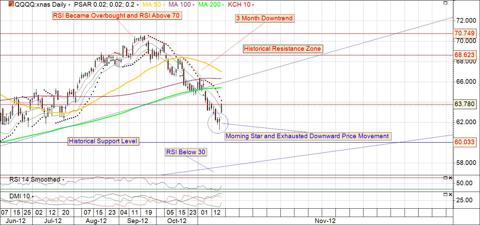 Just as the deya symbolizes, light will triumph over darkness. When the Technology sector is observed, while there may have been some pullback in demand and earnings, given where the tablet and smartphone markets are trending along with the current direction in cloud computing, it is expected to remain innovative and flourish. Technically it seems that the downtrend over the past couple of months has ended and a move towards the September highs is expected.
Disclosure: I have no positions in any stocks mentioned, and no plans to initiate any positions within the next 72 hours. I wrote this article myself, and it expresses my own opinions. I am not receiving compensation for it (other than from Seeking Alpha). I have no business relationship with any company whose stock is mentioned in this article.