Lancaster Colony Corp. (NASDAQ:LANC), which manufactures and markets food products, pays a regular quarterly dividend and has a history of increasing its dividend annually for the last 50 years. Solid fiscal first-quarter results, a dividend yield of 2.1%, and a debt-free balance sheet make this Zacks No. 2 Rank (Buy) a good pick for investors looking for both growth and income.
Driving Catalysts
Lancaster Colony recently hiked its quarterly dividend by 5.56% to 38 cents, from 36 cents. Apart from the regular cash dividend, the company will also pay a special cash dividend of $5.00 per share to shareholders on Dec. 28, 2012.
On Oct. 25, the company reported solid fiscal first-quarter earnings per share of 98 cents, up 25.6% year over year and 4.3% above the Zacks Consensus Estimate. Net sales jumped 6.0% year over year to $291 million. Segment-wise, Specialty Foods net sales nudged up 5%, driven by increases in both retail and food service sales, while Glassware and Candles sales increased 12% on volume growth.
Rising Earnings Estimate Revisions
The Zacks Consensus Estimate for fiscal 2013 rose 2.0% to $4.04 per share in the last 30 days, based on upward revisions from two of three estimates. This outlook implies year-over-year growth of 15.2%. For fiscal 2014, the Zacks Consensus Estimate is up 4.3% to $4.35 per share, suggesting year-over-year growth of 7.6%.
Reasonable Valuation
Though the stock of Lancaster Colony is not cheap by most valuation metrics, it looks reasonable on a P/E basis. The stock currently trades at a forward P/E of 18.13 times, a slight discount to the peer group average of 18.39 times. The stock also looks attractive given a trailing 12-month ROE of 18.1%, which is higher than the peer group average of 9.2%.
Chart Shows Promise
Over the past six months, the stock has gained approximately 14.4% compared with the S&P 500's return of 7.1%. It has also been consistently trading above its 200-day moving average since May 25, 2012. Volume is fairly strong, averaging roughly 153,000 daily.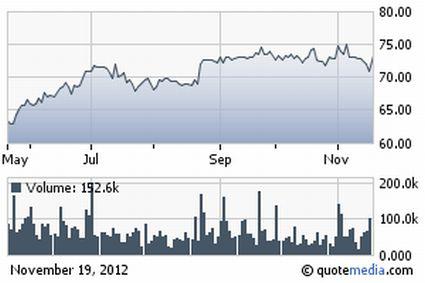 Founded in 1961, Lancaster Colony Corporation is headquartered in Columbus, Ohio, and manufactures and markets consumer products, primarily specialty foods in the United States. The company operates in two segments: Specialty Foods and Glassware and Candles. With a market capitalization of $2 billion, Lancaster primarily competes with General Mills (NYSE:GIS) and Mondelez International, Inc. (NASDAQ:MDLZ).