By Stoyan Bojinov
Bargain shoppers have arrived early on Wall Street ahead of Black Friday, as last week's brutal sell-off has left the marketplace scattered with ripe opportunities for seasoned veterans not shaken up from all of the volatility. Renewed optimism from President Obama that Congress would strike a deal before we drive off the "fiscal cliff" has been a major catalyst behind this week's bounce, while encouraging housing market data has also brought the bulls back to the equity front.
Chart Analysis
After enduring a prolonged pullback over the last two months, the Teucrium Corn Fund (NYSEARCA:CORN) has recently pumped the breaks at a major support level and appears poised to bounce higher.
Click to enlarge image.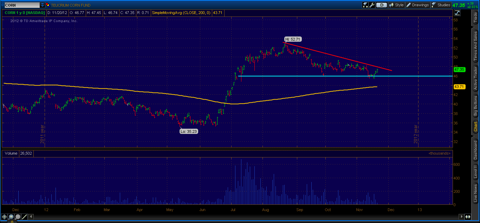 Since peaking at $52.71 a share on Aug. 21, 2012, CORN has posted a series of lower highs (red line), which is worrisome. However, this ETF has also managed to hold its ground above the $46 level (blue line) on several occasions. Although the recent price action has been mixed, the fact that CORN has been holding above $46 a share is encouraging because it previously bounced off this level on July 11, Sept. 27, and most recently again on Nov. 16, 2012 (see "Most Popular Commodity ETFs").
The fact that CORN has posted lower highs but remained above support suggests that buyers are enticed at the $46 level. This means that jumping in long offers lucrative upside potential. However, a break below this support level may also welcome accelerating selling pressures that could sink CORN to its 200-day moving average (yellow line) near $44 a share.
Outlook
If corn futures stick to the medium-term downtrend at hand, then this ETF could sink further. In terms of downside, CORN has immediate support at $46 a share followed by the $42 level. On the other hand, if bullish suspicions prove true, CORN may have the wind at its back. In terms of upside, this ETF may face resistance around $48 a share followed by the $50 level. As always, investors of all experience levels are advised to use stop-loss orders and practice disciplined profit-taking techniques.
Disclosure: No positions at time of writing.
Disclaimer: Commodity HQ is not an investment advisor, and any content published by Commodity HQ does not constitute individual investment advice. The opinions offered herein are not personalized recommendations to buy, sell or hold securities or investment assets. Read the full disclaimer here.