Many market professionals look at high valuations of growth companies and find this alone makes the stocks short-able. There are two problems with this. One is that the market can remain irrational for a long time. Two is that sometimes companies actually do deserve growth valuations.
Tesla And Lululemon Attract Similar Customers And Investors
What if there were two companies which attracted the same kind of people--customers who are willing to pay for quality products, and investors who are willing to buy stocks with aggressive growth valuations? What if one company was grossly overvalued relative to the other--and you could generate alpha by betting on the relative valuation, through a pairs trade in stock or options?
Market Error In Relative Valuation
What if one company (Tesla (NASDAQ:TSLA)) was about to experience rapid popularity growth, while the other (Lululemon (NASDAQ:LULU)) was just beginning to slow in earnings and face new competition? Lululemon has a $10BB market cap: what if it is slowing down in profitability growth while a company with 1/3 the market cap is speeding up?
What if the company on its way up had tangible potential to dominate an estimated 2020 annual market for 100 million new cars (a $2-trillion market)? What if the company on its way down was in the famously ephemeral, low-margin clothing industry? What if the company on its way up recently found its sales so strong that it has announced the potential to raise prices?
Wednesday, November 21, 10:59 AM Just months after it began shipping the Model S, Tesla (TSLA +1.4%) says it plans to raise the price of the luxury electric sedan, and might also make some features that now come standard part of optional packages. The Model S, which has a starting price of $49.9K, has received solid reviews.
What if the company on its way up had a complicated technology moat, and the company on its way down made yoga shorts? What if the company on its way up was making the car equivalent of the iPhone?
Tesla's sedan, Model S, recently won Motor Trend's Car of the Year award, and did so with unanimous support from judges--despite an unusually high number of compelling competitor vehicles.
In 2012, Tesla survived the "valley of death" in scaling up its manufacturing operations. However, accounting for relative volatility, the stock has not outperformed Nasdaq year-to-date. This indicates that the hype cycle has not started yet. The big investor waves have not entered yet.
In 2013, the sexy Model S sedan will make Tesla a household name. Right now, it's not a household name--this is like Apple (NASDAQ:AAPL) when it was known only to innovators/early adopters.
In 2014, Tesla's SUV crossover, Model X, will debut. It will have enormous potential in attracting women, who on average make more buying decisions in new vehicles than men do. This is the same demographic as Lululemon; the middle class may be shrinking, but both high-end and low-end motifs have proven profitable.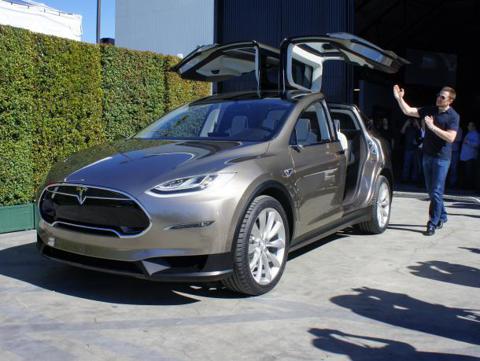 The next model after X is expected to cost only $30,000. This low price for a quality electric vehicle will change the game in automobile sales and energy geopolitics forever. Adjusted for inflation, $30,000 is similar to the debut price of the Prius, a "green" vehicle whose popularity coincided with Toyota's (NYSE:TM) market cap tripling from $70BB to $210BB from 2003 to 2007.
Is Lululemon clothing really changing the game in society? Even if so, could this help Lululemon command a premium on prices as competitors inevitably start ripping off the designs? Tesla has deep design wins over competitors--is it really that hard to design shorts that make rear ends look good?
Demographic-Neutral Alpha
Implied volatility is the standard "price tag" for options. Tesla near-the-money calls trade in the 30's in terms of implied volatility. Lululemon puts trade in the high 30's. In my opinion, it would be wise to be long Tesla and short Lululemon, with 65% weight to the short side, in order to offset the aggressive forward premiums. While the trade will likely prove profitable sooner, one can buy such options which expire in January 2015.
These stories are inherently volatile, which is why it is advantageous to be long volatility; if just one stock moves significantly in the direction I am predicting, breakeven will occur; profits will occur after a minimally substantial move.
Psychological Difference Between Investors And Customers
Unfortunately Tesla has been politicized in the investment community. This explains why TSLA has a great deal of short interest and extremely high implied volatility on its puts relative to its calls. Although not entirely hated, Tesla is less popular among politically conservative investors.
This investment community controversy is not representative of the reception Tesla will receive in the consumer marketplace. Affluent consumers, whether Democrats or Republicans or Libertarians, are always happy to spend money on the newest trend, especially when it has qualities resembling the iPhone.
By projecting our own highly critical decision making process onto uncritical consumers, the investment community undervalues the appeal of Tesla.
Forward Valuations Are Comparable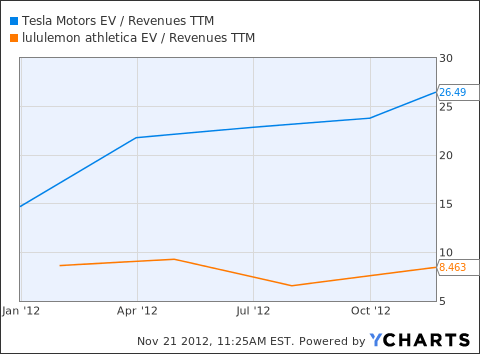 TSLA EV / Revenues TTM data by YCharts
While Tesla's enterprise value premium on revenues may appear more aggressive than Lululemon's, this is a flat ratio which does not factor in momentum. Tesla has been scaling up production and is entering a fundamentally distinct phase of revenue growth. The story with Tesla won't be about profitability for a couple more years; the story is about the uniqueness and value of its products in society, and the fact that it is sustaining operational scale. Meanwhile Lululemon is testing the top of its range in PEG, while simultaneously guiding analysts downwards on profit margins, and attracting the attention of short-sales specialists such as Akram's Razor. Take a look at these measures which give a good picture of momentum: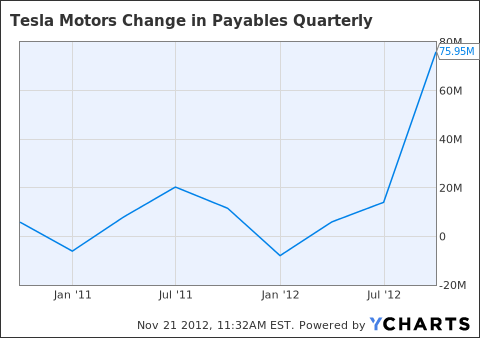 TSLA Change in Payables Quarterly data by YCharts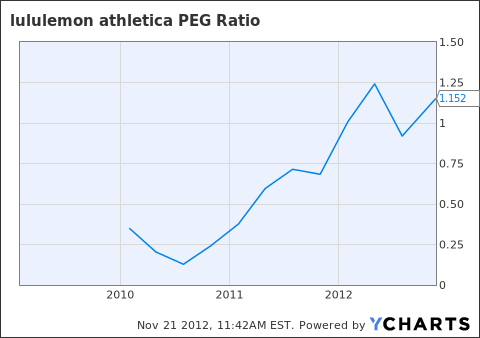 LULU PEG Ratio data by YCharts
Disclosure: I have no positions in any stocks mentioned, and no plans to initiate any positions within the next 72 hours. I wrote this article myself, and it expresses my own opinions. I am not receiving compensation for it (other than from Seeking Alpha). I have no business relationship with any company whose stock is mentioned in this article.