Rosetta Genomics (NASDAQ:ROSG) is a stock that has been beaten up in the last few years. The price has gone from $300 in 2008 to a mere 4$ in 2012. This has been a result of a reverse stock split and numerous shares being issued in the past year. In April they raised $1.4 million, followed by 2 raises in May raising a total of $8.8 million. In August, more shares were offered, bringing the company another whopping $31.6 million. Investors have not trusted the management and have sold shares driving the price down. After studying their portfolio, and what they can offer to the Cancer population, I am willing to invest in this company, and call it a speculative buy and hold for the next 2 years.
Numerous shares have been issued in 2012. This issuance has helped ROSG clear all its debts and also hire numerous personnel, all with the aim of starting to sell their miRview. MiRview mets2 is an advanced test for cancers of uncertain or unknown primary, also known as CUP, which offers a panel of 42 tumor types that can be identified. Some data demonstrated that in 88% to 92% in line with clinical, pathological evaluation of the patient. miRview lung accurately identifies the four mains subtypes of lung cancer with a sensitivity of 95% using very small sample sizes such as cytological samples.
ROSG state that they can target 200,000 patients to study their type of cancer. The total market opportunity is $600 million. One has to remember that each test costs approximately $3,000 - $3,700 so the opportunity is there for ROSG to make money. They have also hired a Director of Marketing and Reimbursement in June, Steve Miller, meaning they are trying to market their product to start selling more.
Other key Facts
1. 0 debt
3. Float of $9m shares approximate.
4. % float short = 22%
5. Cash $30 million approximate. The company stated that it has enough cash to support itself for the next 24 months, so I don't expect any new shares coming on the market.
Technical Analysis
On the daily chart, ROSG is forming a base around $4-$5. The 50 dma is below the 200 dma which is not bullish, however, I expect a golden cross to occur in the next few weeks. (click to enlarge)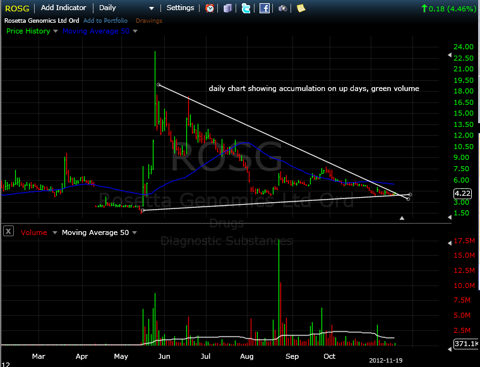 As you can see on the weekly chart below, both stochastics and RSI are showing oversold levels. I think this is a great place to go long as the long term potential of this company can now start to take place. You can notice that ROSG was trading at $140 in 2010, so the chances of a short squeeze can definitely occur. If the sales start coming through, I believe $20 is highly achievable in 1-2 years.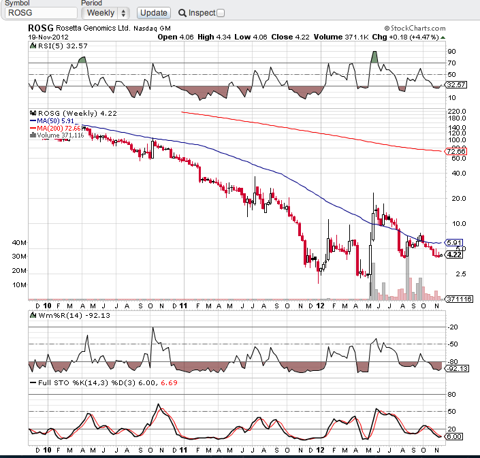 Conclusion:
Now some will say I have been waiting for years for ROSG to make money but they keep burning their cash. That's true but the approval for their miRview by Medicare can be a big changing event for the company. I am ready to give this company one last chance and have been adding to my position at an average of $4. With $30 million in the bank and a market capital of $38 million, a quadruple of the stock price is doable in the next 4 years. Note that in December, an annual shareholder meeting is coming up, and management should be giving a review about sales. You don't want to be out of this if good news comes out. My target remains $20 in 2 years, provided they can start showing some sales. 2013 will definitely be one to watch for ROSG.
Disclosure: I am long ROSG. I wrote this article myself, and it expresses my own opinions. I am not receiving compensation for it (other than from Seeking Alpha). I have no business relationship with any company whose stock is mentioned in this article.