If money flows are any indication, Sirius XM (NASDAQ:SIRI) has been stuffed with cash since it tested $2.97 and a 52 week high on October 18th.
For those who are not familiar with money flows, it's a measure of how many shares traded went for the bid price, or what would be essentially a sale, vs. how many shares went for the ask price, or what would be a buy.
Money flows can be an extremely useful tool in understanding whether the current movement in a stock's price is actually supported by the trades behind the move. When money flow averaged over several days matches the movement of the share price, you have a situation of normalcy. When money flow averages oppose the movement of the share price, you have one of the following situations :
Selling on strength, which appears when money flow is negative yet the share price movement is positive.
Buying on weakness, which appears when money flow is positive yet the share price movement is negative.
So back to Sirius XM. We know that since testing highs, the share price has pulled down from $2.97 to a recent low of $2.55 over the past month. Today the share price sits at $2.75, 8% shy of that peak. A simple glance at the recent chart may appear a bit bearish in the short term to some :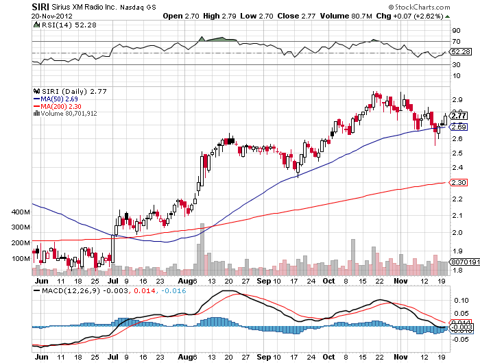 But a look at money flows tells a completely different story. The truth is that during this bearish or what I believe to be more of a consolidation period, cash flow into Sirius XM has been overwhelmingly positive.
How much positive cash flow?
$686.23 million dollars worth since hitting $2.97 with a $185.93 million day. Trading on November 20th being the highest since the top at $89.09 million. Only a single day had a net negative flow of cash in the last month and that was October 23rd. This day had a negative flow of $0.64 million on a day where Sirius XM opened with a gap down.
What could be one of the fundamental reasons behind this cash flow? This can partially be explained by Liberty Media's (LMCA) recent purchases, and what are likely ongoing purchases for November 19th, 20th and 21st. But the total of Liberty's purchases do not come close to that $686.23 million figure. It's not just Liberty that is finding these prices attractive. I feel this creates a good amount of upside pressure to Sirius XM that is building each and every day. Picture a turkey being stuffed with cash. Eventually, it's going to pop.
Buying on weakness in strong companies like Sirius XM is a good way to maximize your profit potential. Of course, this begs the question: "When is the best time to buy?" In my opinion the answer is and has been "now." A short term pop could bring the share price to $3.30. Long term? $4.25 in 2013 and $5+ conservatively in 2014.
If you have a long term bullish sentiment, I don't think you can go wrong at current pricing. Could the overall market go south and take Sirius XM with it if we drive over the fiscal cliff? Certainly, but at that point few, if any, stocks will be safe, and to be honest I think fears here are a bit overblown.
Disclosure: I am long SIRI. I wrote this article myself, and it expresses my own opinions. I am not receiving compensation for it (other than from Seeking Alpha). I have no business relationship with any company whose stock is mentioned in this article.