If there was one sector of our economy that will grow in just about any economic environment, what would it be? I am pretty sure it would not be buggy whips, but I think that the healthcare sector is just about the most defensive sector an investor can point towards for stability, as well as a potential for growth. People will always need doctors, medical assistance, hospitals, drugs, emergency clinics, and whatever else falls into the sector.
The issue a sound investor faces is: what stocks can be invested in that could give the best total returns in any economic environment? It can come in the form of dividends, or growth of course, but perhaps right now we can have both. Sort of like having our cake and eating it too.
In my opinion, now could be the best time to take a look at healthcare REITs.
Why Healthcare REITs?
There has been plenty of talk about how the Affordable Care Act ("Obamacare") is going to add nearly 40 million more people into the insurance pool. This will mean that more folks will be covered to pay for their basic healthcare needs, if not more. It also means that doctors will see more patients, hospitals will have more admittances, and all medical facilities will have more of everything.
The problem is, there are not enough "facilities" or "beds" to accommodate the future needs of a more widely insured population. Not to mention that as the population ages, the strain that is placed on our current facilities will increase dramatically as well.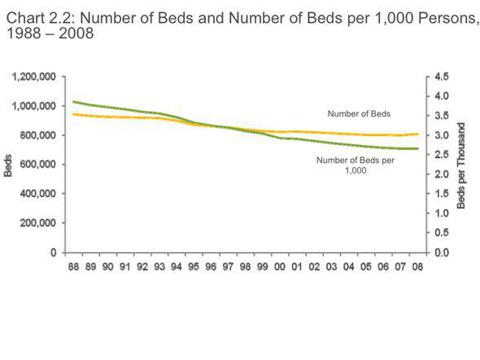 This chart from 2008 shows not only the decline in actual "beds," but also the decline in "beds" per 1,000 people. I take this to mean that there are less places for people to go, and the need for more "beds" will only increase. If the need for more "beds" increases, that means the need for more facilities will increase.
If more facilities are needed, then there will be a need for places to either build the facilities, or existing places that can lease space to expand the number of facilities. Either way, healthcare REITs might be just what the doctor ordered.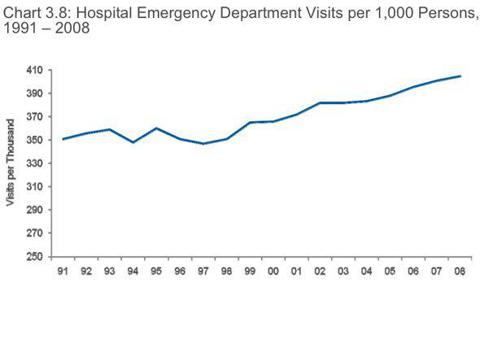 Emergency room visits rapidly increased during the same period, and the trend could advance even more rapidly with healthcare reform. This will also mean there will be greater needs for emergency facilities. Whether they are clinics, outpatient emergency rooms, or other facilities, these will need to be either built or leased by the medical community and once again should benefit healthcare REITs.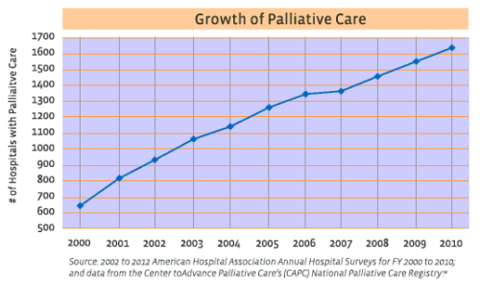 Let's not forget the dramatic increase in palliative care, which would require more hospice facilities either stand alone or within hospitals themselves. As the baby-boom generation continues to age, the need for more facilities in this area of the healthcare sector will grow quickly, once again giving the healthcare REITs room to grow.
Actually, the need for more facilities for healthcare services in every aspect of the sector will continue to grow. This overview outlines exactly what it takes to actually become a hospital.
The bottom line to all of this is that there are not enough physical locations for patients to go, and hospital corporations and medical facility corporations will need to expand. That is the growth potential for the healthcare REIT sector.
Which REITs Are The Best To Benefit?
First we need to understand what the REITs in this industry offer. Obviously they are not healthcare providers or products. What they offer is the actual real estate that is required for the facilities to build on or lease from. As I have shown, there will be a fairly urgent need for those locations.
Here is a description of what these REITs actually do from Wikinvest:
"Health Care REITs are Real estate investment trusts that own health care properties. Like all REITs, Health Care REITs are required to pay out 90% of their taxable income in dividends. This increases shareholder return, but it also means that most Health Care REITs are unable to finance expansion from operating income, instead issuing equity and debt. This reliance on debt causes Health Care REITs to be particularly sensitive to changes in interest rates. Fluctuating interest rates can impact debt service payments on variable rate debt, decrease a REITs' stock price as bonds provide greater returns, or increase the cost of issuing new debt, slowing expansion.

Health Care REITs are also subject to legislation which prevents them from operating health care facilities. Most health care REITs lease their properties to third party managers which typically operate multiple properties. These managers lease the entire facility on a "triple net" basis, paying the REIT owner a fixed rental fee while also paying all operating costs, maintenance and upkeep associated with the property."
The REITs that are well positioned in this industry are;
1) Ventas, Inc (NYSE:VTR)
2) Medical Properties Trust (NYSE:MPW)
3) Omega Healthcare (NYSE:OHI)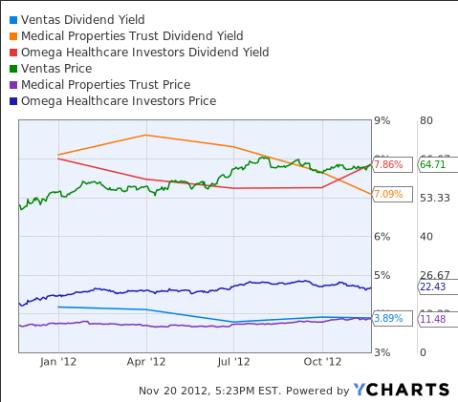 This chart shows the relative price stability of the shares of each company, as well as the most recent dividend yields. With yields roughly between 4%-8%, an investor can have a very reliable stream of income, while waiting for capital appreciation to unfold.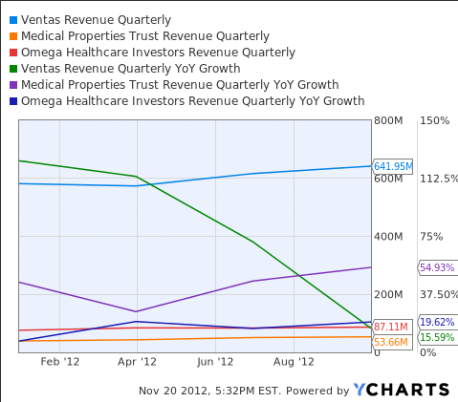 Each of the companies have strong revenues and continue to grow between roughly 16% to 55% over the past year. I believe this revenue growth will get stronger as the needs of the system itself expand.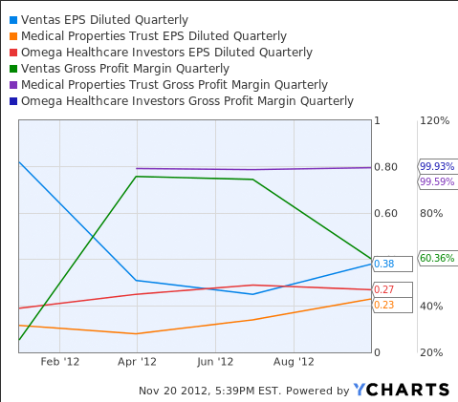 The earnings per share of each are strong, and the gross profit margins are quite high. As revenue grows in the future, the bottom line should grow significantly, given the profit margins enjoyed by these companies.
My Opinion
As dividend seeking investors, we strive to reach for income. These stocks offer attractive yields as well as the potential for capital appreciation. With all of the uncertainty investors face, these stocks could also offer a safer haven given the business sector they are in.
If the economy is weak, we still require healthcare facilities. As the population ages, we will require healthcare facilities. As more people have access to insurance, they too will seek out healthcare facilities. The need will be there, and these REITs should be considered for core positions.
Disclosure: I have no positions in any stocks mentioned, but may initiate a long position in OHI, MPW over the next 72 hours. I wrote this article myself, and it expresses my own opinions. I am not receiving compensation for it (other than from Seeking Alpha). I have no business relationship with any company whose stock is mentioned in this article.