The Gist
A good hockey player plays where the puck is. A great hockey player plays where the puck is going to be. - Wayne Gretzky
This is a great quote from Gretzky. I believe it is a great investing mantra to abide by. Basically, he is saying you have to be aware of what's on the horizon. You need to think several moves ahead like a chess player to be a winning stock picker.
These stocks are currently trading vastly below their all-time highs, yet I believe have the potential to rebound. Based on the current paradigm shift from PCs to mobile devices for accessing the internet and to communicate with others, these stocks seem well positioned to benefit in the future.
The Goods
The stocks selected are trading on average 31% below their 52-week highs and have 21% upside potential based on analysts' estimates. Micron (NASDAQ:MU) has the most upside at 65%. Nokia (NYSE:NOK) is the only one trading above its consensus mean price target but is still down 46% from its 52 week high. These facts alone carry little weight, but it's a good starting point when looking for buying opportunities.
In the following sections, we will perform a review of the fundamental and technical state of each company to determine if this is the right time to start a position. The following table depicts summary statistics and Wednesday's performance for the stocks. The following charts are provided by Finviz.com.

Brocade Communications Systems, Inc. (BRCD)
Brocade is currently trading at 15% below its 52 week high and has 12% upside potential based on the consensus mean target price of $6.16 for the stock. Brocade was trading Wednesday at $5.54, up nearly 1% for the day.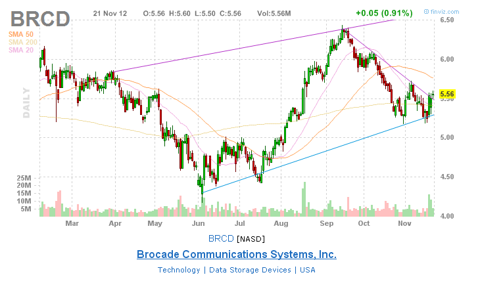 Brocade has some fundamental positives. The company is trading for 1.16 times book value and has a forward PE of $9.03. Brocade is trading for 4.95 times free cash flow. EPS is up tremendously quarter over quarter.
Technically, the stock is still in an uptrend, yet has performed a nearly 50% retracement from the near-term high of $6.50. The stock has been in a well-defined trading range between $4.50 and $6.50 for the past few months. The stock recently broke through resistance at the 200-day sma which is considered bullish.
The company beat last quarter earnings estimates. Fiscal fourth quarter EPS of $0.17 beat by $0.03 and revenue of $578.3M, up 5% year over year, beat by $12 million. The beat was driven by a significant increase in revenue and continued expansion of margins. The stock is a buy here.
Corning Inc. (GLW)
The company is trading 24% below its 52-week high and has 29% upside based on the consensus mean target price of $14.42 for the company. Corning was trading Wednesday for $11.21, up slightly for the day.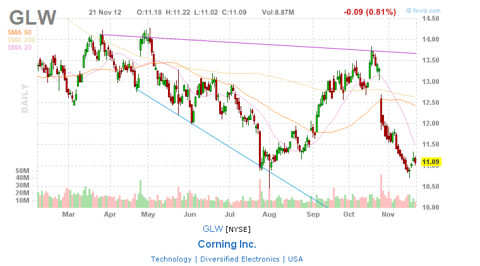 The company has many fundamental positives. The company has a forward P/E of 8.60. Corning has a net profit margin of 25%. Corning trades for a 24% discount to book value. The company pays a dividend with a 3.22% yield. Corning is trading for 26 times free cash flow.
Technically, the stock looks oversold. The stock was in a solid uptrend until the company missed earnings expectations in late October and went into a nose dive. It seems to have found a short term bottom at the $11 level.
Corning reported a decline in revenue and profits were down markedly from the prior year. I feel Corning's valuation at this level is becoming interesting. In my earlier missive I suggested waiting for the stock to hit the $11 mark. It seems others were as well and the stock has bounced off this price point. The stock is a buy here.
Micron Technology Inc.
The company is trading 40% below its 52 week high and 65% potential upside based on the consensus mean target price of $9.04 for the company. Micron was trading Wednesday for $5.49, down over 1% for the day.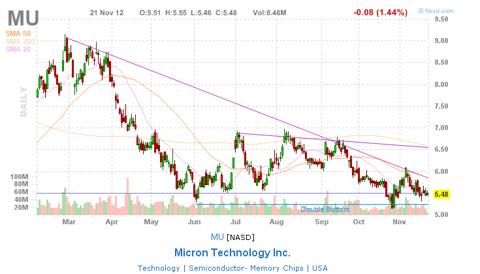 Fundamentally, Micron has some positives. Micron is expecting EPS to be up significantly next year according to Finviz.com. Micron is trading for approximately 74% of book value and 69% of sales. Micron insider ownership has increased by 45% over the past six months.
Technically, Micron is in a long-term downtrend. Nevertheless, the stock may have found a bottom. The stock has tested the $5.50 mark four times this year and bounced back higher each time.
Micron is trading for less than book value and has a significant opportunity if they can complete the purchase of Elpida. Elpida was a supplier to Apple (NASDAQ:AAPL). The completion of the purchase should enhance the company's fundamentals and competitive edge. I believe the risk/reward is favorable for the longs here with the stock trading just above this year's low. The stock is a buy here.
Nokia Corporation
The company is trading 46% below its 52-week high and 18% above its consensus mean target price of $2.62 for the company. Nokia was trading Wednesday for $3.32, up 13% for the day.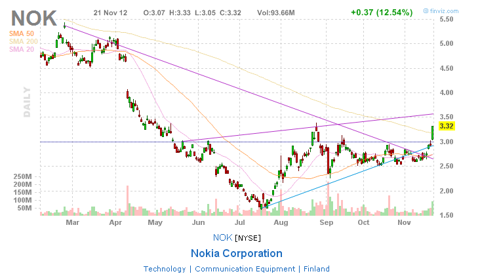 Fundamentally, Nokia has several positives. Nokia is trading for slightly above book value, 28% of sales and has $3.07 in cash per share. EPS next year is expected to rise by 78%. Nokia pays a dividend with an 8.56% yield.
Technically, the stock has rebounded nicely since July and has established an uptrend. In my last missive regarding the stock I suggested the stock was currently in a breakout position at the apex of a descending triangle and a major breakout move may be about to occur. If you took my advice and bought the stock, kudos to you because that is exactly what has happened with a 13% pop Wednesday.
U.S. carriers are doing their best to give the Windows Phone (NASDAQ:MSFT) a fighting chance. Verizon Wireless (NYSE:VZ) will offer a Windows Phone model for free with contract signed by year end, but doesn't say from whom. Big Red currently offers Nokia's mid-range Lumia 822 for $99. Sprint meanwhile promises to introduce WP models next year. AT&T is offering Nokia's Lumia 920 for $450 without a contract. Nokia's is aggressively pricing their product which bodes well for the company. Reports the Lumia 920 has sold out in many German stores may have been the catalyst for the pop Wednesday. With a dividend yield of nearly 10% and Microsoft's backing, the risk/reward ratio looks positive for the stock. I would wait for the stock to simmer down prior to starting a position though. Wait at least three days.
Sprint Nextel Corp. (S)
The company is trading 8% below its 52-week high and has 15% upside based on the analysts' mean target price of $6.41 for the company. Sprint was trading for $5.58 on Wednesday, up over 1% for the day.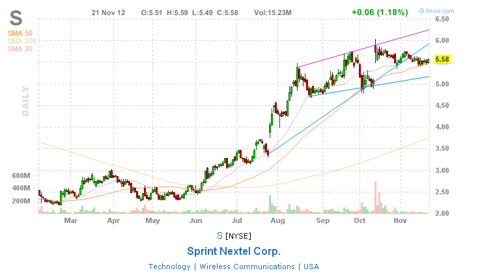 Fundamentally, Sprint has some positives. Sprint is trading for 2 times book value and only 50% of sales. EPS next year are expected to rise by 46.30%.
Technically, Sprint is neither overbought nor oversold. The stock achieved the golden cross at the end of June and proved the bullish indicator true. This is the beginning of a long-term rally. The stock is currently under accumulation and hugging the 50-day sma.
The company is down four-fold from its 2005 high of $24 per share. Sprint is the only company that offers the Apple iPhone with unlimited data, which is driving subscriber growth. The company is cleaning up the balance sheet and executing well on operational objectives. Sprint recently received an offer from Softbank to buy a majority stake in the company. SoftBank (OTCPK:SFTBF) has also suggested it's willing to make additional moves. Leap Wireless (LEAP) is a name that inevitably comes up whenever U.S. mobile consolidation is a subject. I like Sprint at this level.
The Bottom Line
The focus of the markets is on the looming Fiscal Cliff. I see any potential sell off as a buying opportunity. The market always bounces back. This is a buy on the dip scenario. The mobile computing industry is in its infancy at this point. I see the growth potential for these stocks as unlimited at this point. Industry consolidation may drive prices higher as well. I posit QE and other central bank procedures will underpin equity market in the future as well.
If you choose to start a position in any stock, I suggest layering in a quarter at a time on a weekly basis at a minimum to reduce risk. Build the position slowly. Even though these are long-term buys, one of the key factors effecting ROI is your cost basis.
Disclosure: I have no positions in any stocks mentioned, but may initiate a long position in NOK, S, BRCD, MU, GLW over the next 72 hours. I wrote this article myself, and it expresses my own opinions. I am not receiving compensation for it (other than from Seeking Alpha). I have no business relationship with any company whose stock is mentioned in this article.
Additional disclosure: This is not an endorsement to buy or sell securities. Investing in securities carries with it very high risks. The information contained within this article for informational purposes only and is subject to change at any time. Do your own due diligence and consult with a licensed professional before making any investment decisions.