Coach, Inc. (NYSE:COH) ranked No. 4 on a list of America's most profitable stores as reported by MarketWatch on Nov. 16, 2012. COH is a marketer of fine accessories and gifts for women and men, operating in two segments: direct-to-consumer and indirect. COH had 833 stores internationally as of the end of July. COH's primary markets are the United States and Japan, which account for about 80% of all stores. COH's products offer the quality of higher luxury brands but at more attractive price points. COH has developed a narrow economic moat through a brand that commands pricing power, sourcing and distribution advantages, and attention on capital efficiency. These competitive advantages, along with strong balance sheet and consistent cash flow, give COH a promising long-term outlook.
Earnings and Recent Development
On Oct. 22, 2013, COH released its Q1 2013 earnings, which exceeded analysts' estimate as it kept expenses from increasing too quickly, as reported by Bloomberg Businessweek. Net income rose 3% to $221.4 million, or 77 cents a share, which was up from $215 million, or 73 cents a share a year earlier. Analysts projected 75 cents based on the 28 estimates compiled from Bloomberg. COH gave up some upside on the margin to fuel the sales, and it managed expenses better than analysts' estimate. The total revenue increased 11% to $1.16 billion, matching the average of analysts' estimate while selling, general and administrative expenses grew to 44.2% of sales from 42.1%, which nevertheless is still below the estimate of 44.7% from an analyst with Stifel Financial Corp. The upward trend in sales is a positive indication for the luxury-goods market, which has been recently impacted negatively due to the recent economic slowdown. COH's continued focus on store sales productivity, merchandising, marketing and strategic pricing had helped it remain competitive in a poor consumer environment. The board of COH also authorized the buyback of as much as $1.5 billion in stock by June 30, 2015. (A full earnings call transcript from Seeking Alpha can be found here.)
On Nov. 2, a positive development was announced that COH has been awarded $257 million in a lawsuit against people and business selling counterfeit COH merchandise. "This judgment should serve as a warning to everyone involved in any aspect of trafficking in counterfeit goods that Coach will find you and will seek to impose the harshest penalties available against you," said Coach General Counsel Todd Kahn. The judge also awarded COH the ownership of 573 internet domain names, all of which included the word "Coach" in the domain name. Since May 2009, COH launched a litigation campaign called "Operation Turnlock" to fight counterfeit distribution and had been so far proven successful with significant monetary awards.
Fundamentals Overview and Technical Analysis
With the data gathered from MorningStar, COH's key stats will be compared to its competitors in the luxury goods industry within consumer cyclical sector, including Tiffany & Co (NYSE:TIF). Despite the lagging EPS growth (three-year average) of 22.7, as compared to the industry average of 42.5, COH's revenue growth of 13.8 (three-year average) outperformed the average of 3.3. COH also achieved higher operating margin of 31.2% TTM and net margin of 21.5% TTM as compared to the averages of 10.5% and 10.5%, respectively. The ROE of 54.9 and zero debt-to-equity are remarkable as compared to the averages of 21.1 and 0.6, respectively. COH is currently undervalued with P/E of 16.1, as compared to the industry average of 18.9. (A detailed, insightful fundamental analysis can also be read here, as written by a proficient SA contributor.)
COH closed at $57.43 with 1.48% gain on Tuesday with a volume of 3.56 million, which is 22.4% less than the 30-day average volume of 4.59 million. COH had been trading in the range of $48.24-$79.70 in the last 52 weeks. With yesterday's gain, the MACD (12, 26, 9) started to show a bullish sign. COH tested but failed to close above its 50-day MV of $56.61, while also trading below its 200-day MV of $63.64.
The momentum indicator, RSI (14), is showing an increasing buying momentum as it went above 50 middle line. If COH can stay above 50-day MV, then the next resistance will be $59.62, R1 pivot point, followed by $63.20, R2 pivot point and 200-day MV, as shown from the chart below. The near-term technical trend for COH is neutral toward bullish.
Click to enlarge image.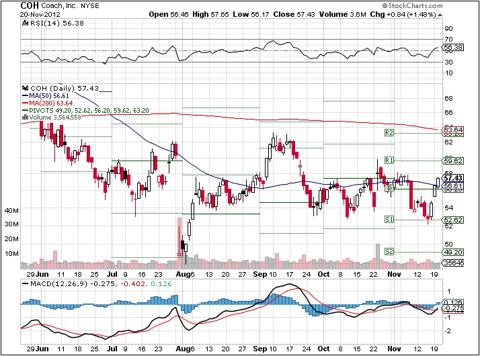 Source: StockCharts.com
Options Play
With strong branding power, solid balance sheet, and consistent cash flow, the long-term outlook for COH is affirmative. Investors can take a look at this long-term investment opportunity with the recent pullback and perhaps gradually establish positions to gain from the shifting U.S. demographics where the riche become richer. A credit put spread will be reviewed before for investors who would like to acquire the stock at a discount price while gaining some potential upside profit.
Short 1x Feb. 16, 2013, put at the strike price of $50.00 for the credit for $1.25
Buy 1x Feb. 16, 2013, put at the strike price of $45.00 for the cost of $0.56
The maximum profit is $0.69, and the maximum risk/margin requirement is $4.31 ($5 loss - $0.69 credit received). If COH closes above $50 on Feb. 16, 2013, 16% return on margin will be rewarded. If COH falls below $50 upon options expiration, the acquisition cost per share will be $49.31, which is 14.14% lower than the current price of $57.43. The price discount on COH stock (per 100 shares) should be sufficient to buy a Coach bag for the COH fan.
Note: All prices are quoted from the close on Nov. 20, 2012, and all calculations are before fees and expenses.

Disclosure: I have no positions in any stocks mentioned, but may initiate a long position in COH over the next 72 hours. I wrote this article myself, and it expresses my own opinions. I am not receiving compensation for it (other than from Seeking Alpha). I have no business relationship with any company whose stock is mentioned in this article.
Disclaimer: Investors and traders are recommended to do their own due diligence and research before making any trading/investing decisions.