We have held a long position in Whole Foods Market (NASDAQ:WFM) since 1999. We dramatically increased our position in March 2001 when the company had suffered a 25% price decline in its stock in the wake of an earnings miss, concerns over its valuation and as the company was restructuring due to poor "di-worse-ification" investments (Wholepeople.com, Amrion etc.). Our investment in Whole Foods performed very well from 2001-2005. We found significant headwinds from 2006-2008 when Whole Foods was dealing with a shaky performance, the controversy surrounding Whole Foods buying out Wild Oats and a volatile stock market. Even though the company was growing and its equity exceeded its bonded debt by 62% as of 2008, Whole Foods decided to shore up its capital with a $425M convertible preferred stock offering to Leonard Green & Partners on November 5th, 2008. While this deal was very dilutive in that it enabled Green to convert its investment to Whole Foods Market common stock at a price of $14.50/share, we remember that even the "Masters of the Universe" at Goldman Sachs needed to sell preferred stock with warrants to Berkshire Hathaway while the crisis was in full effect in 2008. Since that time, Whole Foods has recovered its momentum and resumed its strong operating performance. What sets Whole Foods Market's performance apart from this wave of growth versus its performance from 1992-2008 is that it has substantially improved its level of annual free cash flows since FY 2009. This enabled the company to restore its dividend in 2011 and boost it by 40% this year and 43% in FY 2013.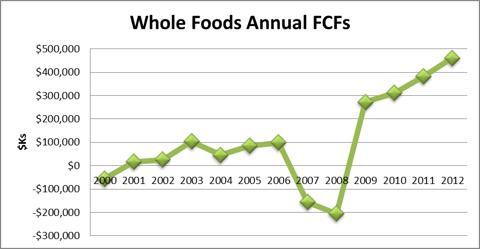 Sources: Whole Foods Annual Reports 2000-2011 and Q4 2012 Earnings Release
We are impressed that Whole Foods has paid down its leverage utilized in acquiring Wild Oats and has seen its cash and other liquid holdings grow while other grocery store chains like Kroger (NYSE:KR) and Safeway (NYSE:SWY) have large amounts of outstanding debt in relation to total capital. Whole Foods is growing its sales and EPS due to organic growth and assertive investments in new stores while Kroger and Safeway are growing the EPS of those companies through share repurchases. Despite the fact that Whole Foods has seen its share count grow due to employee stock issuance, we wouldn't want to see it repurchase shares at these levels and that is why we were actually disappointed in its $28.6M share repurchase in Q2 2012 and Q3 2012. The company offset this share repurchase with $370M in employee stock option issuance during FY 2012.
Source: Morningstar Direct
In our August report on Whole Foods Market, we determined that Whole Foods Market could easily afford to pay a special $7/share cash dividend and increase its dividend by 40%. While we were disappointed that the company is maintaining an overly liquid financial position, we were pleased that the company increased its annualized dividend by 43% from $.56/share in FY 2012 to $.80 in FY 2013. Whole Foods initiated a dividend of $.30/share in its 2004 fiscal year period. It paid a special dividend of $2/share in FY 2006 and grew its annualized dividend from $.30/share in 2004 to $.80/share in 2008. Due to the financial crisis, Whole Foods decided to bolster its liquidity by suspending its dividend and issue $425M convertible preferred stock to private equity firm Leonard Green & Company. In FY2011, the company reinstated its dividend and paid $.40/share, which was half of its pre-crisis peak dividend. In FY 2012, the company increased its dividend by 40% to $.56/share and in FY 2013 the company will pay a dividend of $.80. Despite the fact that the company demurred from paying a dividend from Q4 2008 to Q4 2010, Whole Foods' per share dividend has increased by 166% since its initial dividend payment in FY 2004.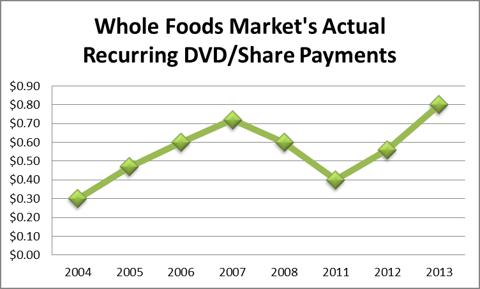 Source: Whole Foods Market Investor FAQ's
With the increased cash holdings and continuous free cash flow generation, Whole Foods could increase the dividend next year by the same 40% it increased it this year and even entertain the idea of a special dividend. Considering that Whole Foods Market had previously paid a special dividend of $2/share in 2006, we don't believe that such a move would be unprecedented. Even if Whole Foods ended up paying a special dividend, it would have a long way to go before it utilizes the leverage ratios that Kroger and Safeway employ. Whole Foods has $1.44B in unrestricted liquid assets, no bonded debt or bank loans and only $24M in capital lease obligations outstanding. Whole Foods has $3.8B in book value and $3.1B in tangible book value. Because Whole Foods has been building its equity base through retained earnings and employee stock program issuance while Kroger and Safeway have been plowing back its cash flows into buying stock, Whole Foods actually has a higher equity base than Kroger ($3.79B) and Safeway ($2.78B) despite being a smaller company in terms of revenues, locations and assets.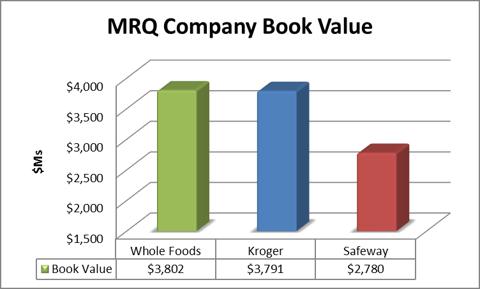 Source: Morningstar Direct
In conclusion, we can see that not only is Whole Foods the most valuable grocery retail chain in America, but that it is also a surprising source of dividends for assertive investors. Although Whole Foods still has plenty of room to grow further, it is generating so much free cash flows as well as financing cash flows from employee stock programs. Whole Foods's FY 2012 EPS and free cash flows cover its FY 2013 dividend by 3.15X. Whole Foods is not alone in dividend growth over the last five to ten years. Kroger initiated a $.26/share annual dividend in 2006 and has boosted it to $.60/share. Safeway initiated a $.20/share dividend in 2005 and has boosted it to $.70/share. Whole Foods initiated a $.30/share dividend in 2004 and with a few hitches from 2008-2012 has boosted it back to $.80/share beginning in FY 2013. We believe that Whole Foods offers the best potential for dividend growth because its dividend/share repurchase payout ratio is lower than Kroger and Safeway, its growth potential is higher than Kroger and Safeway and because its financial leverage utilized is lower than Kroger and Safeway.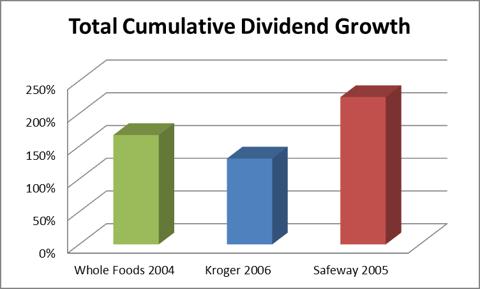 Source: Morningstar Direct
Disclosure: I am long WFM. I wrote this article myself, and it expresses my own opinions. I am not receiving compensation for it (other than from Seeking Alpha). I have no business relationship with any company whose stock is mentioned in this article.
Additional disclosure: This article was written by an analyst at Saibus Research. Saibus Research has not received compensation directly or indirectly for expressing the recommendation in this article. We have no business relationship with any company whose stock is mentioned in this article. Under no circumstances must this report be considered an offer to buy, sell, subscribe for or trade securities or other instruments.