Commodity Chart Of The Day
Daily Silver
(click image to enlarge)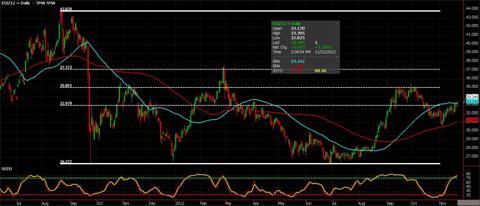 Click to enlarge
Silver is really at a critical pivot point, as I expect a decision to be made in the next couple of days on the direction prices will take in the coming weeks. While there is no doubt longer term that I reside in the bull's camp, I ask myself the question -- can we get a correction first? When asked where I think prices of silver will be into 2013, I see a possibility of a trade north of $50/ounce. The dilemma is, do we get an entry $2-5 lower before that ascent starts?
As you see on the chart above, prices have penetrated the 38.2% Fibonacci level, and are on the verge of closing above the 50 day MA. In theory, this should lead to further upside. The problem I have with this is the stochastics are reading overbought. I would be mildly bullish on an upside breakout. The logic I use is if we get a break, I would get more aggressive as a buyer. Perhaps on long entries from higher levels, I would establish hedges as opposed to a buy from lower levels as just an outright long.
This chart should clearly give you the next two upside objectives at $35, and then $37. I think we could see both by Q2 2013. Outside markets are giving me mixed signals as a dollar correction is supportive, but if equities can in fact gain as anticipated, that could stall upside in the metals. At least to me, the flow of money would leave Treasuries, the dollar and commodities and flow into equities. If I am correct, I'd view that trade as temporary, willing to sell equities higher and buy metals lower… trade accordingly.
Risk Disclaimer: The opinions contained herein are for general information only and not tailored to any specific investor's needs or investment goals. Any opinions expressed in this article are as of the date indicated. Trading futures, options, and Forex involves substantial risk of loss and is not suitable for all investors. Past performance is not necessarily indicative of future results.
Disclosure: I have no positions in any stocks mentioned, and no plans to initiate any positions within the next 72 hours. I wrote this article myself, and it expresses my own opinions. I am not receiving compensation for it. I have no business relationship with any company whose stock is mentioned in this article.