Norfolk Southern (NYSE:NSC) is the third largest railroad by revenues listed in the United States - only CSX (NYSE:CSX) and Union Pacific (NYSE:UNP) are larger. It operates in the eastern United States, where its largest single competitor is CSX. See Norfolk Southern's system map below: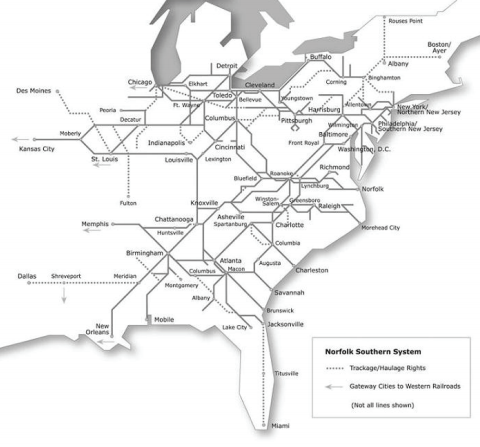 (Source: Norfolk Southern 10-K, p. K4)
Regionally speaking, CSX covers similar territory - and therefore CSX and Norfolk southern can affect the market perception of each other. The companies also happen to be about the same size in terms of revenue and market capitalization. See CSX's track system below: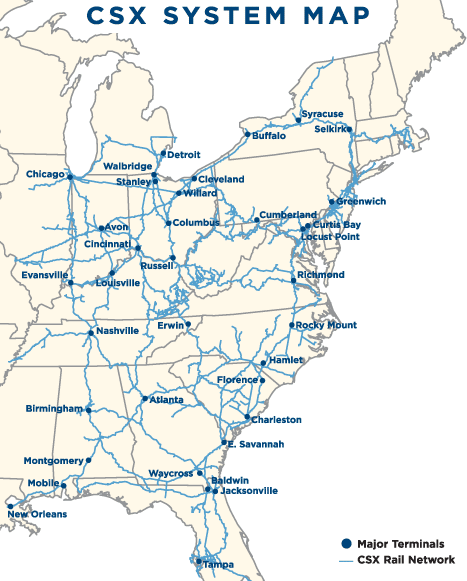 (Source: Georgia Rails Website, accessed 11/19/2012)
Operating Statistics
Through 2011, Norfolk Southern rail traffic has managed to attain about 90% of the total traffic volume of 2006. One can see the relevant freight segments below: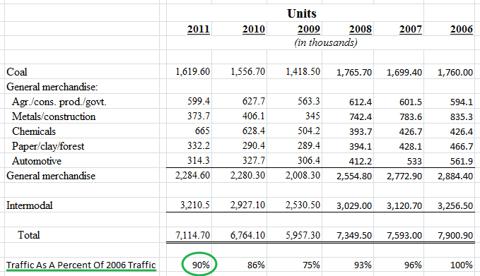 (Source: 2011 and 2008 Norfolk Southern 10-K)
While this trend has been generally positive, when we include Norfolk Southern's operating statistics up to the most recent quarter, we see a similar story across many segments except for a large decline in Norfolk's most important segment, coal , which represented 31% of operating revenues in 2011: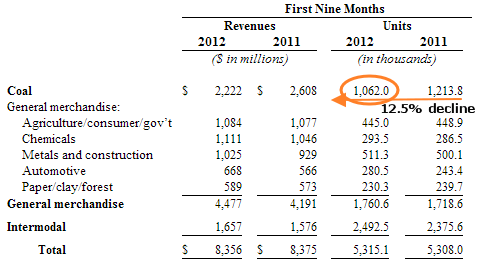 (Source: Norfolk Southern 10-Q, dated September 30th, 2012, p. 21)
Further, the decline in coal (see appendix for more on Norfolk's coal freight) and merchandise shipments drew up a negative income statement for the most recent quarter: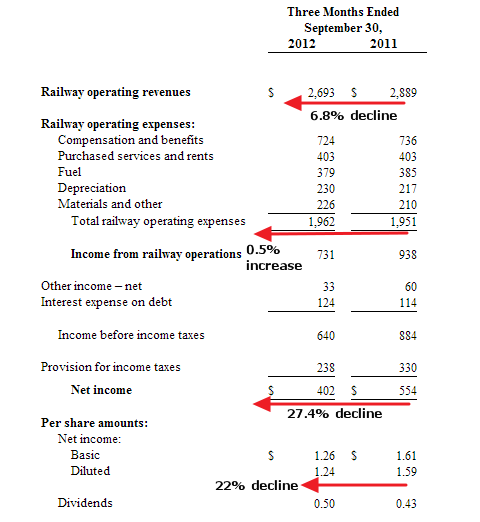 (Source: Norfolk Southern 10-Q dated September 30th, 2012, p. 3)
This negative quarter - driven by the 12.5% decline in coal volumes - prompted three downgrades, with the share price down some 12% since the release: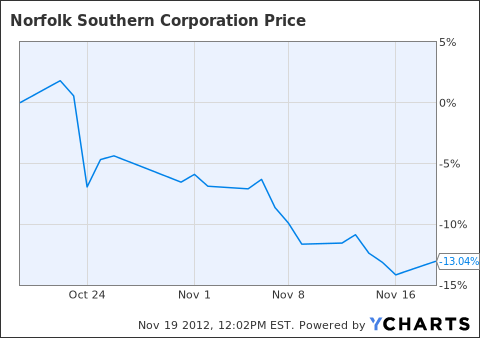 The most recent downward trend in operating statistics occurred mostly in September, the last month of the quarter. Norfolk's Chief Marketing Officer, Donald Seale, commented in the last conference call:
"...the month of September accounted for over 90% of the entire third quarter volume decline, as both coal and merchandise volumes materially weakened at the beginning and through September." (Conference Call, dated 10/23/2012)
This indicates that the trend is likely to persist into the fourth quarter. And since 80% of Norfolk Southern employees are covered by collective bargaining rights, if there is a need to reduce the cost of labor (Norfolk's greatest expense) because of the weak coal market, such reductions may have a floor stipulated by the collective bargaining agreement.
Long-Term Competition Against Trucking
Despite the material weakness in coal revenue due to a weak coal export market, Norfolk's intermodal business increased 5% in the most recent quarter setting an all-time record for intermodal revenue continuing the trend of the last few years. In the last conference call, Donald Seale said:
"[T]urning next to our intermodal business. We achieved new quarterly records in this sector for both revenue and volume. Revenue of $567 million was up 3% over third quarter last year, and volume reached 867,000 units, up 5%." (Conference Call, dated 10/23/2012)
While other issues disrupt the increasing flow of commodities and materials, the intermodal business continues to increase due to the economic characteristics of intermodal. If a logistics firm can transport goods by train rather than trucking at a smaller expense because of increased fuel efficiency, moving by rail would be economically justified.
Below we have two graphs. The first is comparing the general fuel efficiency of trains by the type of equipment they're hauling. In the second graph, we have the general fuel efficiency of trucking by the various types of equipment doing the hauling. In both graphs, fuel efficiency is in "ton-miles/gallon" which can be stated as "a truck/train can move a ton of freight Y miles on a gallon of fuel."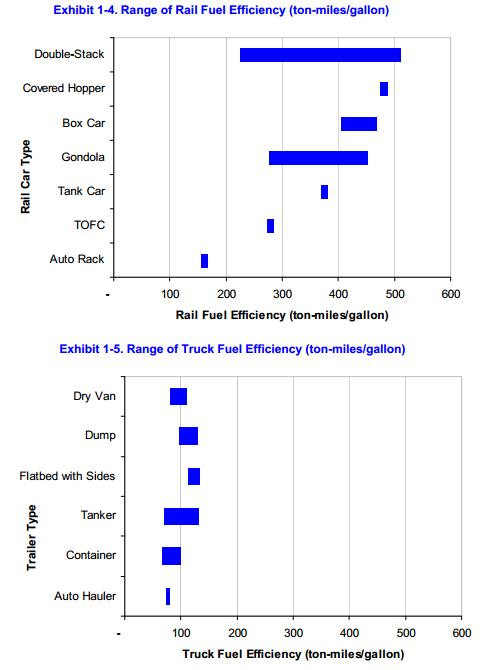 (Source: "Comparative Evaluation of Rail and Truck Fuel Efficiency on Competitive Corridors" (pdf) by ICF International, p. 6)
Notice the general advantage of trains compared to trucking. Over longer hauls, it is reasonable to think that trains are increasingly better. As oil prices rise, we will likely seen the above difference in fuel efficiency become increasingly more important - with trains benefiting with increasing quantities of intermodal and ex-truck carried traffic (I believe I have heard this transition referred to as "highway conversions").
Further, Norfolk Southern is planning on increasing this business:
"Over the longer term, we remain very optimistic about our prospects. As Don described, we're now opening 2 major new intermodal terminals as part of our Crescent Corridor initiative, with 1 more to go this year. And we're excited about the new business that these will help bring to our franchise."
The Crescent Corridor initiative is a route expansion project. I've provided a map of the project below - the thick green lines indicated the Crescent Corridor route from New Jersey to Louisiana: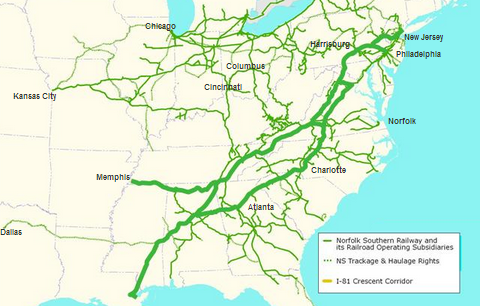 (Source: EXHIBIT 99.6 of an 8-K, dated 06/12/2007)
Valuation
To value Norfolk Southern, we need to look at operating cash flow and capital expenditures to determine free-cash-flow [1]. Operating cash flow for the first nine months of 2012 was approximately $2,476 million. Capital expenditures were approximately $1,522 million. If we define free-cash flow as:
Free-Cash-Flow = Operating Cash Flow - Capital Expenditures
Then:
Free-Cash-Flow = $2,476 - $1,522 = $954 for the nine months ended 9/30/2012
Annualized, the free-cash-flow would be on track to be about $1,272 million for 2012. With a market capitalization of $18 billion [2], the company's free-cash-flow yield would be about 7%. If we believe the intrinsic value of a stock is represented by the future net cash inflow to the business, treated as a perpetuity discounted at the appropriate rate, then using this equation:
Intrinsic Value = Net Cash Flow / Discount Rate
And assuming that the weighted average interest rate of Norfolk Southern's longest-term debt (6.39% average coupon due between 2097 to 2111 [3]) is a good proxy for the appropriate discount rate to use, then:
Intrinsic Value = $1,272 / 6.39%

Intrinsic Value = $19,906 billion
With an intrinsic value slightly above the market capitalization, we can say that Norfolk Southern is slightly undervalued at these prices - but not by any margin-of-safety.
Conclusion
The recent decline in the price of Norfolk Southern makes the shares undervalued, but only slightly - not low enough to warrant purchase. With general weakness in the global economy, which may continue to weaken coal exports, and given the various other opportunities in the market, Norfolk Southern is not the best alternative.
Due, however, to the huge barriers of entry and the increasing use of rail rather than trucking, a plausible argument could be made that those factors ought to influence our discount rate on the downside thereby increasing the intrinsic value of the business. That may turn out to be true, but for this author there are many other investments which are more attractive on a cash flow basis. The risk of a mistake is not compensated by the opportunity in the share price.
Appendix
On the coal decline, we have the following breakdown: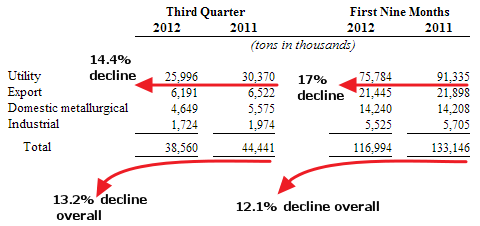 (Source: Norfolk Southern 10-Q dated September 30th, 2012, p. 22)
Notice that "utility coal" is the major decliner. Management noted:
"As we've seen in the last few quarters, competition from natural gas and weaker demand for electricity, continued to impact our utility volumes." (Conference Call, dated 10/23/2012)
While management may hope to offset the decline in coal with crude, the coal decline could be semi-permanent if it is true that it is a result of current natural gas prices. I don't know the answer to that obviously, but it doesn't paint a picture of a "coal recovery" for Norfolk Southern.
I've included the remainder of management's initial comments on coal for those interested:
"Third quarter utility shipments were down 15% versus last year, but up 10% sequentially from the second quarter. Export volume decreased 7% for the quarter compared with last year, driven by reduced volume through Baltimore and Lamberts Point, which were down 15% and 6%, respectively.

Export volumes fell 28% sequentially from the second quarter to the third quarter as the global met coal market weakened materially. Also, our participation in the export thermal coal market weakened during the third quarter as well, with export thermal shipments representing only 17% of our total export volume in the quarter, versus 29% of our export volume in the second quarter.

Total export volumes, which were up a combined 5% in July and August, fell by 28% in the month of September.

And finally, in our domestic met coal market, volume declined by 17% in the quarter due to reduced volumes of iron ore as a result of the bankruptcy-related closure of RG Steel at Warren, Ohio, as well as decelerating demand for domestic steel production." (Conference Call, dated 10/23/2012)
Notes:
Free-Cash-Flow = Operating Cash Flow - Capital Expenditures
Market Capitalization = 316,043,185 shares * $57.01 = $18,017,621,976
Norfolk 2011 10-K, p. 56
Disclosure: I have no positions in any stocks mentioned, and no plans to initiate any positions within the next 72 hours. I wrote this article myself, and it expresses my own opinions. I am not receiving compensation for it (other than from Seeking Alpha). I have no business relationship with any company whose stock is mentioned in this article.