The stocks of two recreational vehicle (RV) companies have been flying this year. This does not normally happen in an economic recession, given that people prefer to spend their money on essentials rather than on discretionary products like RVs. Both stocks -- Winnebago Industries (NYSE:WGO) and Thor Industries (NYSE:THO) -- are up by more than 50% year-to-date. But are they still buys at this point? Let's find out.
The Economy's Impact On The RV Industry

Both WGO and THO produce motor homes and towable RVs. According to WGO's 10-K, a motor home is a self-propelled mobile dwelling used primarily as temporary living quarters during vacations and camping trips. A towable RV is a non-motorized vehicle that connects to a ball hitch mounted on the tow vehicle and is used for recreational travel. Motor homes are further divided into Class A, B and C. Model A is constructed on heavy-duty truck chassis. Model B are panel-type vans with added facilities for toilet, kitchen and sleeping. Model C are constructed on van chassis, and have an added feature of a living area above the facilities available in Model B.
As mentioned above, RV sales normally move in the same direction as economic growth. This is understandable, given that people will spend on RVs only if they can afford to do after purchasing every day necessities.
However, this time around, the RV sales have gone up without an economic boom to support them. The unemployment rate is hovering around 8%, which is well above the U.S. average unemployment rate of 5 percent for the last 20 years. The following graph shows how the unemployment rate increased sharply after 2009:
(click images to enlarge)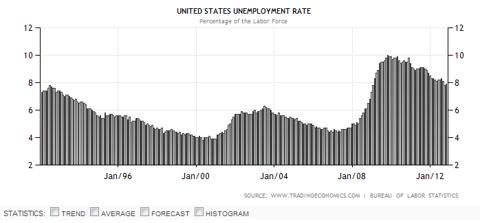 On the other hand, bulls suggest that the economy is actually picking up:
If we closely look at the graph below, we can see that the unemployment rate has declined in the past 12 month:

Therefore, although unemployment is above the 20-year historical average, it has substantially declined over the past 12 months, signifying that the economy is slowly recovering from the recession.
Additionally, the Consumer Confidence Index, measured by University of Michigan, increased more than the forecasted figure for the month of October. The index rose to 84.9 (higher than the forecasted 82.9). This was the fourth straight increase, and the current level of 84.9 is the highest since July 2007. Economists have declared that cheaper fuel prices and housing recovery are the main reasons behind Americans' uplifted spirits. The following graph shows the historic trend of the Consumer Confidence Index: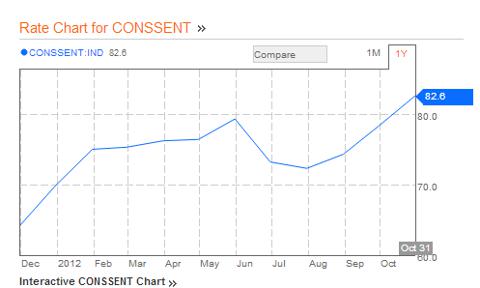 Furthermore, housing starts surged 15% in the month of September to 872,000, which was well above the forecasted range of 735,000-800,000. According to economists, a growing housing sector has a resulting "wealth effect" in the minds of prospective consumers.
Along with the two points mentioned above, bulls think that increased availability of consumer financing alternatives and favorable fuel prices have improved the demand for RVs.
We have discussed some of the economic drivers behind the RV industry. Winnebago and Thor Industries are two of the main stocks in this industry:
WGO
The company reported its fourth quarter earnings on October 11. It topped the earnings estimate and met revenue expectations. The EPS of 14 cents was double the expected 7 cent/share profit and 16% higher Y-o-Y. The revenue figure of $162.5 million (in-line with expectations) was 24.5% higher Y-o-Y. The improvement in sales was driven by increased motor home deliveries. The margins improved because of tighter fixed cost absorption.
The stock is up 85% on a YTD basis. The important question to ask is: is there some more growth to come? WGO's revenue of $581 million this fiscal year is only one-fourth of its peak 2004 revenues. Though the company relies heavily on its motor home division, its towable trailer revenues are also growing rapidly following its acquisition of Sunnybrook, a towable trailer maker, two years ago. The towable segment, currently, accounts for 10% of the total revenues for WGO. This is almost double the 6% that the segment made in the last year.
Backlogs have been on the rise as well. The current backlog is the largest since the recession. Management believes that demand has been spurred as a result of positive dealer response to the new 2013 model year products. Due to massive backlogs, the company is ramping up its production facilities and will continue to increase its production rate in 2013.
Griffin, an asset management firm, believes that WGO has plenty of room for improvement. It estimates that the company's EPS will double through 2015. Recently, the company announced that it was going into the bus business. According to WGO CEO Randy Pott, the market for buses is 20,000 units per year. WGO will use some of its motor home technology in a shuttle-type bus. This announcement has sent bullish signals to the market because such exposure will help the company to diversify its risk and reduce its dependence on the RV market (which is closely linked to the economy).
The company seems to have enough financial muscle to expand its production facilities. It holds cash equal to more than 16% of its market value. It is currently generating positive operating cash. The company has no debt to pay off. Though WGO does not pay dividends, it recently repurchased 592,000 of its shares (equal to 1.6% of its market cap), which shows that it possesses the financial capabilities to ramp up its production and meet rising consumer demand.
THO
THO is much larger than WGO. Its revenue of $876.8 million for the first quarter of fiscal year 2013 was almost four times more than that of WGO. The company reported its earnings for the first quarter on November 5. The company topped revenue estimates. The $876.8 million figure was $140 million more than what the Street had expected, and 30 percent higher on a Y-o-Y basis.
As a towable specialist, THO has been benefiting from the surge in towable demand: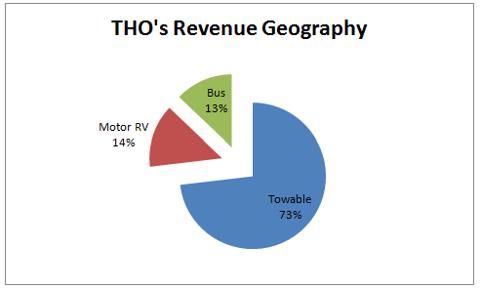 The sales for its towable segment rose by 28 percent. Revenues for Motorized RVs and the bus group increased by 95% and 2%, respectively. The RV backlog also increased by 73 percent to $516.7 million. The stock is currently up 50% on a YTD basis.
THO was built by way of acquisitions. Incorporated under the name of Airsteam in 1980, the company soon bought General Coach, a leading Canadian firm in the RV field. It penetrated the bus sector by acquiring ElDorado Bus in 1988 and National Coach in 1991. It also bought Champion bus in 1998 and Goshen Coach in 2005. Given its history, the company will likely continued to look to expand by making additional acquisitions. Last month, the company purchased the bus assets of Krystal Infinity, a bus manufacturer. The deal has allowed THO to benefit from economies of scale and more importantly, penetrate the small luxury bus market.
Therefore, THO not only expects to grow revenue through internal operations (via its growing towable segment), but also plans to continue to expand through strategic acquisitions.
Conclusion
To me, THO looks like a safer choice given that its valuations are backed by actual rather than anticipated growth. Also, THO's plans to expand by executing different acquisition deals seems feasible, given its acquisitive history. Additionally, THO is benefiting from a recent surge in demand for its towable products. THO is currently trading at a cheap forward multiple of 12x, almost half the forward multiple of 23x at which WGO is trading. Also, THO pays a dividend yield of 1.8%.
On the other hand, WGO is expecting incremental income from its bus segment (non-RV). It is ramping up its production, which provides another clear growth signal. A key risk, however, is that economic growth may not grow at a pace WGO expects. Therefore, ramping up production will lead to huge inventories (dead money for a while).
Holistically, I expect both stocks to appreciate as the economy continues to pick up. Since both stocks look good from a long-term perspective, I recommend taking long positions in both WGO and THO.
Disclosure: I have no positions in any stocks mentioned, and no plans to initiate any positions within the next 72 hours. I wrote this article myself, and it expresses my own opinions. I am not receiving compensation for it (other than from Seeking Alpha). I have no business relationship with any company whose stock is mentioned in this article.