While I was watching Cramer the other night, I got a good chuckle out of his antics as usual, and also listened to his perspective on a number of recent events. During the show, he had a short segment on Urban Outfitters Inc. (NASDAQ:URBN).
Cramer felt Urban Outfitters did better than the market thinks it actually did, judging from the reaction in the share price. Also, the former hedge fund manager believes the company is poised to have a great holiday quarter. Cramer said the 1% pop in same-store sales was more like a 7% increase, since an increase in online orders masked the true growth statistics.
Most interesting was Cramer's unofficial "congratulations quotient," as he called it. Cramer counted 11 of the 19 analysts, or 58%, who actually "congratulated" URBN's management during the conference call. He felt this was truly worthy of recognition, as such a large portion of the "experts" following the company felt the quarter was strong enough to give management "pat on the back" for fulfilling their performance expectations.
I myself read conference calls of companies I own or am considering investing in, and value their uncloaked source of information. Conversely, I notice sometimes the headlines most people read don't tell the same story these calls do. Also, analysts' upgrades and downgrades following these announcements and the associated earnings reports hardly give as much color as a worthwhile read of the conference call transcript. Seeking Alpha's provides links to these transcripts, here: (click image to enlarge)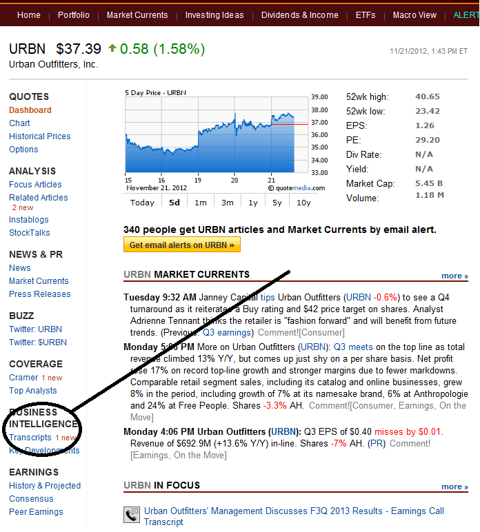 A High Scoring "Congratulations Quotient" That Investors Sold Off:
QR Energy LP (NYSE:QRE) is an upstream MLP that, apart from having a small in market cap, has big hedges and prudent management. I briefly summarized the company's strengths here. This company has languished over the last several weeks, but particularly since its recent quarterly earnings results and earnings call on November 8, 2012, and a couple of analyst downgrades. During the conference call, management felt the results, which were in the mid-range of estimates, were more than satisfactory. Cedric Burgher, QRE's CFO, said on page 4 of the transcript:
"...we're very pleased with our results for this quarter and the expected growth from the two acquisitions that we are currently pursuing. We believe our accretive acquisition in the East Texas field and the upcoming drop down of Jay assets will significantly enhance our distribution coverage ratio for many years and move us towards our long term targeted coverage ratio of 1.2 times or greater."
But I never take a CFO's or CEO's word for it. Let's analyze QRE's "Congratulations Quotient":
| | | |
| --- | --- | --- |
| Analyst: | Company: | Positive Quote: |
| Ethan Bellamy | Robert W. Baird & Co. | "Solid quarter appreciate it." |
| Kevin Smith | Raymond James | None |
| Michael Peterson | MLV & Co. | "..congratulations on a nice quarter.' |
| John Ragozzino | RBC Capital Markets | "...congrats on the quarter.'' |
| Brett Reilly | Credit Suisse | None |
| Praneeth Satish | Wells Fargo Securities | None |
In total, I counted three out of the six total analysts on the call actually congratulated management, or outright said the quarter was solid. QRE's 50% isn't quite as impressive as URBN's 58%, especially since there are so many more analysts covering a company like URBN. To compare apples to apples, I did take the time to determine this quotient for similar MLPs so my readers could more effectively appreciate this 50%:
| | | | | |
| --- | --- | --- | --- | --- |
| MLP Company | Symbol | "Congratulations Quotient" | Date of Call | Shameless Link to Article Covering Company |
| QR Energy | QRE | 50% | 11/8/12 | QRE |
| Vanguard Natural Resources | (NYSE:VNR) | 14% | 1/1/12 | VNR |
| BreitBurn Energy Partners | (BBEP) | 14% | 11/6/12 | BBEP |
Considering most of the analysts that cover these three similar companies were the same, since these companies have comparable market caps and businesses, QRE appears to have delivered the most pleasing results in the recent quarter. Although positive analyst opinions and comments alone do little to warrant buying a stock, it is certainly a reassuring signal. Conversely, a "naysayer" could argue positive comments by one analyst perhaps initiated another to say the same, much like saying "bless you" after someone sneezes. But, I will spare you a deeper dive into this psychology in hopes of avoiding another ridiculous article on theories of human nature.
The bottom line is these earnings calls mean a lot to investors, including hedge funds. They provide direct insight from management about the particulars of the earnings results, and a chance for knowledgeable analysts to ask deep questions -- so deep they sometimes go without answer by management. Although QRE's "Congratulations Quotient" was much stronger than its competitors, VNR and BBEP, its real value is debatable. Was QRE's quarter much better than VNR's? I am not so sure. However, there is no denying the validity of URBN's quotient, since such a huge volume of analysts contributed to the denominator in this quirky, unofficial statistic.
This crazy metric that attempts to bring meaning to a conference call is not meant to be reputable or decisive by any means. The true value here is getting investors to listen to the actual conference calls, instead of often ill-manufactured headlines that poorly attempt to summarize these useful meetings.
Disclosure: I am long QRE. I wrote this article myself, and it expresses my own opinions. I am not receiving compensation for it (other than from Seeking Alpha). I have no business relationship with any company whose stock is mentioned in this article.
Additional disclosure: I may initiate positions in any of the stocks mentioned over the next 72 hours. VNR is currently on my watch list.