Intel Corporation (NASDAQ:INTC), the largest chipmaker in the world, had been suffering from a dramatic, continuous decline since August 10, 2012 with 27.42% drop (33.34% drop from its 52-week high) after Tuesday's closing at $19.51. Tuesday's trading also hit $19.35 new 52-week low. While I was wrong about INTC' recent stock performance, I intend to stick with INTC for a longer-term as Intel's core technology strength remains. However, protective options will be setup for INTC stocks to weather through the recent turmoil, including the departure of CEO, Paul Otellini, continued concerns for the mobile market, and the upcoming U.S. Fiscal Cliff.
CEO Departure
Paul Otellini said that it is time for him to move on and pass the mantle to a new generation of leadership after serving the company for almost four decades. During Otellini's tenure as CEO, Intel had launched the ultrabooks, developed processors for mobile devices, enhanced the energy efficiency of Intel Chips, and increased the network for cloud-based computing for Intel products while continuing to grow shareholder's values and consistently generating the solid return. On the other hand, Andy Bryant, chairman of the board of INTC, stated in the interview with Barron's that the mobile market is still a big challenge for the company. Bryant also expressed confidence that Intel is ahead of its competitors in terms of manufacturing ultrabooks and chips for smartphones and tablets. According to him, Intel needs to utilize its technical strength to boost its presence in the mobile market. A great analysis of Paul Otellini's departure impact on INTC can be read here, as written by a reputable SA contributor.
The Major Concern Remains
With Otellini's departure, the next major task is to find the right leader to combat the tough competitions in the mobile market. While Intel is willing to hire a CEO outside the company, the Company has a deep rooted internal culture and few came from outside and succeed, as indicated by Ambrish Srivastava, an analyst at BMO. While INTC's capitalization was overtaken by Qualcomm (NASDAQ:QCOM) this month for the first time, INTC needs to find the new replacement for $35 billion x86 gross profits when x86 stops growing. Intel must boost its market share considerably in the mobile markets, including the tablets and smartphones.
Analysts' Calls
On Nov. 20, UBS had downgraded INTC to "Neutral" from "Buy" and had given INTC a price target of $21.50.
On Nov. 19, Sterne Agee Group reiterated its Neutral rating and $19.00 price target on INTC.
Attached is a list of analysts' upgrades and downgrades since Sep. 16, 2012, as captured directly from Yahoo! Finance.
click to enlarge images

Source: Yahoo! Finance
While analysts' calls maybe a good starting place for contrarian investing, it is important to know that analysts overall are becoming more conservative on Intel, except the upgrade from Standpoint Research. The estimate for the EPS trend had also been lowering in the past 90 days, as seen from the chart below.

Source: Yahoo! Finance
Fundamental Overview and Technical Analysis
By using the data gathered from MorningStar, INTC's key stats will be compared to its competitors in the semiconductors industry. INTC's operation efficiency is demonstrated with its higher operating margin of 29.95%, ttm, and net margin of 22.1%, ttm, as compared to the industry average of 19.0% and 11.7%. With the averages in the past 3 years, INTC's revenue growth of 12.8 and EPS growth of 37.5 all outpaced the industry averages of 10.8 and 27.0. Investors should also be comfortable with INTC's ROE of 25.0 and 0.1 debt-to-equity, as compared to the averages of 13.5 and 0.5. With current P/E of 8.5, P/B of 2.0 and P/S of 1.9, INTC is well under-valued compared to the industry averages of 18.6, 2.3, and 2.1.
On Tuesday, INTC closed at $19.51 with 3.64% drop. The volume of 85.74M is 63.28% more than the 30 day average of 52.51M. INTC also recorded a new 52-week low of $19.35 on Tuesday's trading. INTC is currently trading well below its 50-day MV of $21.81 and 200-day MV of $25.04. As seen from the chart below, the MACD (12, 26, 9) continued to show a bearish sign since Nov. 11, 2012. From the momentum perspective, RSI (14) is currently in the over-sold territory at 27.26, where below 30 is considered as over-sold. In the near-term, the selling pressure should continue until further support/stabilization is seen.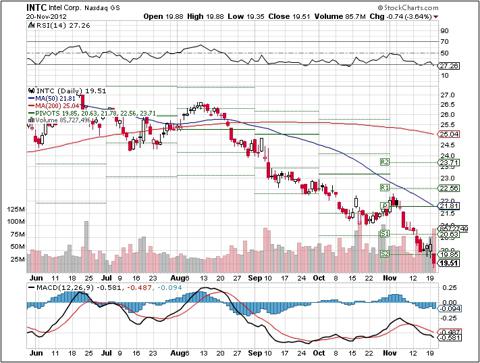 Source: StockCharts.com
Options Play
For investors who are interested in buying INTC, it will not hurt to wait and see a little longer while the selling pressure continues and U.S. Fiscal Cliff looms. For existing INTC stock holders, a two-step setup for collar options play will be reviewed. Below is the first part with longer-term protective put.
For 100 shares of INTC stock, buy 1x Feb. 16, 2013 Put at the strike price of $17.00 for the cost of $0.30
With this put contract, the downside for INTC will be capped at $17.00 until Feb. 16, 2013. INTC is expected to distribute 22.5 cents dividend on Feb. 5, 2013. This dividend could be used toward the purchase of above protective put, which I like to view it as the insurance policy paid partially by Intel for INTC stockholders.
If INTC rebounds in the near-term, then investors can consider the following for the covered call writing.
For 100 shares of INTC stock, short 1x Jan. 19, 2013 Call at the strike price of $21.00 for the credit of $0.27.
This will cap any further gain for INTC stock at $21.00 until Jan. 19, 2013. However, this will provide some additional downside protection and/or certain upfront credit to offset the cost for the above protective put. Here, the Nov. 20, 2012 option price is used as an example and more credit should be received if this short covered call is written after quick near-term rebound.
Note: All the prices are quoted from the closing of November 20, 2012 and all calculations are before fees and expenses. Investors and traders are recommended to do their own due diligence and research before making any trading/investing decisions.
Disclosure: I am long INTC. I wrote this article myself, and it expresses my own opinions. I am not receiving compensation for it (other than from Seeking Alpha). I have no business relationship with any company whose stock is mentioned in this article.