GlaxoSmithKline (NYSE:GSK) has declined over 7% this year in a move which has erased over $7 billion in market value from the firm. Through this article, I will present the case that GSK is a fundamentally strong organization and investors and speculators are mispricing this security.
A History of Returns
In order to analyze GSK, I have relied heavily on return on assets and return on equity. Return on assets is the net income of the firm divided by average total assets. This ratio is excellent for analysis in that it tells a researcher how effectively the organization is at creating profits through its assets. Return on equity is the net income of the firm divided by directly-invested shareholder equity. The benefit of studying return on assets is that it tells an analyst how well the company uses equity investments to generate income for the firm. In the chart below, 5 years of quarterly return on assets and return on equity can be seen for GSK.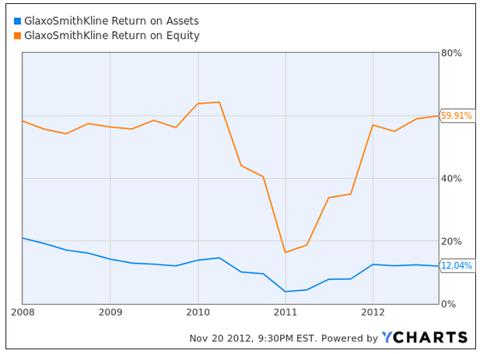 It can clearly be seen that GSK has experienced relatively steady returns over the past 5 years. Beginning in 2008, GSK earned about a 55% return on equity and a 20% return on assets. Over the next 3 years, the return on equity stayed at roughly the same level and return on assets declined to around 15%. These relatively stable years tell us some very interesting things about GSK.
The first piece of analysis we can glean from stable returns is that it means that GSK was successful at thwarting competition during this time period. Successful firms tend to attract competition and target companies are required to expend greater quantities of capital to defend their moat. During the period of 2008 through 2010, GSK was not only able to earn a strong return on its assets and investments, but through its heightened levels, it demonstrated that it was more than capable of maintaining its profits, regardless of assets and equity commanded.
Even though GSK was able to defend its edge financially, its stock price experienced a decline between 2008 and 2010. Over this time period, the stock price declined around 15% in a reflection of both global economic pressures, and a slight decline in return on assets. Between 2010 and 2011, GSK experienced a time of malaise in which returns were reduced by over 50%. Between these years, share price once again responded to a decrease in returns by falling around 11%. By the second quarter of 2011, GSK started a process of recovery in which it worked itself out of its fundamental rut and returns are currently nearly 3-year highs. This period of recovery has been marked by an increase in share price of around 10%.
As seen, GSK's share price and organizational returns tend to move in tandem. This relationship makes intuitive sense in that as a firm betters itself fundamentally, the market tends to reward it by investing capital in hopes of return. In light of this clear, historic, and logical relationship, we can begin an examination of GSK's current performance. GSK erased its gain for the year in September, a month in which share price declined over 10%.
This decline is very noteworthy in that it has come despite the current trend of steady returns. As previously discussed, an organization should only experience large share price movements in light of fundamental developments. For this reason, I believe that the recent pullback in share price represents a purchasing opportunity. GSK has fallen 10% despite a strong fundamental condition in which the organization is currently returning $12 for every $100 of assets and $59.91 for every $100 of equity investments.
This sets the stage for the strategic investor to profit in the near future. I believe that the market is currently caught up in speculative, news-driven emotions and ultimately, the share price will revert with the fundamental trend. Investors seeking to purchase shares may be rewarded by GSK continuing to deliver strong fundamental performance.
Technically Speaking
I believe that GSK is a strong fundamental investment, but I do not believe that investors should immediately purchase the security. Through patience, an investor can better his or her entry price and ultimately trade with the trend. The current trend is undeniably downwards. The recent decline in share price has hampered the multi-year uptrend in stock price and investors would be wise to wait until a good buying opportunity presents itself. In the chart below, I have detailed key areas which I believe define the best trading opportunities. For several weeks prior to the breakdown in share price, GSK found support at around $45 per share.
I believe that this level will continue to hold technical significance in that no long trade should be taken until the price exceeds this threshold. If the price ends a week above $45, then I believe that investors should strongly consider purchasing GSK. For investors who are currently sitting on a long position, I recommend that they consider exiting the security if price closes below $41.50. If the price falls below $41.50, this will signal a resumption of the current downtrend and the potential for further losses.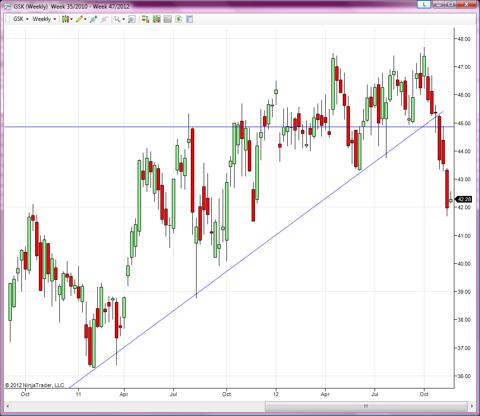 Disclosure: I have no positions in any stocks mentioned, and no plans to initiate any positions within the next 72 hours. I wrote this article myself, and it expresses my own opinions. I am not receiving compensation for it (other than from Seeking Alpha). I have no business relationship with any company whose stock is mentioned in this article.