It seems like Cisco Systems (NASDAQ:CSCO) has made a habit of beating analysts' expectations. The company beat both revenue and earnings targets in its 1Q2013 results, released last week, which resulted in stock appreciation of 5%. On Monday, Cisco announced that it has acquired Meraki Inc., which provides cloud based services to midmarket companies. We believe this acquisition has a lot of potential for synergies and would help improve Cisco's midmarket penetration. Its cash represents 45% of CSCO's market cap (30% if all the debt is subtracted from the cash figure) and offers a dividend yield of 3.1%. The future is bright for Cisco investors due to cheap valuations of 8.7x (ex cash 4.5x) and expected growth in data demand. We are giving a buy recommendation for CSCO.
Meraki Acquisition
Cisco has announced that it has finalized its acquisition of Meraki Inc. The company has paid $1.2 billion in cash and retention based incentives for the acquisition and expects the deal to be closed in 2Q2013. Meraki is a US based company that is the first cloud based network infrastructure company in the world. It provides cloud-managed access solutions including access switches, WiFi, security appliances and mobile device management. The company has more than 18,000 customers, spread over 145 countries, with clients across a diverse range of sectors such as healthcare, industry, government and so on.
In a conference call on Monday, the Senior Vice President of Cisco's Enterprise Networking Group said that this acquisition is intended to help Cisco serve midmarket ($5 billion) customers struggling with mobility, security, BYOD and the Cloud. According to him, CSCO feels that there is more growth in midmarket as compared to large enterprises. He said:
"Meraki provides a simple, secured networking solution that reduces TCO while providing a comprehensive features that including wired, wireless, security, mobile device management and a rich set of L4-7 services."
Cisco envisions Meraki leading the penetration of Cisco into the midmarket. Therefore, Meraki will form a new cloud networking group within Cisco under the VP Sujai Hajela and GM of the Wireless Networking group. According to the conference call, Sanjit (Meraki's co-founder) will continue to lead the Meraki team and will report to Sujai, while the Meraki team remains in San Francisco.
We believe this is a positive step by Cisco and the company can afford this acquisition considering that it has almost $45 billion in cash as of the last quarter. We agree that Meraki, under Cisco, would attract more midmarket customers looking for CSCO's guarantee and the flexibility of Meraki. Cisco's own solutions are more focused on larger enterprises and lack the flexibility required by the midmarket.
Margins
The technology sector has been the most volatile and interesting sector over the last decade. While this has been a threat to companies that have failed to evolve, it has also rewarded innovation. A big challenge for the management of technology companies has been to keep up with changing technologies and minimize the effects on margins. To the credit of CSCO's management, the company has been able to maintain its operating and gross margins over the last ten years (approximately 2% margin decline in last 12 years). The trend is still slightly downward sloping due to market crowdedness and industry maturity.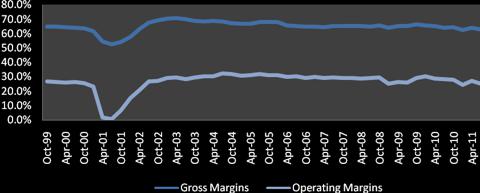 Source: Company Disclosures & Qienqt Calculations
Segments
The company has responded to industry maturity issues with the diversification of its core business. As the table below shows, the company had two main contributors to revenue, namely, Switches and Routers. Since 2009, the company has diversified into other segments in order to bring revenue growth. The company has started five new segments in the last few years, namely, Service Provider Video, Collaboration, Wireless, Data Center and Security. Through the Service Provider Video segment, the company provides top of the line Set-Top Boxes, Cable Modem PE (Data, EMTA, and Gateways), Videoscape Software Products and Head End Equipment. The wireless segment incorporates comprehensive wireless networking i.e. access points, antennas and management. The Collaborations segment contributes approximately 9% to the total revenue and consists of Telepresence, WebEx online meeting and communication services. The Data Center segment contributed 2% to 2011's revenue and consists of WAN optimization and Unified Computing System Service Platform. The Security segment contributes 3% to revenues and provides enterprises with firewall, remote access and email security.
Table : Segment Revenues in Millions ($)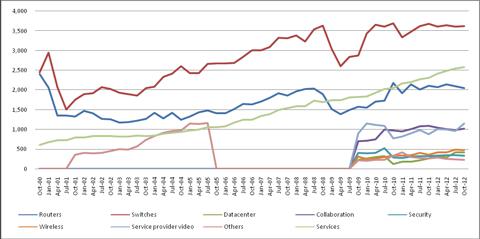 Source: Company Disclosures & Qienqt Calculations
The two main segments that have been the backbone of Cisco are Routers and Switches. The Routers segment has suffered the most over the last few years, with revenue contribution falling to 17% in 2012, as compared to 37% in 2000, shrinking by 15 percentage points in the last 12 years. The Switches segment is currently the largest contributor to the revenues with annualized growth of approximately 3.5% over the last decade.
Table : % Contribution to Revenues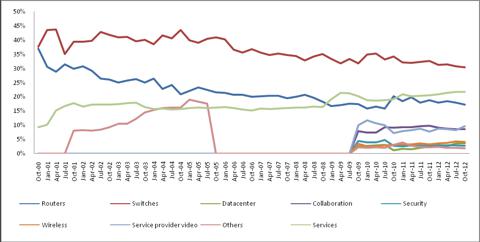 Source: Company Disclosures & Qienqt Calculations
Quarterly Results
The company announced its 1Q2013 earnings last Wednesday. The market was expecting an EPS of $0.46 and revenues of $11.77 billion. The company beat analysts' estimates, with EPS of $0.48 and revenue of $11.88 billion. This is the fourth time in a row that Cisco has beaten analysts' estimates. There was a YoY growth of 5.5% in revenue, driven by NDS acquisition ($200 million), 3.9% hike in product revenue ($9.30 billion) and 11.9% hike in service revenue ($2.58 billion for the quarter).
Outlook
The market is expecting earnings growth of 32% for 2013 and growth in revenues of 5.7%. In 2014 earnings are expected to increase by 4% and revenue by 5.5 %.
| | | | |
| --- | --- | --- | --- |
| 000' $ | 2012 | 2013 | 2014 |
| EPS | 1.48751 | 1.96 | 2.04 |
| YoY | | 32% | 4% |
| Revenue | 46,061 | 48,700 | 51,400 |
| Growth | | 5.73% | 5.5% |
Conclusion
Smartphones and handheld devices are increasing data demand and CSCO is one of the primary beneficiaries of this revolution. Going forward, we believe that growth will remain stable for CSCO due to increased penetration by smartphones/tablets in China and India. This should be a major factor in instigating more network expansion in emerging economies. The stock is trading at a forward P/E of 8.7x (ex cash 4.5x), with a dividend yield of 3.1%. The company's major competitors, Ericsson (NASDAQ:ERIC) (14x), International Business Machines Corporation (NYSE:IBM) (11.5x) and Juniper (NYSE:JNPR) (15x), are valued much higher. The Meraki acquisition is a positive step and we see potential synergies. With a considerable sales growth potential, CSCO is a buy.
Disclosure: I have no positions in any stocks mentioned, and no plans to initiate any positions within the next 72 hours.
Business relationship disclosure: The article has been written by Qineqt's Technology Analyst. Qineqt is not receiving compensation for it (other than from Seeking Alpha). Qineqt has no business relationship with any company whose stock is mentioned in this article.