Medtronic Inc. (NYSE:MDT) engages in the medical technology of alleviating pain, restoring health, and extending life for people with chronic conditions internationally. MDT's implantable products include pacemakers, defibrillators, heart valves, stents, insulin pumps, and spinal fixation devices. With its diversified portfolio and strategy to develop products for a wide range of chronic diseases, MDT is well positioned to take advantage of new trends in the disease management, aging global demographics and the lengthening of life expectancy.
Earnings and Analysts' Calls
MDT reported Q2, 2013 EPS of 63 cents, down 23% year-over-year. After taking into account certain one-time items including pre-tax charges of $245 million in the company's Structural Heart business, the adjusted EPS was 83 cents, up 5% year-over-year, which was in line with the Zack's estimate. The revenue edged up less than 2 percent to $4.1 billion for the period ended Oct. 26, which was hurt by $118 million due to unfavorable currency exchanges rates and $245 million in pretax legal fees. The international revenue of $1.806 billion was up 8% on a constant currency basis or 1% as reported. MDT has struggled to maintain earnings growth amid sluggish sales of its two leading products: heart defibrillators and spinal implants. "Sales of the company's cardiac rhythm business declined 3 percent to $1.23 billion for the period. The unit sells implantable defibrillators, which fell 3 percent, and pacemakers, which declined 6 percent," as reported from CNBC.
Looking ahead, MDT expects to earn $3.62 to $3.70 per share for the full year on revenue growth of 3 to 4 percent on a constant currency basis, which pegs revenue for this year between $16.67 and $16.83 billion based on fiscal 2012 revenue of $16.184 billion. Analysts expect full-year EPS of $3.66 on reported revenue of $16.44 billion, according to FactSet. A full earnings transcript call for F2Q 2013 results can be read here.
Following the earnings release, several analysts had updated their calls on MDT on Nov. 1, 2012:
Northland Securities maintained a Market Perform rating on MDT and raised its price target to $46.00. As indicated by Bruce Jackson from Northland Securities,
CRDM and Core Spine continued to face challenging markets, though the decline in dollar terms seems to be slowing. All of the other business units were up on an as-reported basis. FQ2 marks the last quarter of difficult comps arising from the PhysioControl divestiture that was completed one year ago. New products in Coronary (Resolute Integrity DES), Neuromodulation (Restore Sensor, InterStim), and Surgical Technologies (StealthStation) helped those units generate growth of 14.1%, 7.8% and 15.4%, respectively.
Deutsche Bank lifted the target price to $45 and released the following research note,
In F2Q13, Medtronic's sales grew 5% ex-FX driven by the successful launch and share gains in the drug-eluting stent business (which accounted for 1.6%-pts of growth). While sales were better, EPS was in-line with Consensus ($0.01 below our estimate) due mainly to lower gross margins. Medtronic managed the P&L noting it took one-time gains from selling treasuries and minority investments to help offset FX hedging losses. We maintain our Hold rating but we are slightly increasing our PT to $45 from $43 given the more stable top line performance in the quarter and expectations going forward.
Piper Jaffray lifted their target price to $48.00 and reported the following,
While FY13 revenue guidance increased from 2%-4% to 3%-4%, guidance assumes a deceleration in sequential 2H13 growth (vs. 5% cc growth in F1H13). We view this as conservatism on the part of MDT's CEO, and believe this is appropriate given macro headwinds and product specific challenges. GMs were softer than expected, despite strong revenues, perpetuating the discussion on the leverage sustainability, especially given MDT's focus on EM growth. However, we note that the lower end of guidance did come up, and appreciate the renewed focus on meeting expectations. Overall, we view the results as positive.
Near-Term Concerns
The revenue from its spinal division fell 7 percent to $782 million as last reported. The division has been hurt by ongoing revelations about MDT's handling of its protein bone graft Infuse. Last month a Senate investigation concluded that the company helped write and edit medical journal articles about the graft that downplayed its risks as reported by CNBC. InFuse contains a genetically engineered protein that can stimulate bone growth.
On Sep. 27, 2012, MDT and China Kanghui Holdings announced that they have entered into a merger agreement whereby MDT will acquire Kanghui at a cost of $816 million. While it is still hard to completely evaluate the overall impact of this deal to MDT, some investors are concerned about MDT's declined quality and potential legal liabilities in China due to this acquisition. A more detailed, thorough analysis on this concern can be read here, as written by an insightful SA contributor.
Fundamentals Overview and Technical Analysis
With the data gathered from MorningStar, MDT's key stats will be compared to its peers in the medical devices industry, including Johnson & Johnson (NYSE:JNJ), Boston Scientific, Inc. (NYSE:BSX), and St. Jude Medical, Inc. (NYSE:STJ). Despite the trailing revenue growth (3 year average) of 3.5, as compared to the industry average of 4.0, MDT has a much stronger EPS growth (3 year average) of 20.5, as compared to the average of 8.4. MDT also demonstrated stronger operation efficiency with higher than the average operating margin of 28.7%, ttm, and net margin of 22.5%, ttm, as compared to the averages of 11.0% and 7.4%. MDT also generates stronger ROE of 21.8, as compared to the average of 7.8, and has a lower debt-to-equity of 0.4, as compared to the average of 0.9. MDT is currently under-valued with P/E of 13.0, as compared to the average of 37.0, which could partly be explained by slowed revenue growth.
On Nov., 21, 2012, MDT closed at $42.75 with 0.21% gain, with a volume of 5.36M, which is 14% more than the 30 day average of 4.70M. The 52 week trading range for MDT is between $33.62 and $44.79. The MACD (12, 26, 9) indicator started to show a bullish sign on Nov. 20, 2012. MDT managed to close above its 50-day MV of $42.47 in past two trading days. From the momentum perspective, RSI (14) is showing an increased buying momentum at 57.38. If MDT can stay above its 50-day MV, the next resistance will be $43.80, the R1 pivot point, followed by $46.03, the R2 pivot point, as seen from the chart below.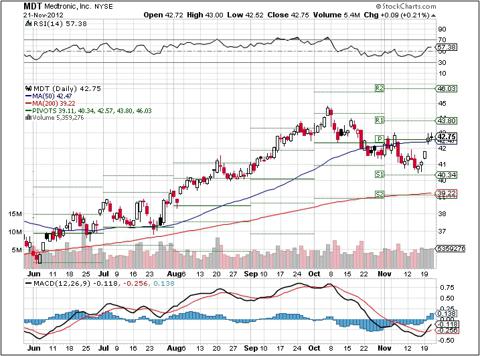 Click to enlarge
Source: StockCharts.com
Options Play
While the long-term outlook for MDT remains positive, investors do not need to rush in to set up long-term positions as MDT is approaching its 52 week high with some near-term concerns. Below, a credit put spread will be reviewed for investors who would like to acquire the MDT stock at a discounted price while gaining some upside potential.
Short 1x Feb. 16, 2013 Put at the strike price of $39 for the credit of $0.52
Buy 1x Feb. 16, 2013 Put at the strike price of $36 for the cost of $$0.22
The maximum profit is $0.30 and the maximum risk/margin requirement is $2.7 ($3 loss - $0.30 credit received). If MDT closes above $39 on Feb. 16, 2013, an 11.11% return on margin will be gained. If MDT falls below $39 upon options expiration, the cost to acquire MDT share will be $38.7 per share, which is 9.47% below the current price of $42.75.
Note: All the prices are quoted from the closing of November 21, 2012 and all calculations are before fees and expenses. Investors and traders are recommended to do their own due diligence and research before making any trading/investing decisions.
Disclosure: I have no positions in any stocks mentioned, and no plans to initiate any positions within the next 72 hours. I wrote this article myself, and it expresses my own opinions. I am not receiving compensation for it (other than from Seeking Alpha). I have no business relationship with any company whose stock is mentioned in this article.