H.J. Heinz (NYSE: HNZ) is a well-known food manufacturer but best known for its ketchup. Many people do not realize that the '57' on the label stood for the number of brands the company originally offered. Ketchup accounts for about 40% of the firm's sales annually and its 'Top 15' brands each generate $100M in sales annually. The focus for the company has shifted towards emerging markets over the developed areas. In fact, it now generates 60% of revenue from non-US areas. A goal of CEO William Johnson is for sales from emerging markets to be 30% of revenue by 2016. That is something to keep in mind while reading this article, as it is the main strategy for the company to grow earnings.
On Tuesday, November 20, 2012, Heinz reported its Q2 earnings. The company beat estimates by $0.02 by reporting $0.90 EPS for the quarter and revenue in-line with expectations. Emerging markets were 23% of total sales in the quarter, which is up from 13% in Q2 2008. On a growth basis, emerging markets sales climbed 16% Y/Y. Gross profit margin improved 40 bps to 35.4% and operating profit margin climbed 150 bps to 14.1%. Heinz is involved in a lot more than ketchup, so to see margins improve is a good sign for other food manufacturers. Organic growth was up 3.3%, with 1.9% from higher prices and 1.4% from volume. Some of the reason for the earnings beat was due to the lower tax rate during the quarter, which management is expecting about 20% for the full-year tax rate. Many would question this tax rate being too low, but as Heinz generates more sales from emerging markets which have lower tax rates, the lower the overall tax rate will trend. On the call, management reaffirmed prior earnings estimates, EPS growth of 5% to 8%, and organic growth in-line with the 3% to 4% target. Organic growth in Q1 2009 was 13% and has averaged ~5% over the last 3 years.
A reason an investor owns Heinz in the portfolio is the return to shareholders. Another reason is the defensiveness of the company. Management targets about 60% return of cash flow to shareholders each year. The three main uses of return to shareholders are dividends, buybacks, and M&A for long-term return. It supports approximately a 3.5% dividend yield and is considered a dividend aristocrat. Buybacks aren't the main source of return, but management did say they will purchase 15M additional shares over the next several years, which is ~5% of outstanding shares currently. On the M&A side, Johnson commented on the 30% of sales from emerging markets by 2016 target by saying, "if we don't hit it before fiscal '16, I will be incredibly disappointed and highly annoyed with a lot of the people that work for me… we have so many active M&A initiatives in the Emerging Markets, we literally had a meeting last week to decide how we're going to put them in priority." Some areas that Heinz is looking to focus on for long-term growth are the BRICs via bolt-on-acquisitions. These acquisitions will be small in nature. Last year, Heinz acquired Quero, a food manufacturer in Brazil. Brazil had 33% organic growth in the quarter for Heinz, China had 20% organic growth, and Russia had 14% organic growth. Quero even became the number one brand of vegetables in Brazil. It would not be surprising to hear Heinz acquire a company in the near future. A few months ago, the company issued new debt to help finance acquisitions. This is a common theme for companies given the low interest rate environments.
To give one an idea on the growth of emerging markets for Heinz, the following 2 charts were generated. They show the percent of revenue from each segment of Heinz in FY07 and FY12. Clearly, the emerging markets and higher growth areas are a strong long-term strength for Heinz (Source: Capital IQ):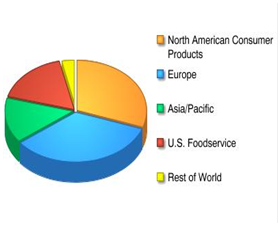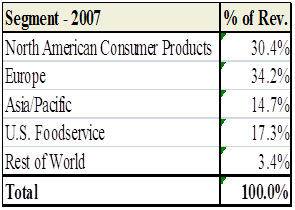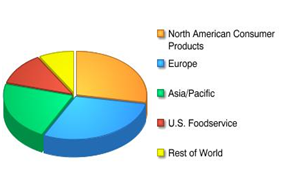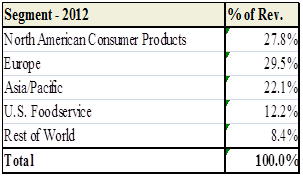 As shown, the Asia/Pacific region grew from 14.7% of revenue to 22.1% of revenue over the time-frame! The Rest of the World segment grew 500 bps in just 5 years!
Some of the risks in investing in Heinz include rising commodity costs, Smart Ones brand struggles, and grocery store prices rising. Heinz expects a 4% cost inflation for the year, which is below past levels. In the past, Heinz experienced double-digit cost inflation. Thus, this is good news for Heinz and other food manufacturers (including some of my favorites: McCormick (NYSE: MKC), B&G Foods (NYSE: BGS), Hershey Co (NYSE: HSY), and General Mills (NYSE: GIS)). The food industry in 2011 experienced rising commodity costs that have seemed to subside at this point. With efficiency programs being the current trend in the sub-industry and lower COGS growth, food manufacturers are becoming more profitable. For Heinz specifically, droughts and record flooding in Russia and the poor US weather conditions were where the company struggled in terms of materials. How has Heinz offset the rising costs? It passed it onto the consumer in the form of smaller packages. With smaller packages comes higher turnover and thus revenue growth as shown below (Source: Capital IQ):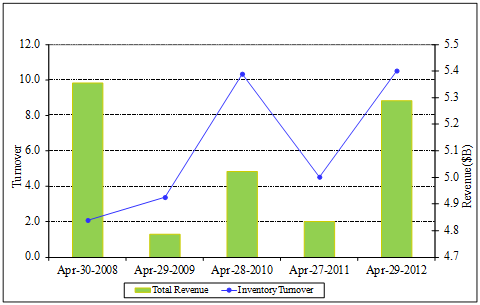 The Smart Ones brand was the noted struggle for the company. Management pointed out that over the last 5 years, the sub-industry that Smart Ones operates in has lost 33% of the total category volume. That equates to $500M in sales over the last 5 years.
Grocery store prices have also been rising in order to maintain margins. The grocery store industry is becoming much more competitive as chains are looking to squeeze out margins. By squeezing suppliers like Heinz, MKC, and GIS, these grocery stores can make more money. The retail grocery stores must compete now with dollar stores, convenience stores, and Wal-Mart (NYSE: WMT) and Target (NYSE: TGT). WMT accounted for about 10% of sales in the most recent FY and was its largest customer. The key for food manufacturers is staying on the shelves and thus keeping the big players happy. Raising prices on customers is hard to do but one that all food manufacturers had to do in 2011. This has helped 2012 numbers but will no longer going forward. The companies took a short-term hit on volume for potential long-term gains with the rise in prices.
What most of you really want to know is where Heinz is going to trade next. For those who follow my readings, I do a bear, base, and bull cases to establish a price range based on various inputs. I also do a combined approach using the following models: free cash flow, dividend discount, and market multiples. I computed a WACC of 8.14% (note: in previous articles I have explained that food companies like Heinz deserve lower required rates of returns due to the mature industry and lower risk to it.) My cost of equity was 9.33%, cost of debt was 5.15% based on a weighted average of the current outstanding coupons, and equity and debt weights of 77% and 23%, respectively. My base case assumes revenue growing roughly at the historical 5% organic growth rate and trending down to 3.5%. The terminal value is approximately $28B, which the most recent FY had an EV of $21B as a reference. My bear case assumed 4% organic growth trending down to 3%, with a terminal value of $21B. My bull case assumed 6% organic growth trending down to 4%, with a terminal value of $34B. My DDM assumes dividends growth of 5%, 6.5%, and 8% for each case scenario. This is based on management's projected 5% to 8% EPS growth, thus trickling down to shareholders. The market multiples approach I used was the P/E method. The averages over the last year, 3 years, and 5 years of the P/E for Heinz were 18.37, 17.13, and 16.45, respectively. Heinz has usually traded at a premium to the market as a whole (Source: Capital IQ):

Overall, this yielded the following price targets based on each approach: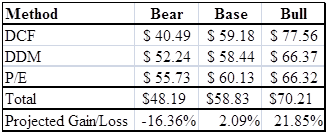 As my required rate of return is ~8%, I would have to have firm belief in Heinz executing its strategy and growing faster than expected. If it were able to execute between my base and bull scenarios, Heinz would be a buy right here. However, the growth may be factored in already. In order to determine this, I analyzed the Present Value of Growth Opportunities (PVGO). In this PVGO, I had to assume the required rate of return was the same across the board (which is a major assumption given that capital structures do change as well as various other inputs):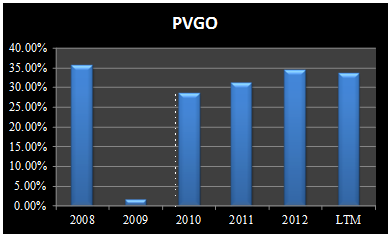 It would appear that the PVGO for Heinz is in-line with the historical values on average (excluding 2009 due to the Great Recession) and that the market may not be factoring in fully the potential from emerging markets. This could mean that the 'bull' case or a target price between the base and bull case is possible. However, at this point, Heinz does not appear to be a strong buy but a good long-term candidate for those looking for less-risky shareholder return.
Disclosure: I am long [[Heinz]], MKC. I wrote this article myself, and it expresses my own opinions. I am not receiving compensation for it (other than from Seeking Alpha). I have no business relationship with any company whose stock is mentioned in this article.