Rongsheng, Pipavav, Jinhaiwan - exotic names that only a few years ago qualified the source of new profit centers are now dreaded in the shipping industry. They are some of the places where large oceangoing ships are being built, at a pace that currently makes most shipowners shiver. When the shipping markets were booming, owners couldn't wait to get their new ships on the water, as every ship was a cash machine made of steel. Accordingly, the shipyards were flooded with orders for even more ships. This has today caused a large oversupply of vessels in most shipping markets. The oversupply and the resulting far lower rates, exacerbated by the slowdown in global trade after 2009, have put shipowners under large duress, forcing many into bankruptcy (the most recent one being Overseas Shipholding Group (NYSE:OSG), which filed for Chapter 11 bankruptcy protection some days ago).
To make matters worse, the orderbook of the shipyards is far from being worked through. Huge ships are not built overnight, and the shipyards continue to put new ships on the water on a regular basis, making a fleet that is already too large even larger.
Golden Ocean (OTCPK:GDOCF) is an owner and operator of dry bulk vessels, ships that transport commodities like coal, iron ore or grains. As many other dry bulk shippers, like Diana (NYSE:DSX), Navios Maritime (NYSE:NM) (NYSE:NMM), Compagnie Maritime Belge (OTC:CMBEY), Genco Shipping (NYSE:GNK), Excel Maritime Carriers (NYSE:EXM) Eagle Bulk (NASDAQ:EGLE) or Safe Bulkers (NYSE:SB), Golden Ocean has enjoyed the great times, and rewarded shareholders plentiful through rich dividends after being spun off from Frontline (NYSE:FRO). It managed to stay afloat after the crash with the help of its main shareholder, shipping and offshore drilling tycoon John Fredriksen, the man who set up Seadrill (NYSE:SDRL), Ship Finance (NYSE:SFL) and Frontline, among others. Golden Ocean even briefly resumed dividend payments for six quarters in 2010-2011.
The results for the third quarter that Golden Ocean just released show a loss of $17m. However, this was mainly due to an impairment of vessels in the amount of $25m. Before impairment, EBITDA remained rather stable at around $24m (previous quarters: $26m and $27m).
The impairment is another consequence of the oversupply of ships. The oversupply as well as the reduced earnings prospects cause second-hand values of ships to drop. Usually ships are depreciated on a straight-line basis over their useful life, with a residual value of the scrap metal. They can thus be carried at cost on the balance sheet and depreciated over time if the ship remains with the owner for its entire life. However, as in real estate, the financing banks often require certain levels of cash flow or loan-to-value (covenants) to protect their credit. And as ship values drop and earnings dry up, owners are often forced to accelerate downpayments, put up more collateral or simply give up (like many have down over the last quarters).
Ship values continued to drop in the third quarter and are now at levels last seen ten years ago, and down 20-30% from last year. Five year old ships can now be purchased for about 75% of their newbuilding price. This level was reached in 2002 (after 9/11 and before the second Gulf war), and right after the Lehman collapse at the end of 2008, and marked the start of a boom cycle (2003-2008) and a short-term recovery (2009-2011). More than 400 ships have been sold for scrapping from January to October, even with demolition prices decreasing.
Golden Ocean made $15.5m of extraordinary downpayments in July 2012 and a further $14.3m in October. While putting a strain on cash reserves, this has the benefit of lowering the long-term debt of the company: since the beginning of the year, the long-term debt of Golden Ocean has decreased by more than $90m.
The company currently has a solid equity ratio of nearly 50% and a book value of $1.17 per share, and shares currently trade well below this value (about 35% discount).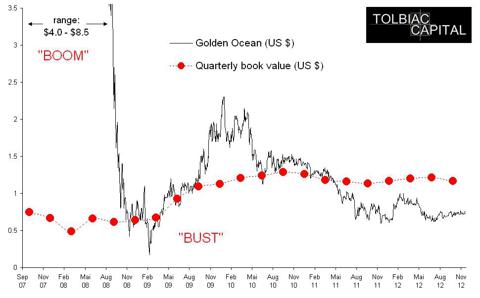 Click to enlarge
The chart clearly shows that the Golden Ocean equity is usually valued by the market based on the dividends and the current cash flows of the vessels (see graph below) rather than the book value of its ships. During the boom times, the security was valued at several multiples of book value, sometimes about ten times the equity value. However, the book value provided a good floor for the security and the share was a great buy at the beginning of 2009 when the price plunged below book value.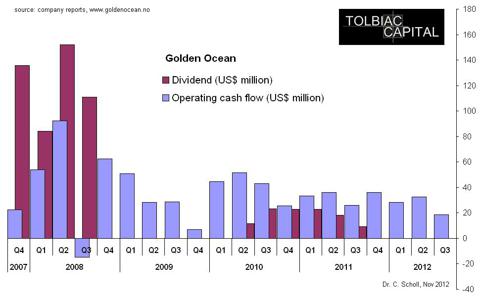 Click to enlarge
Right now, the share has been trading below book value for more than a year, indicating increased skepticism in the market, even as the operating cash flow has held up rather well. The company made the wise decision to not pay dividends over the last year and rather strengthen the balance sheet, restructure its orderbook, deal with deadbeat charterers and increase its competitiveness. This may have been overlooked by investors who held the shares primarily for their rich dividend and who have progressively "given up" on the name.
The recent developments in the market, as well as actions and views from management point to a different direction.
Starting last quarter, Golden Ocean has been buying back shares, 6.2m so far, representing about 1.4% of shares outstanding (purchased at 4 NOK vs. the current price of about 4.3 NOK). Additionally, the company repurchased about $6m of its convertible bond below par. This, along with the accelerated debt downpayments, seems to me a much wiser use of the precious cash than paying a dividend.
In a further move to secure cash and adjust its fleet, Golden Ocean agreed with the shipyard in Jinhaiwan to cancel two newbuildings (Golden Explorer and Golden Excellence). The price of these two newbuilds had already been substantially reduced in July, but now the contracts were cancelled altogether. The company had already paid $45.8m on these vessels and will now demand the return of these installments.
Regarding the rate exposure, the company is well-positioned. Only a single-digit percentage of the fleet is not currently fixed for 2012, and only 33% of the Capesize vessels and 23% of the Panamax vessels still have to be fixed for next year. The company estimates break-even rates for next year of $16,200/day for Capes and $12,100/day for Panamaxes/Kamsarmaxes. The spot market currently pays $18,800 for Capes and $6,800 for Panamaxes.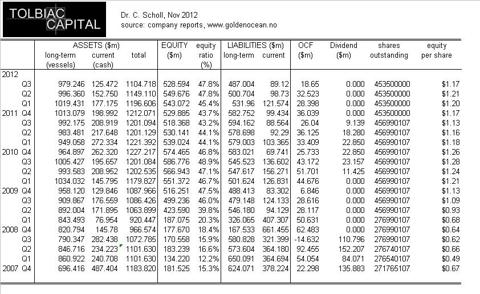 Click to enlarge
In its presentation, the management outlined some positive macro points. The company now sees a reduced tonnage overhang, and demand catching up with supply. Next year, the market balance is even expected to be positive with ton-mile demand growth of 7% versus a net supply growth of 6%. The utilization rate of the global fleet is seen rising towards 90% starting 2013 (historical average: 92%, 10-year average: 93%), the current level being around 86%.
Being well-positioned financially, the company is (in their own words) "in a favourable position compared to many of its competitors to utilize the present downturn and enable further growth." With the strategy to not secure long-term employment of vessels beyond 2013, when rates are expected to improve, the Golden Ocean share could be like a coiled spring waiting to be unleashed when the tide turns.
Disclosure: I am long FRO, SFL, SDRL. I wrote this article myself, and it expresses my own opinions. I am not receiving compensation for it (other than from Seeking Alpha). I have no business relationship with any company whose stock is mentioned in this article.
Additional disclosure: Long Golden Ocean Group (Oslo Stock Exchange)