On November 19th, Wheeler Real Estate Investment Trust, Inc. (NASDAQ:WHLR) listed shares on the NASDAQ exchange in an IPO of three million shares priced at $5.25 per unit. The shopping center REIT debuted in REIT-dom by securing $15.8 million in proceeds for the Virginia Beach, VA-based company.
Although the shopping center category is somewhat of a crowded retail sub-sector, Wheeler REIT plans to carve out a differentiated platform by focusing on grocery-anchored properties in secondary and tertiary markets. Unlike the bigger retail REITs like Kimco (NYSE:KIM), Regency Centers (NYSE:REG), or Weingarten (NYSE:WRI), Wheeler intends to focus on investments in the "overlooked" markets where the company has more expertise. As Jon S. Wheeler, the company's Chairman and President, explained (in an interview with GlobeSt.com):
We focus primarily on secondary and tertiary markets. We are more likely to be in Culpepper, VA, rather than Washington, DC, for example.
The new Wheeler REIT launched the REIT with eight of its best properties, five of which were located in Virginia, and the rest in North Carolina, Oklahoma and Florida. As Wheeler explained (in GlobeSt.com):
We thought these properties were a good mix to start out with because they represent what we do well.
At June 30, Wheeler's portfolio had a total gross leasable area of 368,865 square feet and 90% occupancy. The portfolio includes a mix of assets ranging from 2,500 square feet to 93,552 square feet. Many of the properties were developed, re-developed, or renovated by Wheeler: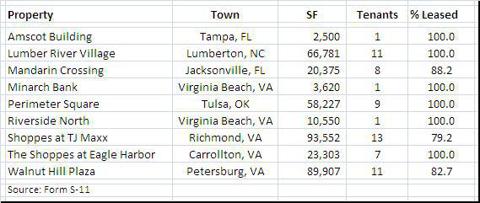 Wheeler's portfolio consists of mostly discount or necessity retail tenants, including TJ Maxx (NYSE:TJX), Food Lion (DEG), Family Dollar (NYSE:FDO), and Dollar Tree (NASDAQ:DLTR). As the new REIT grows, it intends to focus on grocery and necessity-based tenants. The company has a strong footprint in the Mid-Atlantic and plans to expand deeper in the southeast and southwest and, eventually, northeast in the coming months and years.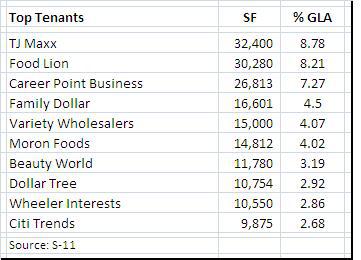 Wheeler REIT's founder, Chairman and President, Jon S. Wheeler, has also served as the President and CEO of Wheeler Interests since its inception in 1999. Mr. Wheeler has several years of experience as a real estate executive with an extensive background in strategic financial and market analyses and assessments of new or existing properties to maximize returns, which are then positioned for acquisition, growth and disposition.
Since founding Wheeler Interests in 1999, Mr. Wheeler has helped Wheeler Interests to acquire over sixty shopping centers in New York, Maryland, Virginia, West Virginia, North Carolina, South Carolina, Tennessee, Georgia, Florida, Oklahoma and Texas, representing over four million square feet of improved real estate property. Mr. Wheeler holds a B.A. degree in political science from Southern Methodist University.
This REIT is in My Wheelhouse
As of June 30, 2011, the Wheeler REIT properties in Virginia represented approximately 60.52% of the total annualized base rent of the properties in its portfolio and following the offering, the company expects to have $28.5 million of indebtedness.
The company plans to contribute the proceeds of the IPO to its operating partnership, which will use about $500,000 to repay outstanding indebtedness, $1.5 million for general working capital and $1.67 million to reimburse the partnership for the purchase of the membership interests of one of the owners of one of its initial properties. The balance, $9.5 million to $14.6 million, depending on the offering size, will be used for future acquisitions.
While many of Wheeler REIT's larger peers are pruning select assets in secondary and tertiary markets, Wheeler is focusing on investing and managing assets in these same smaller markets that are often overlooked. Accordingly, the risks of investing in the smaller markets are directly correlated to employment and education related trends.
I have often felt that there is demand for a publicly-listed REIT to capitalize on the opportunities of investing in the properties that the larger REITs have steered away from. Clearly, the larger "gateway" markets provide a much safer platform; however, I believe there is demand for a regional REIT, like Wheeler, to capitalize on a strategic platform - aimed at higher risk and higher returns.
A few weeks ago, I wrote a Seeking Alpha article on Whitestone REIT and, like Wheeler REIT, Whitestone has focused its value creation on markets like Houston and Phoenix. Whitestone, with a current market cap of $226 million, has a dividend yield of 8.48%.
In a previous career, I co-developed single tenant and shopping center assets in secondary markets, and during that period (1990-2002), I was able to generate considerable returns by focusing on the markets that were "under the radar." Oftentimes, these markets generate considerably higher spreads than the larger (and more competitive) markets that enjoy more of a "high barrier to entry" platform.
As I found, the biggest risk in the smaller markets is the depth of replacement tenants and owning a C property in B market is a recipe for failure. Wheeler's initial portfolio is solid; however, I am concerned with the leases that are expiring in the near future (around 11% expire in 2013 and 15.28% in 2014. Food Lion recently renewed at Lumber River in Lumberton NC).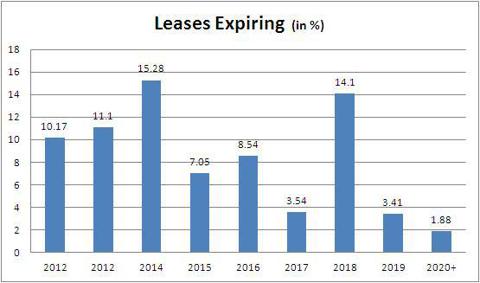 Can Wheeler Turn Risk Into Reward?
Wheeler's shares closed at $6.12 per share and the dividend yield is 8%. The shopping center REIT has a differentiated value proposition that is aimed to attract higher risk and higher returns. As the company grows its platform, it should be able to mitigate lease expiration risk and begin to develop a more concentrated grocery-focused portfolio. There is certainly a long runway for secondary (and tertiary) market products, and Wheeler should be able to capitalize on that strategic mission.
Wheeler REIT: Welcome to REIT-dom and Let the Good Times Roll.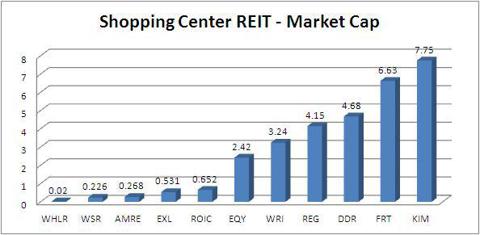 REITs mentioned: (NYSE:AMRE),(NYSE:EXL), (NYSE:DDR), (NASDAQ:ROIC), (NYSE:FRT), (NYSE:EQY), and (NYSEMKT:WSR).
Disclosure: I have no positions in any stocks mentioned, and no plans to initiate any positions within the next 72 hours. I wrote this article myself, and it expresses my own opinions. I am not receiving compensation for it (other than from Seeking Alpha). I have no business relationship with any company whose stock is mentioned in this article.