Broadcom (BRCM) is one of the leaders in providing multiple solution chips for technologies such as networking, set-top boxes, and mobile connectivity. It's recent quarterly results confirms its ability to continue to innovate to provide its customers, such as Apple (NASDAQ:AAPL), Samsung (OTC:SSNLF), and Nokia (NYSE:NOK), with chips that allow the smartphone manufacturers to create sleeker devices with more functionality. Sales were up 8% sequentially and 9% from the year ago quarter, with mobile chips leading the way at a 14% growth clip. We suspect that there was a nice revenue boost due to the connectivity chip design win for iPhone 5, which will also be used for future iPad Minis. Meanwhile, operating margins increased from 8% to 10% so the revenue increases were accretive to the bottom line.
Global Growth
Broadcom is well positioned for the global secular trends in networking, communication, and data sharing. According to information provided in its 2011 annual report:
· By 2015, there will be more than 15 billion global network connections
· By 2020, the number of connected devices is expected to reach 50B. That is equivalent to 6 devices per person
· By 2015, 1 million minutes of video content will cross the network very second
· Between 2010 and 2015, global mobile data traffic will increase 26x
The trends are irrefutable. Not only are developed economies becoming increasingly connected, but emerging market economies are skipping a generation of computing and going right to Wi-Fi, Bluetooth, and mobile devices in lieu of the path taken by more developed nations. The developed nations evolved from landline telephones, to dial up internet connections, to cell phones, to personal data assistants (PDA's), to smartphones. Emerging market countries from the far east to Latin America, to Africa are completely skipping these evolutionary steps and going right to smartphones.
As smartphones and service plans become increasingly affordable, the market for additional users will expand exponentially and the use of data, as mentioned above, will continue to rely on more bandwidth. The challenge is to deliver this additional bandwidth and functionality with less board space, lower cost, and less power consumption. And with 99.98% of traffic already touching a Broadcom chip, it is well positioned to benefit from these trends.
BRCM Strengths
Broadcom's strengths lie in its ability to create chips that integrate connectivity for Bluetooth, GPS, Wi-Fi, and FM radio. In essence, eliminating the manufacturers need to use 4 different chips, each for a different function. It also is very strong at providing these System on a Chip (SoC's) to manufacturers in the set-top box and DVR industries. And not only do these SoC's allow for the creation of smaller devices, but they reduce the complexity of the connectivity functions for any device.
Broadcom also has a very strong patent pipeline ranked third behind Samsung and Intel (NASDAQ:INTC), and they continue to spend on research and development at a pace of $2.2 billion to $2.4 billion annually.
With free cash flow exceeding $1.6 billion over the last 12 months, we don't see any issues with its ability to continue its R&D expenditures.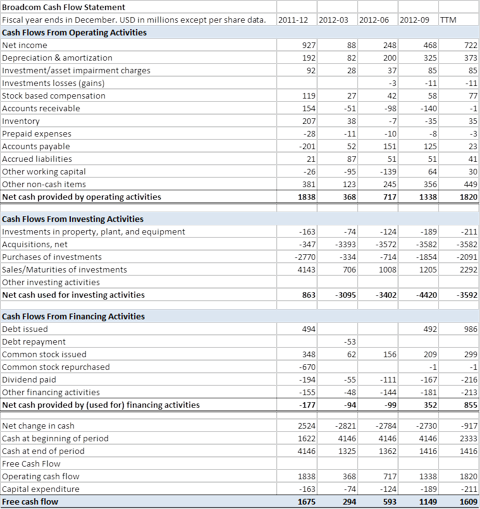 Source: Morningstar.com
Risks
One area of concern for Broadcom was its focus on 2G and 3G technologies, which, with troubles at Nokia, made it lag industry leader Qualcomm. To mitigate its competitiveness in 4G technology, however, Broadcom acquired Beceem, a leader in 4G technology. But the risks of integrating acquisitions in technologies can be difficult to manage. If it can pull it off, the acquisition will certainly improve its competitiveness with Qualcomm.
Secondly, like any other semiconductor company, Broadcom must continue to reinvest in research and development and remain ahead of the curve on new technologies. One misstep in this space can be quite difficult to recover from. We don't think this will be an issue, but the company has made mistakes in the past, such as its over dependence on 2G and 3G.
Finally, the company sales to its five largest customers made up 45.3% of total revenue, which was consistent with the previous 9 month figure and slightly higher than the year ago periods. The company didn't specifically name these customers but we can assume that they include Apple, Samsung, and Nokia. The relationship with Nokia hasn't helped much to this point, but it seems the new Nokia Lumia has had good reviews. If sales strengthen, it could provide an added boost to revenue, but the over reliance on just a few customers is still a risk.
Valuation
On a relative value basis, Broadcom seems to be undervalued. Its current PE ratio of 24.6 is dramatically below its 5 year average PE of 79.1. If we apply the long-term PE to current earnings we get a potential price of $103, which is consistent with our discounted cash flow calculation (not shown here) It also looks undervalued on a price to book, price to sales, and price to cash flow basis. See table below.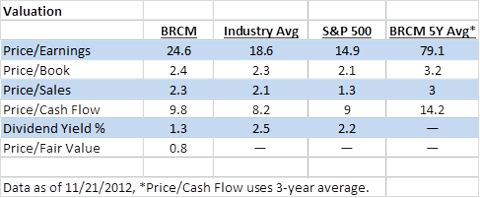 Source: Morningstar.com
We also looked at other valuation measures to compare our calculations. According to the Earnings and Price Correlated FAST Graph below, the company also looks undervalued. The black line indicates the actual price of the stock, while the orange line is the earnings justified valuation. According to the earnings justified valuation, the price should be closer to $60 the end of this year. Add dividends to the mix and the valuation increases to $69. Using the normal PE ratio (blue line) indicates a price of $153.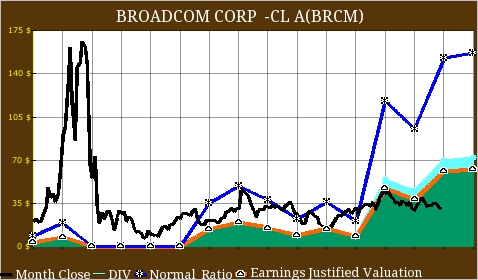 Chart
Source: www.fastgraphs.com
On a forward looking basis, we refer to the FAST Graphs Estimated Earnings and Return Calculator Chart below. This chart also shows that the stock is undervalued, albeit not as undervalued as the previous chart. While the black line is slightly below the lowest orange line, the average indicated year end price should be closer to $47. At a current price in the low 30's, that is still quite a compelling return.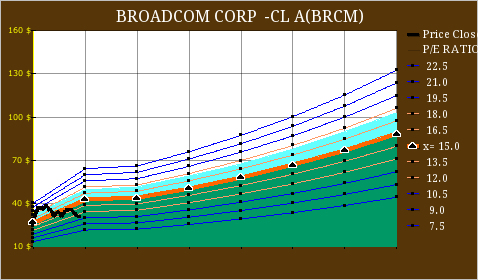 Source: www.fastgraphs.com
In our opinion, Broadcom is a great long-term buy and it is currently trading at very compelling valuations with a 1.3% dividend yield. Whether the intrinsic value is $47 or $153 (range of outcomes we mention), it is well-positioned in an industry that is growing fast and which will eventually be dominated by only a few players. We think Broadcom will be one of them.
Disclosure: I am long AAPL. I wrote this article myself, and it expresses my own opinions. I am not receiving compensation for it (other than from Seeking Alpha). I have no business relationship with any company whose stock is mentioned in this article.