We have been long Berkshire Hathaway (BRK.B, BRK.A) since early last year. We took a stake in Lee Enterprises (NYSE:LEE) this year because of Warren Buffett's $85M investment in Lee's 2nd Lien Term Loans earlier this year. As part of the deal, Berkshire also picked up 3.22M shares of Lee Enterprises that were included with the debt. Warren tried to keep his equity position in Lee a secret since it was a byproduct of his investment in Lee's debt however the SEC forced him to disclose it. However, we saw that Berkshire disclosed a 1.6M position in June and a 3.2M position in August as part of its 13-F filings so we believe that the SEC allowed him to disclose half the position in one period and the rest when filing the Q2 2012 13-F. Lee Enterprises is not a typical blue-chip investment company. However, we took a position in the company because Lee Enterprises had a free cash flow yield of over 70% even though its weighted average interest expenses increased by nearly 80% from 5.1% in FY 2011 to 9.2% in FY 2012. The increased interest expense was due to the corporate debt reorganization as part of a prepackaged bankruptcy due to a technical default. Lee Enterprises suffered the indignity of a technical default because it only received consent from 94% of its lenders with regards to refinancing its debt that was maturing in April 2012 and it used the prepackaged bankruptcy to force compliance from the holdouts.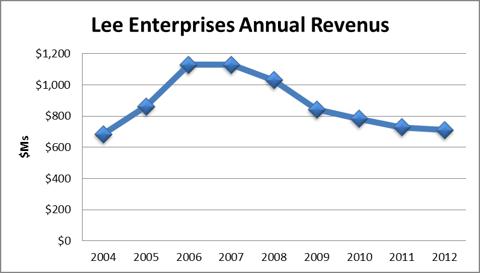 Source: Morningstar Direct and Lee's Q4 2012 Earnings Release
We think that the technical default and prepackaged bankruptcy that Lee suffered was unjustly unfortunate. We think that the 6% that refused to comply should have reconsidered considering Lee's track record in paying down its debt. As of Q2 2005, Lee had $1.79B in debt upon the acquisition of Pulitzer Inc. Pulitzer's flagship media property was the St. Louis Post-Dispatch and Lee paid $1.46B to acquire Pulitzer on June 3rd, 2005. We think that the lenders who held out wanted to show that they thought that Lee's acquisition of Pulitzer was an unforced error made by Lee's management. We think that was obvious in 2008 when Lee wrote off $1.07 in goodwill and intangible asset impairments. We think that Lee reinforced that message in 2009 when it wrote off an additional $246M in acquisition related intangible assets in 2009 and $205M in 2011. We think that the debt-funded acquisition of the St. Louis Post-Dispatch's publisher turned out to be a bigger white elephant than Runway 11/29 at the St. Louis International Airport. We believe that Blind John Boone could see that the acquisition of Pulitzer turned out to be more dangerous to Lee's corporate existence than if it moved its corporate headquarters to the corner of 14th Street and Martin Luther King Drive (St. Louis's most dangerous zip code) in St. Louis, MO.
Despite the fact that Lee's acquisition of Pulitzer did not work very well for the company, at least Lee Enterprises had devoted a substantial portion of its free cash flows toward paying down its acquisition related debt. Lee had $1.79B in outstanding debt as of Q2 2005. The company was able to pay down nearly half of that debt as of Q1 2012, before entering and exiting its prepackaged bankruptcy. Because the company was steadily paying down its debt with a substantial portion of its free cash flows, we can see that the company was not an "extend and pretend" deadbeat borrower and we believe that the lenders should have realized it too. Even if Lee wasn't forced into bankruptcy, it still would have had to pay a significantly higher interest rate on its debt because the company had weaker financial ratios than in 2005 when it acquired Pulitzer. One potential bright spot that could be a positive catalyst going forward is the potential for Lee to refinance its 15%, 5 year $175M 2nd Lien Term Loan Agreement as this loan is callable at 102% of par at the end of January and we believe that Lee's determination in paying down its debt with its remaining free cash flows should justify Lee refinancing it at a lower rate.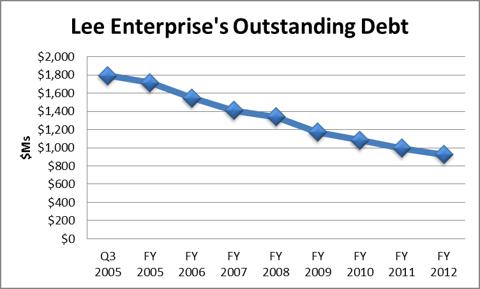 Source: Lee's Q4 2012 Earnings Release
Lee had posted mixed results for its most recent quarter. The company generated free cash flows of $14.6M in the Q4 2012 period, which was an increase from the $7M in Q3 2012 and the $14.4M in Q4 2011. Lee paid down $10.15M in its debt during the quarter as well as $18.6M in additional debt payments after the quarter end due to the sale of the North County Times for $11.95M. For the year, Lee had $54.3M in free cash flows, which was a decline from the $90M achieved in 2011. Lee's free cash flows were adversely affected by the $25.6M in increased cash interest expense when Lee refinanced its maturing debt in 2012 and $20M in increased debt financing and reorganization costs. We expect Lee to generate between $50M in free cash flows at the low end and $85M at the high end based on the expected reduction of its debt financing and reorganization costs in FY 2013 versus FY 2012 levels. Lee's unlevered cash flows for FY 2012 were $162.9M, down 0.1% versus prior year levels.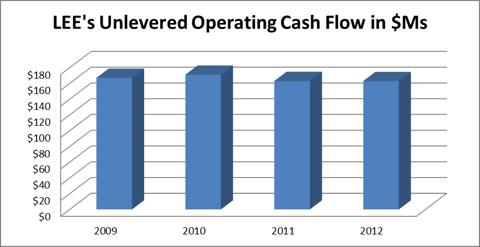 Source: Lee's 2012 Deutsche Bank Leveraged Finance Presentation and Q4 2012 Results
Lee's adjusted revenue declined by 4.5% in Q4 2012 versus Q4 2011 and this was attributed to declines in its adjusted advertising revenues due to the weak economy. Operating Income declined by 6.7% due to the revenue declines and this was partially offset by a 4.1% reduction in adjusted recurring operating expenses. Interest Expense increased by $10M year-over-year, due to increased cost of debt associated with the bankruptcy reorganization. Lee offset a 4% decline in its FY 2012 adjusted revenue by reducing its cash operating costs by 4.6%. Lee also outpaced the industry average in advertising revenue performance for the 36th straight quarter and its new advertising initiatives include a suite of social media products for small and midsize businesses. Total average circulation of Lee's 51 daily newspapers was 1.2 million daily and 1.4 million Sunday for the six month Audit Bureau of Circulations Fas-Fax period ended September 2012, representing declines of 5.8% daily and 7.3% Sunday compared with the previous year.
Lee is making steady, incremental program in monetizing its digital properties. Lee's digital revenue in Q4 2012 was $16.2M and increased 9.2% from Q4 2011. On a full year basis, Lee's digital revenue was $63.4M and increased 9.7%. Lee's digital revenue in 2012 was 8.9% of its total revenue, up from 7.95% in 2011. The key driver of Lee's digital revenue growth was its mobile advertising revenue, which reached $2.7M in 2012 and increased by 150% versus prior year levels. Digital subscriptions have been introduced in many of its 51 markets over the last year and will be substantially completed by December 2012. Lee's websites and mobile/tablet related products attracted 22.8M unique visitors in the month of September 2012, an increase of 10.1% from a year ago. Mobile page views in September increased 146% to 53.6M. Lee recently promoted Mike Gulledge from Vice President of Publishing to Vice President of Sales and Marketing due to his success in leading the introduction of paid digital content and he also has been a key strategist in Lee's successful initiatives to accelerate digital sales, advance mobile growth and continue to expand its audiences.
In conclusion we think the market has overreacted to Berkshire's recent sale of Lee shares. Lee is most certainly not a blue-chip company and the glory days of the newspaper publishing business are most certainly over. However, we also believe that the worst for Lee is over. We like that Lee has reduced its outstanding debt from $1.8B in Q3 2005 when it closed the Pulitzer acquisition to $945M in face value and $925M net of as of Q4 2012. According to Morningstar, Lee recently saw a sell-side analyst begin formally publishing EPS targets on the company, which we believe bodes well for the company's future prospects. We believe that although Buffett is not your typical shareholder activist, we believe that Lee should consider the possibility of selling more newspaper publications to pay down debt while it can get a fair value for the papers rather than being like Media General and having to sell its papers at a whopping $143M loss to Berkshire Hathaway and Revolution Capital Group. We compare the $11.95M that Lee fetched for selling the North County Times to Papa Doug Manchester versus the $2M net that Media General salvaged from selling the Tampa Tribune to Revolution Capital Group even though the North County Times had half the circulation of the Tampa Tribune. Although Berkshire got its shares as a kicker from buying $85M of Lee's debt, the fact that Buffett tried to keep Berkshire's position secret from the 13-F filings sends a message that there is value here, especially since Lee's free cash flow yield to equity is about 70% and it is paying down debt as well as the potential for refinancing its 2nd Lien Term Loan. We believe that Lee's revenue will narrow its decline in 2013 and stabilize in 2014 due to strength in its digital media monetization efforts.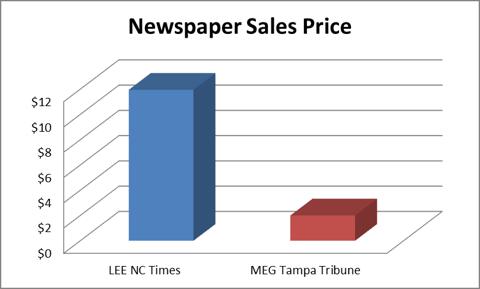 Disclosure: I am long BRK.B, LEE. I wrote this article myself, and it expresses my own opinions. I am not receiving compensation for it (other than from Seeking Alpha). I have no business relationship with any company whose stock is mentioned in this article.
Additional disclosure: This article was written by an analyst at Saibus Research. Saibus Research has not received compensation directly or indirectly for expressing the recommendation in this article. We have no business relationship with any company whose stock is mentioned in this article. Under no circumstances must this report be considered an offer to buy, sell, subscribe for or trade securities or other instruments.