Up until a short time ago -- that is, before the price of gold jumped nearly $20 an ounce as investors became more hopeful about the U.S. economy, due to a big turnout for Black Friday shopping, and the euro strengthened against the dollar on renewed optimism about a Greek debt deal -- it didn't seem as though it would be worth the trouble to update the graphic below. But now that the price of gold is sharply higher, suddenly it does.
As shown below, although it hasn't done so in recent years, the price of gold has a history of making big moves on Thanksgiving Day and the Friday that follows when many U.S. traders are away from their desks. If prices remain steady for the rest of the day, it looks as though 2012 will trail only 2005 and 2007 for the biggest two-day gains (i.e., from the Wednesday close until the Friday close).
Click to enlarge image.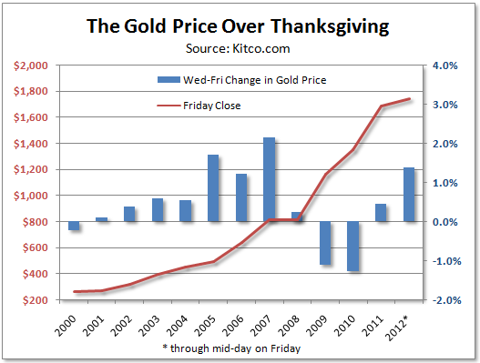 It would take another $13 or so to match the surge from five years ago, so it's still possible that this week's mover higher will best the rest. But even if the price of gold is steady or moves slightly lower, this is still a very positive sign for the rest of the year.
While there is only a loose correlation between the price of gold over Thanksgiving and its full-year gains, it's worth noting that gold moved higher by 18%, 23%, and 32% from 2005 to 2007, respectively. That corresponds to the three big blue bars from the middle of the last decade in the chart above.
Those investors thinking about putting money into gold investments such as the SPDR Gold Shares ETF (NYSEARCA:GLD) may want to shake off that turkey hangover and act quickly before markets close today, as this may signal a rather exciting year-end move for precious metals.
Disclosure: I am long GLD. I also own gold coins. I wrote this article myself, and it expresses my own opinions. I am not receiving compensation for it (other than from Seeking Alpha). I have no business relationship with any company whose stock is mentioned in this article.