"Black Friday: Only in America people trample others for sales exactly one day after being thankful for what they already have" - Anonymous
Since it tis the season, seems appropriate to make the case for a small retailer that looks like it is off to a good start to the biggest part of the shopping year. For speculative investors, the stock below might worth further consideration.
New York & Company (NYSE:NWY) is a specialty retailer of women's fashion apparel and accessories in the United States. It operates over 525 retail stores in 43 states
6 reasons NWY could be a good speculative play at just over $3 a share:
The company should have a much sunnier 2013 than 2012. NWY should post just under a dime a share in total losses in FY2012, but analysts have the company reversing that performance in FY2013 as it is projected to post more than a dime a share in earnings in FY2013. This continues a turnaround as the company lost over 60 cents a share in FY2011.
New York & Company has a solid balance sheet with over $40mm in net cash on its books (some 20% of its market capitalization).
Oppenheimer just came out with comments stating NWY was a "standout" in what it saw early in the holiday shopping season and has an "outperform" on the stock as well.
The company has beat earnings estimates each of the last four quarters. The average beat over consensus during that time span has averaged 25%. Next earnings report is due November 28th.
The stock is selling for just a little more than 20% of annual revenues, near the bottom of its five year historical average. Insiders hold over 50% of the shares and there has been next to no insider selling over the past two years.
NWY is trading medium term technical support levels (See Chart).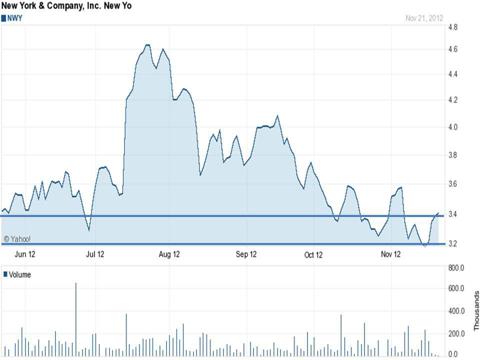 Disclosure: I am long NWY. I wrote this article myself, and it expresses my own opinions. I am not receiving compensation for it (other than from Seeking Alpha). I have no business relationship with any company whose stock is mentioned in this article.