Courtesy of Dr. Paul Price of Market Shadows
The name ABM Industries (NYSE:ABM) used to stand for American Building Maintenance. That better described the janitorial, security, parking, engineering, and other assorted facilities services the firm provides to private, institutional, and government entities. About 95% of its greater than $4 billion in annual revenues come from within the U.S. The remainder comes from Canada. ABM serves office buildings, hospitals, large sports/entertainment arenas, universities and many levels of government facilities.
There is bad news and good news. Fiscal year (FY) 2012 (ended Oct. 31, 2012) is likely to have come in at about $1.29 vs. FY 2011's $1.39. The good news is that ABM shares have more than reflected the 7.2% dip in EPS, and the dividend has been raised slightly.
The consensus views are for $1.39 in EPS for the current FY. With ABM at just $18.28, the stock is offered at less than 13.2 times FY 2013 expectations. Its 10-year median multiple has been 19 times. ABM's average P/E was 16 times during the five recession-tainted years of 2008-12.
Click to enlarge images.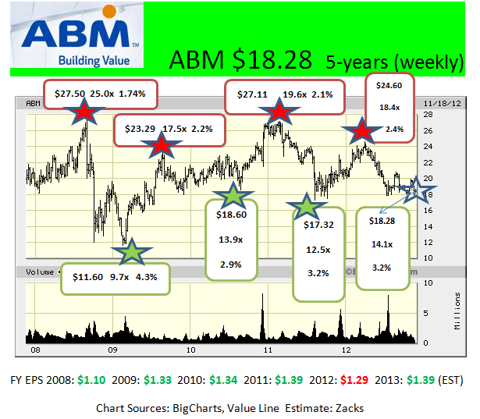 Today's current yield of 3.17% is the best since the absolute bottom in 2009. The forward multiple is near the levels it hit at the last three best trading opportunities.
Risk appears limited. ABM hasn't traded below $17.32 since 2009. It has topped out at $23.29 to $27.50 at some point during each of the past seven calendar years. The company's beta is below average, and it has earned good grades from Value Line for financial strength, stock price stability and especially in terms of earnings predictability (five is worst, 100 is best).

Even a partial rebound could send ABM up by $4-$5 per share allowing for a 24%-30% total return. Value Line assumes a normalized P/E of 18 in calculating its longer-term price projections.
I'm a buyer anywhere under $19 with a minimum trading target of $22. You might not get filthy rich, but you could clean up with this somewhat conservative pick. I added to my own ABM position today at $18.28-$18.30.
Disclosure: Long ABM shares, and Dr. Paul has a position in the stock. I wrote this article myself, and it expresses my own opinions. I am not receiving compensation for it. I have no business relationship with any company whose stock is mentioned in this article.