Soros Fund Management LLC is considered one of the most successful and high-profile hedge funds. George Soros, the fund's well-known and politically influential founder, is considered one of the best living investors in both equities and currencies, with a net worth estimated at $20 billion. Funds like Soros Fund Management are required to provide quarterly filings that state what U.S. traded equity positions the fund was holding at the end of the prior quarter.
By looking at these filings, we can ascertain what investments, if any, acclaimed investors like Soros may have initiated in the recent past, as well as what investments they might have dropped. This filing does not include all investments made by the fund, as the 13F filing only includes positions in U.S. equities. The filing indicates at least some of the changes Soros Fund Management made during the third quarter, by giving a snapshot of its U.S. holdings at the end of the quarter.
Based on Soros Fund Management's Q3 13F, the fund's U.S. equity holdings increased by about 34 percent, to $9.27 billion. Some of this growth is due to appreciation, but the fund also increased its number of U.S. equity holdings to 179 from 168. Below, I have listed the new positions taken by Soros Fund Management during Q3 that had a market valuation of over $100 million at the end of Q3.
The largest new stake taken by Soros was in American International Group (NYSE:AIG), which also became the fund's largest listed holding. Soros held 15,220,849 shares in AIG at the end of Q3, valued at just under half a billion dollars. Soros is apparently buying into AIG at the same time that the U.S. government is selling out of the insurer. AIG has been somewhat range-bound for months, though in a slightly upward trend. The company recently declined to the lower end of its recent channel, breaching its 200-day moving average for the first time in a while, but quickly rebounded from that move downward. See a recent chart for AIG: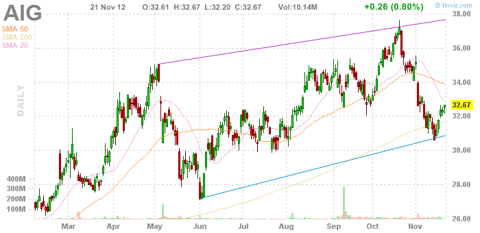 Soros Fund Management also made a sizable new investment in Johnson & Johnson (NYSE:JNJ). Soros took a position valued at about $177 million in the diversified drug and consumer goods manufacturer during the third quarter. Johnson & Johnson had been range-bound for years, but began to move upwards over the summer, largely after another fund manager, Bill Ackman of Pershing Square Capital Management, announced that Pershing took a position in the company. Additionally, speculation began to mount that JNJ may be ripe for splitting, which also helped move the stock higher. See a recent performance chart for JNJ: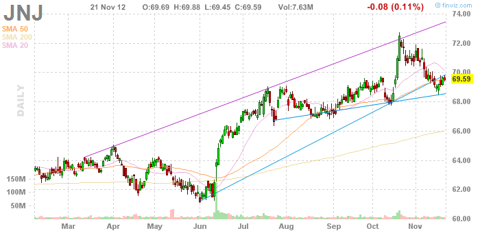 Soros also initiated a reasonably large position in CF Industries (NYSE:CF) during the third quarter, valued at about $171 million. CF Industries is a producer of fertilizer. The company went through a difficult takeover fight to gain control its peer, Terra, but now that it has completed the acquisition, CF is the largest nitrogen fertilizer producer in North America. CF should benefit from higher corn prices and increased planting in the United States, as well as continued low natural gas prices. CF recently reported a 22% increase in Q3 profit, improved margins and nitrogen fertilizer capacity expansion projects in Louisiana and Iowa. See a recent performance chart for CF Industries: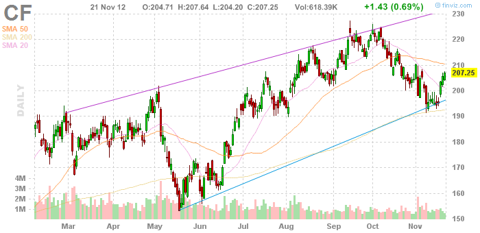 The next largest new investment listed on Soros Fund Management's Q3 13F was in Pioneer Natural Resources (NYSE:PXD). Soros added a position in Pioneer valued at about $146 million as of the end of the third quarter. Pioneer Natural Resources is an independent exploration and production company with assets in the Permian Basin, Eagle Ford Shale, and Barnett Shale Combo regions of Texas, among others. PXD declined substantially during the first half of 2012, along with natural gas prices, but appreciated by about 25% during Q3, and has since been tightly range-bound. See a recent performance chart for PXD: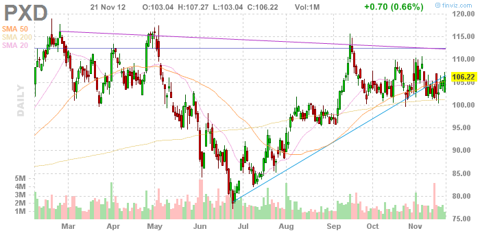 Soros Fund Management added a position in Google (NASDAQ:GOOG) that was valued at about $142 billion at the end of Q3. Soros has bought and sold Google before, so this position may not be a long-term holding, and may have already been traded. Google appreciated considerably during Q3, but has since been declining since the start of Q4. Much like AIG and CF, the recent market declines took GOOG to its 200-day moving average, at which point it showed support. See a recent performance chart for GOOG: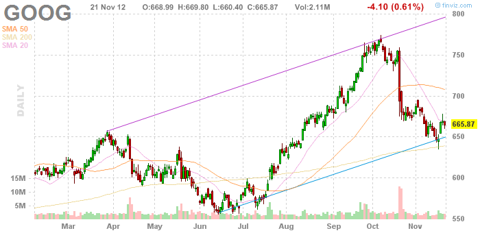 Another large technology investment taken by Soros Fund Management was in LinkedIn Corp. (NYSE:LNKD). Soros Fund listed holding 1,175,000 shares of the professional networking company, valued at about $141 million at the end of Q3. Though a seemingly expensive equity, the company has established itself as main professional network and has proven capable of making money off of its business model. See a recent performance chart for LNKD: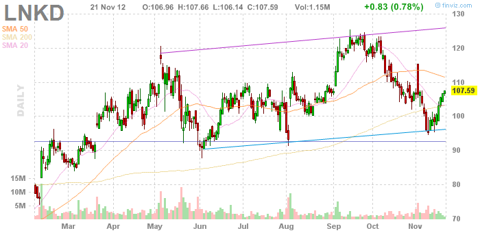 Soros also added a sizable position in Walgreen Company (WAG), the nation's largest retail pharmacy, in which Soros initiated a position valued at about $132 million at the end of Q3. The company ran into trouble after exiting Express Scripts' pharmacy network, which it later re-entered. In 2012, WAG also acquired Boots, a British pharmacy, in an effort to grow internationally. After declining during the first half of 2012, WAG appreciated at the start of the third quarter after announcing it had reached an agreement with Express Scripts. Since then, WAG shares remained range-bound and then declined to start November. See a recent performance chart for WAG: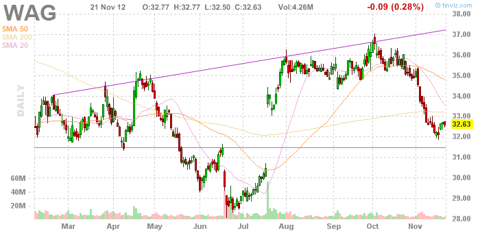 Many of these positions, despite their seemingly large size, appear short-term positions. Soros has traded Google in the past and may be now adding LNKD as a high volume tech equity to trade. Similarly, his investments in WAG and JNJ may be based on market momentum, and not a longer-term fundamental thesis. Both moved up in the middle of 2012 due to positive news. Both may also be defensive international dividend paying investments.
Soros Fund Management's positions in CF Industries and Pioneer Natural Resources can be seen as hedges on one another, where CF should do well so long as natural gas stays cheap and PXD should do well if natural gas improves. As a result, those two positions appear likely to be longer-term investments. Given its substantial size, Soros' position in AIG appears to be a long-term investment, and one made with conviction. Therefore, it is the most interesting large addition to Soros' U.S. equity holdings, and the one most likely worthy of emulation.
Disclosure: I have no positions in any stocks mentioned, and no plans to initiate any positions within the next 72 hours. I wrote this article myself, and it expresses my own opinions. I am not receiving compensation for it (other than from Seeking Alpha). I have no business relationship with any company whose stock is mentioned in this article.