After years of outsized performance, global emerging markets have been battered by volatility this year. All of the constituents in the MSCI Emerging Markets Index are down in 2008, with stock markets in Russia, Hong Kong, India and other countries losing more than 50 percent of their value.
While pessimism and fear currently dominate, it's important to keep a clear eye on company fundamentals because they will ultimately emerge as the driving force of market direction. Of course, we can't be sure when this will take place, but we do see some positive signs for emerging markets.
In terms of valuation, since 1992 emerging market stocks have traded at an average trailing P/E multiple of around 15x. That ratio is now approaching 8x, a record low. For the sake of comparison, the ratio was around 12x during the emerging markets crisis following the Russian default in 1998, and the ratio was around 10x after the collapse of the Internet bubble a couple of years later.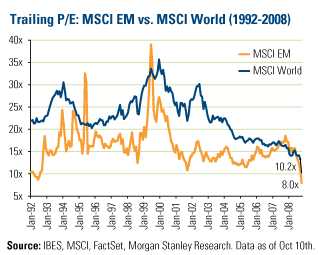 If history is a guide, this re-rating represents an opportunity for long-term investors. Using data since 1992, the table below illustrates the potential for an upswing in the emerging markets when the valuation multiple falls 10 percent below the long-term mean (a trailing multiple of 13.5x or less). Against this background, the current valuation level is even more compelling.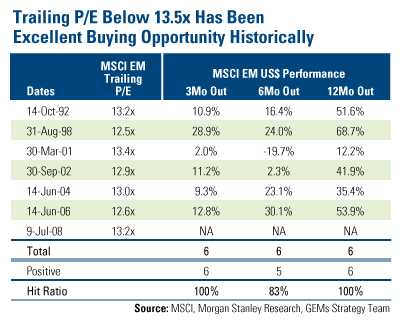 Furthermore, the fiscal condition of the major emerging markets has improved since 1992. A good indicator has been the dramatic growth in foreign reserves, as shown in the chart below for the BRIC countries (Brazil, Russia, India and China) in recent years. Other macroeconomic data support this idea. These countries feature healthy GDP growth, positive trade balances, smaller budget deficits and lower inflation.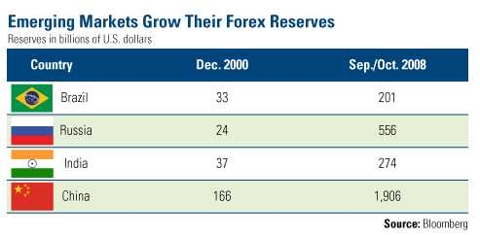 So what will it take to boost emerging market valuations from the current level?
Clearly, the volatility in developed markets (elevated by recent margin calls related to the credit crisis) needs to subside to restore order and enhance investor confidence. The correlations between developed and emerging markets have increased significantly in the past decade.
In addition, inflationary pressure will be a critical driver. Inflation has been a vulnerability of many emerging markets in the last two years. There's an inverse relationship between inflation (measured by CPI) and stock valuations, as shown in the chart below. Many economists believe that inflationary expectations have peaked, which if true should be positive for valuations.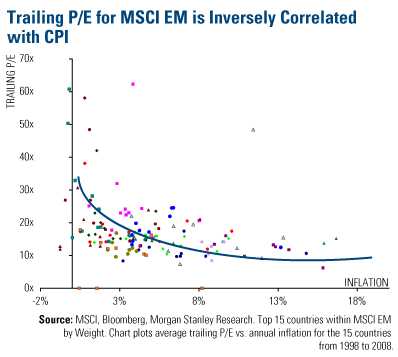 Lower oil and food prices should contribute to easing inflation, although the final outcome will vary from country to country and will depend on the impact of the latest volatility in the exchange rates. The overall trend in recent months has been favorable.
Government actions are also worth watching. Just this week, for instance, China moved to boost its housing sector by cutting both mortgage rates and the down payments required to buy a home, and India's central bank made a significant interest rate cut aimed at stimulating Asia's third-largest economy.
Another variable is the volatility in foreign exchange markets, which is especially problematic for emerging-market companies that borrowed in U.S. dollars expecting continued strength of their domestic currencies only to see massive depreciation in recent weeks.
The Polish zloty has lost nearly 50 percent against the dollar since July, while Brazil's real fell 47 percent and the Mexican peso 35 percent in roughly the same period. Currency depreciation is good news for exporters, although those dependent on commodity exports face lower prices for their products.
There is increasing evidence that some corporations will not survive if they have made imprudent bets on exchange rates. Retail borrowers are already feeling the pinch of servicing foreign currency-denominated debt, and the result could be rising defaults that threaten banks in those countries.
This is a real risk that will vary from company to company and from country to country. In the current environment, however, it appears that when anything 'suspicious' occurs, investors sell positions indiscriminately.
Many near-term uncertainties may roil emerging markets, but the long-term fundamentals remain intact. At some point, valuations will again be valued by investors. When that happens, we see significant upside potential in emerging markets.