By Mitchell Hall
The state-owned, semi-privatized Telkom Indonesia (NYSE:TLK) is the largest telecommunications company in Indonesia, which is the world's largest Muslim country, and the fourth most populous country in the world with nearly 240 million people. Here are five reasons why your Telkom Indonesia investment could pay off.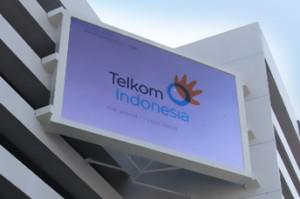 1) Indonesia (NYSEARCA:IDX) is looking at 6% GDP growth over the next few years
This makes it a country that is rapidly swelling the ranks of its middle class - and their disposable income. This politically stable economy is driven by manufacturing, construction and tourism, and is rich in natural resources.
However, more than 90% of mobile users are prepaid customers, and Seeking Alpha reports that "the only Indonesians who don't yet have mobile phones are probably those living in the jungles of Borneo or Papua and don't need them", putting a cap on future subscriber growth. Combined with declining average revenue per user, currently Rp 23,238 (US$2.40) per month, the company needs to be aggressively rolling out the infrastructure needed to increase data subscriptions from feature phones, as well as broadband uptake.
2) Telkom Indonesia is aggressively marketing smartphones and upgrading infrastructure
The company is upping its Indonesia investment plans, recently signing a deal with Samsung (OTC:SSNLF) to spur Indonesian smartphone sales.
"Alistair Johnston, marketing director of Telkomsel, said that the deal was part of the mobile operator's plan to develop the firm's device, network and application (Private:DNA) strategy to boost data traffic on their third generation (3G) broadband network by getting more Internet-enabled mobile devices equipped with mobile applications connecting to the network", reports the Jakarta Post.
Indonesian internet penetration is still far behind compared to other countries, which means there's huge growth potential. Telkom Indonesia is building out the Indonesia Digital Network until 2015 for broadband internet, pitching the initiative to Indonesians as a way to bridge the digital divide suffered by the developing country and significantly boost its GDP.
3) Dividend yield
In the current low interest macro environment, yield is a crucial component to any investor. Telkom Indonesia is currently paying out a very respectable 3.43%, although Seeking Alpha cautions that it generally pays most of its dividends (which vary) as one payment in June or July, "as its difficult for any emerging market stock to pay a consistent dividend four times a year." That said, your Indonesia investment should be pretty safe, given that any company that pays out a dividend is a disciplined company with a consistent cash flow.
4) It's a fast growing, well run company with 130 million customers
In August Fitch Ratings affirmed Telkom Indonesia's Long-Term Foreign- and Local-Currency Issuer Default Ratings (IDRs), as well as its senior unsecured rating at 'BBB-' with the outlook as stable. "Telkom's ratings have significant headroom given its strong credit metrics" reports Cellular News.
The $14.2 billion company by market cap recorded record revenue of Rp 56.9 trillion ($5.9 billion) in the third quarter, up 7.6%, while profit jumped by 19.3% to $1.037 billion, driven largely by increasing broadband penetration and mobile data subscribers.
5) It's a highly liquid, attractively priced stock
Telkom Indonesia has an average three month volume of over 300,000 shares, so it's reasonably easy to get into and out of the position you want. With a price to earnings ratio of 14.2, and earnings per share of 2.72, this Indonesia investment compares extremely favorably to American equivalents like AT & T (NYSE:T), whose P/E of 44.24 and EPS of 0.77 looks pretty lame in comparison.