Since the last time I discussed Clearwire (CLWR) here, the company stock has risen by about 100% (see graph). A major event with Clearwire's major shareholder, Sprint (NYSE:S), contributed to this jump in price. SoftBank's decision to acquire Sprint brings much needed liquidity to Sprint and this also had a halo effect on Clearwire. This article will look at the latest moves concerning Clearwire's major shareholders, its recent performance, and also discuss possible paths the company can take in the near future.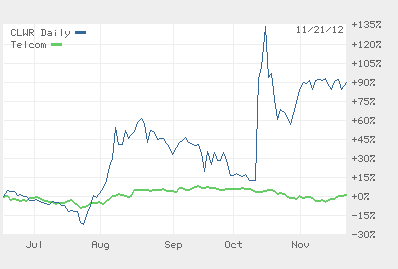 Good Bye Intel, Comcast, and Time Warner Cable…
Intel (NASDAQ:INTC), Comcast (CMCSA) and Time Warner Cable (TWC) recently disposed or stated they intend to dispose of their shares in Clearwire. These large companies invested in Clearwire a few years ago hoping that Clearwire and Sprint will be able to launch WiMax. WiMax is a wireless communications standard that was popular in the last decade, however, the WiMax network never gained commercial presence in North America. Time Warner Cable and Comcast were hoping to launch a WiMax based wireless service, with Clearwire's spectrum, that would allow them to offer a triple play service to their customers. Intel invested in Clearwire because the WiMax standard requires different type of chips and Intel hoped to provide this equipment. Following the disposition of Intel shares, and after purchasing some of Intel shares, Sprint recently became a controlling shareholder in Clearwire and currently owns 50.8% of the voting rights in the company.
...Hello Activist Hedge Funds
Shortly after the $20 billion infusion of capital into Sprint by Softbank, Clearwire is attracting the attention of hedge funds such as Crest Financial Limited, Chesapeake Partners, and Mount Kellett. According to SEC filings, these entities own about 19.2% of the Class A shares and 9.1% of the voting rights in Clearwire. On November 1st, or about 2 weeks after the announcement of the deal between Sprint and Sofbank, Mount Kellett sent an "activist letter" to Clearwire's board. Mount Kellett's letter to Clearwire received the support of Crest Financial in a letter filed with the SEC a week later. The letters basically affirm what was said in the previous article - that the company is running out of cash. However, these activist letters do not propose a real solution except demanding that Clearwire should sell spectrum. Selling spectrum is not something that can be easily done now, given the depressed economy and the excess spectrum AT&T (NYSE:T) and Verizon (NYSE:VZ) have currently.
Quarterly Performance
Clearwire had another unimpressive quarter. Its revenues decreased by nearly $19 million to $313.9 or about 5% compared to the third quarter of 2011. On a brighter note, its operating expenses decreased by 11.5% to $646.8 million. Year to date, the net cash outflow of the company is $643.7 million or about $210 million per quarter. As of September 30, 2012, Clearwire had current liabilities of $498.5 million or a rise of 78% compared to September 30, 2011. Net current assets that can be used for future operations was $841 million ($1,339.5 million of current assets less $498.5 million of current liabilities).
It seems like the company has enough working capital to survive for another four or five quarters at most. This leaves the end of 2013 as a deadline when Clearwire's management should make a major decision about the way the company is going to take.
While Clearwire was able to add retail customers in the past quarter, its retail service is still more expensive than that provided by the major internet service providers. For example, you can get AT&T U-Verse internet for $32 per month compared to Clearwire's basic home internet plan of $35 per month. If Clearwire wants to attract more customers from the established companies, its price needs to be at least as competitive as the major and better known internet providers. A step in the right direction, that should also help the company with its marketing, was Clearwire's decision on November 5, 2012, to offer free 30-day internet service to small and medium sized businesses in New York City impacted from hurricane Sandy.
Which Way?
Since Clearwire went public in the beginning of 2007, its common stock has declined by over 90% (see graph). In addition, during 2007, 2008, 2009, 2010 and 2011, Clearwire generated total net losses of about $2.2 billion and counting. A lot of things have changed over Clearwire's short life as a public company, but it seems that Sprint was one of the major beneficiaries in an unusual way. Sprint was able to utilize Clearwire's spectrum at a significant loss for Clearwire. If Clearwire's intention was to maximize profits and shareholders value, a logical step would be to raise the price it is charging Sprint. But raising the price to your largest shareholder, which is also operating at a loss, is certainly not healthy.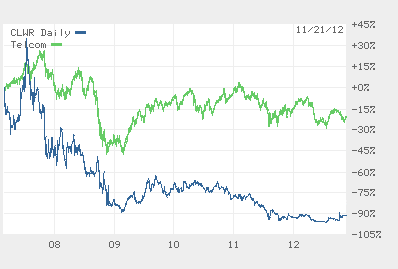 At this point, there are several ways Clearwire can take. The likeliest scenario is to be acquired by Sprint at a substantial premium to current prices. Sprint already owns more than half of Clearwire shares and following the Softbank investment it can afford bringing back Clearwire under its wing. Another option is for Clearwire to keep its contract with Sprint but sell itself to another technology company. Possible suitors include Cisco (NASDAQ:CSCO), Apple (NASDAQ:AAPL), Microsoft (MSFT) and Amazon (NASDAQ:AMZN). Cisco's recent acquisition of Meraki, a Wi-Fi/Wireless LAN solution provider for large enterprises, for $1.2 billion highlights its interest in gaining more control over the data highways. Amazon and Apple both provide 3G service to customers which purchase 3G devices and having their own spectrum is certainly desirable. Finally, Microsoft owns Skype and combining Skype with a company that owns spectrum could be a major competition to the current wireless and internet providers. It is also possible that Clearwire becomes more profitable, raises additional capital, and continues on its current path. However, a number of hedge funds have already become shareholders and hedge funds usually do not have a lot of patience with their investments.
Conclusion
If anything became more clear about Clearwire in the past few months, it is that the company is not going into bankruptcy. Sprint will clearly have the necessary capital to keep Clearwire on life-support for awhile. However, some kind of a company reorganization or a sale is likelier. Investors in Clearwire might have witnessed Sprint/Softbank establishing a put in the stock that might limit any downside in the stock price from current levels.
Disclosure: I have no positions in any stocks mentioned, and no plans to initiate any positions within the next 72 hours. I wrote this article myself, and it expresses my own opinions. I am not receiving compensation for it (other than from Seeking Alpha). I have no business relationship with any company whose stock is mentioned in this article.