Procter & Gamble Co (NYSE:PG) is a global market leader in retail goods. The company offers consumer packaged goods to customers worldwide. The products offered by the company are sold in more than 180 countries with operations in 75 countries. PG offers a wide range of products under different brand names and we believe it has a strong business model. However, in the last few years, the company has struggled to maintain its earnings and margins due to its business strategy.
Historically, the company has offered superior quality products and maintained premium pricing on average. The premium pricing has hurt the company's financial performance in recent years as consumer spending weakened due to the sluggish economic environment, especially in the developed markets.
As developed markets are going through an economic crisis for the last few years, these markets have offered slow growth to the company. Until recently, it failed to recognize the importance of emerging markets, which could have fueled the company's growth. However, emerging markets now contribute nearly 40% to the total revenue of the company. Earlier this year, the company gave its future plan in which it stated the company will be focusing on emerging markets targeting 10 key developing markets, including BRIC. The chart below shows PG's compounded annual net sale growth for BRIC in the last decade.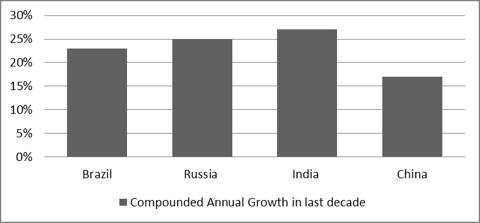 Source: pg.com
Moreover, the company is focusing on its core brands to increase volumes by product innovation and using innovative packaging. Under the plan announced earlier this year, PG will focus on its 40 biggest businesses and 20 new products. Also, the company has a plan to change its premium pricing policy so that it could address low consumer spending concerns and efficiently penetrate in emerging markets.
We believe as the company will change its pricing strategy, its margins will be hurt, which have already been adversely affected in the recent few years. However, the company is working on its cost-control initiatives, which are expected to result in savings up to $10 billion by the end of 2016, and margins for the company will improve in the medium-to-long-term horizon.
The charts below show the falling trend of EPS and margins for the company in the recent few years.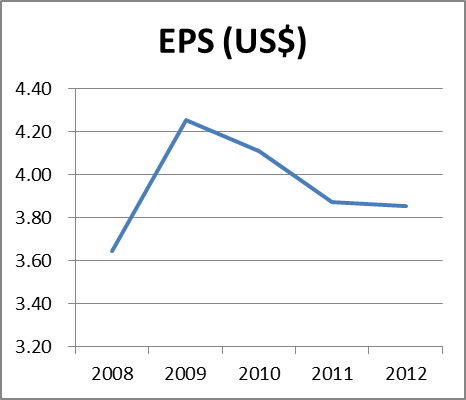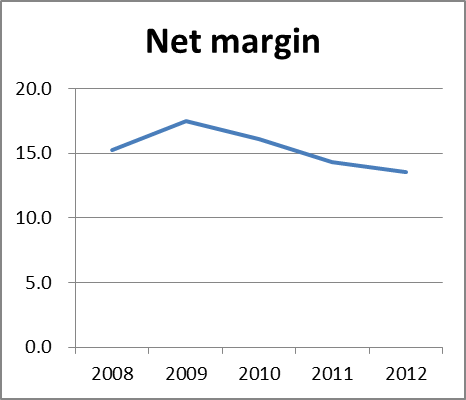 Source: Qineqt's calculations
Since 2009, the company's financial performance has been dissatisfactory as evident by the charts above. However, we believe that PG will experience improvement in its financial performance under the future plan announced earlier this year.
Last month, the company announced quarterly results, which displayed a better performance than what was expected by the analysts. Core EPS for the quarter was $1.06 up 5% YoY, beating analyst expectations by $0.10. The company experienced organic top-line growth of 2%. As the company has a significant international exposure its financial results were adversely affected by the strengthening of the dollar. Currency headwind resulted in 6% lower revenues for the company in the recent quarter. Four of five business segments of PG experienced organic sales growth.
Better financial performance by PG in the recent quarter has strengthened the position of the company's CEO, who has been under pressure because of a weak financial performance in recent years.
As PG operates in highly competitive markets, it offers low growth to investors. This makes dividend yield an important catalyst for the company's stock price. Currently, the stock offers a decent dividend yield of 3.4%, slightly lower than its competitor's average of 3.5%. PG has a free cash flow yield of more than 5% indicating that the dividends offered by the company are sustainable.
| | | | |
| --- | --- | --- | --- |
| | PG | Kimberly-Clark Corporation (NYSE:KMB) | Unilever plc (NYSE:UL) |
| Forward P/E | 16x | 15.5x | 16x |
| Gross Margin | 50% | 33% | 43% |
| Debt to Equity | 50% | 120% | 93% |
| Dividend Yield | 3.4% | 3.5% | 3.5% |
Source: Yahoo finance
PG is trading at a fair value if we compare its forward P/E which is in line with its competitors. However, the company has higher gross margins and a lower debt ratio than its competitors, which makes it an attractive stock.
PG has a forward P/E of 16x, which is lower than its own five-year average of 17.5x. If we use this average and next fiscal year's earnings estimate of $4.3, we get a price target of $75. This gives an upside potential of more than 12%.
For the bull case scenario, if we use a high end of the earnings forecast of $4.5 for the next fiscal year, we get a price target of $80.
5 years Average P/E of PG

PG - Estimated 2014 EPS

Price Target
(Avg P/E *estimated 2014 EPS)

Base Case

17.5x

$4.3

$76

Bull Case

17.5x

$4.5

$80
Source: nasdaq.com and Qineqt's calculations
DCF:
Using the free cash flow estimates until 2015 and a 5% WACC (using cost of equity of 5.1% and cost of debt of 5%) for the valuation purpose, we get a price target of $84 per share. Furthermore, we have used the terminal year growth rate of 0.55%.
| | | | | |
| --- | --- | --- | --- | --- |
| | 2013 | 2014 | 2015 | Terminal Value of FCF |
| Estimated Free Cash Flow | $9,283 | $11,063 | $12,490 | $279,082 |
| Present Value | $8,840 | $10,034 | $10,789 | $241,081 |
Total Value to firm = 8,840+10,034+241,081=$260,000 million
Total Debt= $31,000 million
Total Value to firm - Total Debt = Total Equity value
$260,000 - $31,000= $229,000
Share Outstanding = 2,730 million
Target Price = Total Equity Value/Share Outstanding
$84 = $229,000/2,730
Conclusion:
We are bullish on the company's business model and believe that if the company will implement its business plan (cost control initiatives and increasing emerging market exposure) announced earlier this year, it will help the company in improving its net sales and margins in a medium-to-long-term horizon. We might observe margin contraction in the short term as the company will readjust its pricing strategy. However, the long-term prospects from the margins' front look bullish. It offers a decent dividend yield of 3.4%. Therefore, we recommend investors with the medium-to-long-term horizon to buy the stock.
Risks:
The currency headwinds stand as a key risk for the company's top and bottom lines, as PG has significant international exposure.
Disclosure: I have no positions in any stocks mentioned, and no plans to initiate any positions within the next 72 hours.
Business relationship disclosure: The article has been written by Qineqt's Consumer Staples Analyst. Qineqt is not receiving compensation for it (other than from Seeking Alpha). Qineqt has no business relationship with any company whose stock is mentioned in this article.