On November 12th the International Energy Agency released its annual publication World Energy Outlook 2012. The report compiles all the latest energy use and production data from around the world and then presents updated projections out to 2035 for future energy demand and production. This year's report created some startling news by speculating the United Sates would become the world's largest oil producer by 2020. Some used the news to proclaim the coming energy independence of the United States, while others, mostly peak oil theorists, ridiculed the report as unrealistic.
While the news on United Sates oil production garnered most of the attention, the report also made other projections that a long-term investor should pay heed to. While one can speculate on the accuracy of some of the specific numbers, the trends in some areas are undeniable. I have read the Executive Summary of this year's World Energy Outlook 2012, as well as BP's (NYSE:BP) Energy Outlook 2030 and Exxon's (NYSE:XOM) A View To 2040. All three of these reports agree on certain long-term trends that a patient long-term investor can benefit from. I will share some of these trends with you and then provide what I think are investment actions one should take to benefit from the trend.
Trend - World energy demand will continue to grow and fossil fuels will remain the dominant energy source. The IEA sees world energy demand growing by more than 33% through 2035 and oil will still be in demand. The IEA states "Growth in oil consumption in emerging economies, particularly for transport in China, India and the Middle East, more than outweighs reduced demand in the OECD, pushing oil use steadily higher." The report also states the number of vehicles on the road is set to double to 1.7 billion by 2035, led by increasing demand for road freight. Finally, the report projects world oil demand to be 99 million barrels a day, up from the 87 million barrels a day it is now.
The chart below shows the share of fuel BP predicts in its 2030 Energy Outlook will be used in 2030, which I compare to what the IEA states was used in 2006, surprisingly things do not change that much. Keep in mind that the percentage in 2030 is from a larger total energy use base, thus 25% in 2030 will be larger than 25% in 2006.
| | | |
| --- | --- | --- |
| Type of Energy | 2006 | 2030 |
| Renewable | 1.7% | 6.3% |
| Nuclear | 5.7% | 6.0% |
| Hydro | 6.24% | 6.8% |
| Coal | 28.02% | 27.7% |
| Natural Gas | 23.35 | 25.9% |
| Oil | 35.27 | 27.2% |
Investment Action - With world energy demand growing and oil along with natural gas continuing to be dominant energy sources, everyone should own an international oil company. Buy Exxon Mobil, Royal Dutch Shell (NYSE:RDS.A) or Chevron (NYSE:CVX).
Exxon Mobil - Exxon Mobil is a direct descendent of John D. Rockefeller's Standard Oil and is the world's largest publicly traded integrated oil and gas company. Exxon has operations around the world including oil and gas exploration, chemical plants, pipelines, refining, and product distribution. Exxon Mobil is the largest non-government owned producer of oil and gas in the world. XOM has 24.9 billion oil equivalent barrels of resource and has replaced all of its production for 18 straight years. Exxon has a number of large-scale projects about to come on-line or in development, such as the Kearl Oil Sands project in Canada which at full production will produce 500,000 barrels per day. In the Gulf of Mexico, Exxon has two large fields, the Julia Field which holds at least 700 million barrels of recoverable oil and the Hadrian Field which holds another 700 million barrels of oil. XOM also has a joint venture with the Russian oil company Rosneft to explore the Kara and Black seas. In the United States, Exxon has added a large amount of shale oil acreage and is also the largest producer of natural gas.
From 2007-2011, XOM generated $146 billion in free cash flow, which is more than Royal Dutch Shell, BP, and Chevron combined. This cash flow allows Exxon to pay the dividend, buy back stock, and fund investment opportunities. Exxon Mobil is Dividend Champion, having raised its dividend for 30 straight years. Currently yielding 2.8% with a low payout of 22%, an investor can expect dividend raises long into the future.
More on Exxon Mobil here.
Royal Dutch Shell - Headquartered in The Hague, Netherlands, Royal Dutch Shell is a group of energy and petrochemical companies that operate in over 80 countries. The upstream divisions explore for and extract oil and natural gas from fields all over the world. The downstream division refines, supplies, and ships crude oil as well as liquefied natural gas. Shell produces 3.2 million barrels of gas and oil every day. Shell has attempted to improve its environmental performance by investing $2.5 billion on alternative energies and carbon capture over the last five years. Like XOM, Shell has an oil sands project in Canada, the Athabasca Project. Production from Shell's oil sand project is at 255,000 barrels a day, with expansion planned for an additional 200,000 barrels a day. Shell also has a deep water project off the coast of Brazil and has been expanding its shale oil acreage in the United States. Unlike Exxon, Shell has an alternative energy division which includes investments in wind farms.
Shell pays a healthy dividend of $2.92 for a yield of 4.7% and has a payout ratio of 34%. Shell previously had a policy of raising its dividend in-line with inflation, but changed that in 2010 to a policy of raising the dividend in-line with Shell's underlying earnings and cash flow. Shell management has forecast free cash flow of $200 billion for 2012 through 2015, which should lead to nice dividend increases. Shell unlike most other companies also has a "Scrip Dividend Program" which allows investors to take their dividend in shares rather than cash.
Shell has had to take write-downs for its investment in U.S. shale gas as natural gas prices have remained very low and has had problems in Nigeria with disruptions to its oil production. Despite these hurdles, Shell remains a solid company with huge oil and natural gas reserves. With a low P/E of 7.8, a healthy rising dividend and periodic share buybacks, Shell should prove rewarding would for long-term investors.
More on Shell here.
Chevron - Is one of the world's largest energy corporations with operations in more than 180 countries. Like Exxon and Shell, Chevron has both upstream and downstream operations, including oil and natural gas production, refining, chemicals and transportation. Like Shell, Chevron also has a renewable division and is the largest geothermal producer in the world.
Chevron forecasts it will improve its total production to 3.3 million oil equivalent barrels a day, a 4% to 5% a year increase from 2014 through 2017. Chevron is a little more linked to oil than Shell or Exxon as it has not invested as heavily into natural gas as XOM or RDS. Being more heavily weighted to oil, Chevron's margins are higher than Exxon's or Shell's. However, Chevron has increased work in the liquefied natural gas area, especially in Asia. CVX has added millions of acres in the last few years for possible future production in areas such as China, Australia, Norway, and the Black Sea. As with Shell and Exxon, Chevron has a significant exploration effort ongoing in the various U.S. shale projects. Chevron has a growing portfolio of future projects and as such should see production growth for years to come.
In Fiscal Year 2011, Chevron reported record free cash flow of $41 billion and its free cash flow growth has outpaced all of its peers. Chevron has increased its dividend 24 consecutive years, currently paying $3.60 a share with a yield of 3.5%. Like XOM and RDS, CVX has a low payout ratio of 28%. In an effort to improve margins, Chevron is reducing its refining footprint and focusing more on upstream production efforts which have higher margins. Chevron is not without risk, as it is locked in an ongoing legal battle with Ecuador over the dumping of toxic water into the rainforest and faces fines from Brazil for an oil spill in the deep water off the coast of Brazil.
More information on Chevron here.
Trend summary
Almost all future energy forecasts predict growth in oil and natural gas use. The world's population is growing, people who have lived in poverty are slowly ascending to a higher living standard and are demanding the conveniences many of us take for granted, like heat, light, and transportation. Although renewables will continue to grow, the growth will not be enough to offset the growth in energy use in developing nations. The world is going to need oil and natural gas for a long time, unfortunately access to oil and natural gas is getting more difficult as the resources are getting more difficult and expensive to find and produce.
I have highlighted the three companies above, because they are the dominant players in the energy business. All three have operations around the world, deep pockets, outstanding engineering, and a portfolio of future projects lined up for years to come. I expect all three to be pumping oil and natural gas in 2030 and beyond. I also expect all three to continue raising their dividend and buying back shares for years to come. I currently own XOM, but if someone were to tell me they owned Shell or Chevron, I would not think he or she was wrong, because all three are relatively cheap, with single digit P/Es, all three generate loads of free cash, and all three reward shareholders. At times trying to see the future is difficult, but with energy it's easy to see the world will continue to need more, so see the future and buy an international oil company.
Trend - Natural gas is set to become the most widely used fuel in the United States by 2030. The IEA report states, "In the United States, low prices and abundant supply see gas overtake oil around 2030 to become the largest fuel in the energy mix." The technology to unlock shale gas has created upheaval throughout the United States. Utilities have increased use of natural gas power plants, some communities have switched their bus fleets to natural gas, trucking companies have switched some vehicles to natural gas, manufacturing plants are expanding to make use of the low cost natural gas as feed stock and plans are in the works to build LNG export facilities.
The map below shows the various shale gas plays throughout the United States. As you can see, the shale gas locations are not necessarily located near population centers (Map courtesy of the Energy Information Agency.)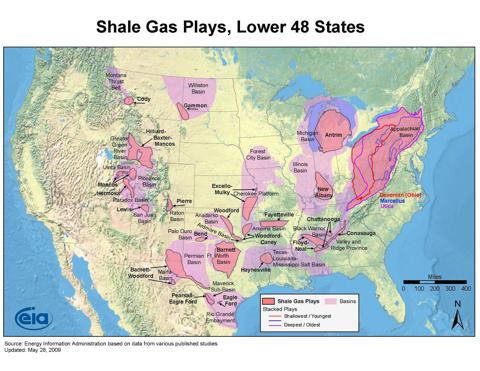 Investment Action - Buy a pipeline company. The shale gas plays will continue for years to come, as will the shale oil and tight oil plays that are just now getting started. This revolution will require pipelines to get the oil and gas to the markets where it is needed. The Bakken in North Dakota is a perfect example of an area that is rich in resources, but without an efficient way to get the product to market. Without adequate pipelines, the oil has been trucked and railed to refineries for processing, which simply is not the most efficient mechanism for shipping. Pipelines are now being built in the Bakken area which will aid producers in getting their product to the refiners. The United States is rich in fossil fuel resources; the key will be getting those resources to the refiners and then to where the users are.
The majority of pipeline companies operate as MLPs (Master Limited Partnerships) which are not set-up like your everyday corporation. If you're not familiar with MLPs, you can find an explanation here. There are many pipeline companies, but I believe the two best also happen to be the two biggest.
Kinder Morgan (NYSE:KMI) - Kinder Morgan is the largest midstream and the third largest energy company (based on combined enterprise value) in North America. Kinder Morgan owns or operates approximately 75,000 miles of pipelines and 180 terminals. The pipelines transport natural gas, refined petroleum products, crude oil, carbon dioxide (CO2) and more. Kinder Morgan also stores at its terminals, gasoline, jet fuel, ethanol, coal, petroleum coke, and steel.
Kinder Morgan has four publicly traded entities, depending on the investor's goal; I believe three of the four are fine investments. Kinder Morgan is the General Partner and owns the Incentive Distribution Rights to the other Kinder Morgan companies. As the General Partner, KMI has few capital expenditures, it is the manager of the companies and collects a fee for the management services. KMI pays regular dividends and is an appropriate vehicle for tax deferred accounts. KMI currently yields 4.3% and has communicated it intends to raise its dividend 12.5% a year through 2015 and 10% long term.
Kinder Morgan Energy Partners (NYSE:KMP) is the largest MLP pipeline and storage company in the country. The pipelines transport various products, like oil, natural gas, CO2, and jet fuel. The pipelines are like toll roads; shippers sign long-term contracts to have their product transported through Kinder Morgan's pipelines and pay a fee based on the amount of product transported. As an MLP, KMP pays a distribution, not a dividend and as such the tax consequences are different. Owners of KMP will receive a K1 form that details your taxable income. Although there is some debate, I believe MLPs are not suitable for tax deferred accounts because it is theoretically possible you could end up having to pay tax on the investment even though it's in a tax deferred account. For readers wanting more information concerning MLP taxation issues, Seeking Alpha contributor, Richard Shaw, has written an excellent article that you can find here. KMP currently yields 6.3% and management has indicated they intend to raise the distribution approximately 7% a year.
Kinder Morgan Management (NYSE:KMR) has the exact same assets as KMP, the only difference between the two entities is that owners of KMR receive a dividend paid in shares. The dividend paid in shares is equal to the KMP distribution. KMR is for investors who like the high yield KMP offers, but want their investment in a tax deferred account. By receiving a dividend in shares, rather than a cash distribution, an investor avoids all the K1 accounting issues. Historically, despite having the same assets as KMP, KMR has sold at a discount to KMP. As I write this, KMR sells at a 9% discount to KMP.
El Paso Pipeline Partners (NYSE:EPB) is the last of the Kinder Morgan entities. El Paso Pipeline Partners was acquired when Kinder Morgan acquired El Paso for $38 billion (including debt) in October, 2011. EPB has natural gas pipelines, gas storage facilities and an LNG terminal. EPB's assets are much smaller than KMP's and I believe EPB will eventually be absorbed by KMP. At the third quarter earnings conference call, an analyst asked if Kinder Morgan is considering absorbing EPB. Kinder Morgan management responded they do believe absorbing EPB would simplify the company and management discussions have taken place on the topic. Management added they were looking for a way to make it profitable for holders of EPB as well as holders of KMP. As such, I don't believe Kinder Morgan management will add too many assets to EPB, as it would not make sense to add assets to the EPB entity and then absorb them back into KMP later. I think the majority of future drop-downs will end up with KMP, making KMP the superior investment going forward, therefore I would avoid EPB.
It's very difficult to write about the Kinder Morgan companies and make it simple. With the recent acquisition of El Paso, the company structure is even more complicated than normal. What a reader should take away from this short write up is that Kinder Morgan is:
The largest natural gas pipeline and storage operator in the U.S.
The largest independent transporter of refined petroleum product in the U.S.
The largest independent terminal operator in the U.S.
The largest transporter and marketer of CO2 in the U.S.
The only oilsands pipeline serving the West Coast of Canada
Has identified $11 billion in potential growth products over the next 5 years
Has a long history of paying attractive dividends/distributions and increasing those payouts.
In my opinion, Kinder Morgan has the best assets in place to take advantage of the coming expansion of natural gas use. Investors looking to benefit from the push to natural gas should research Kinder Morgan and determine what investment vehicle fits their needs. Richard Kinder has rewarded his shareholders for a long time and I believe he will continue to do so.
More information on Kinder Morgan can be found here.
Enterprise Products Partners (NYSE:EPD) - Enterprise Product Partners is the largest publicly traded energy partnership with an enterprise value of $62 billion. Enterprise's integrated midstream energy infrastructure serves producers and consumers of natural gas, NGLs, crude oil, petrochemicals, and refined products. EPD transports over 4 million barrels per day of natural gas liquids, crude oil, refined products, and petrochemicals and 14 billion cubic feet a day of natural gas.
If you listen to an EPD conference call, you constantly hear them say "we are a builder of systems, not a collector of assets." Many MLPs have a pipeline over in one part of the country and some other pipelines in another area, with storage facilities in yet another location. Not Enterprise; everything it builds is connected to something else it owns. EPD will transport natural gas liquid from the production field through their pipeline and deliver it to an Enterprise owned fractionator which will heat the liquid into pure products like, ethane, propane, normal butane, isobutene, and natural gasoline. The finished products are then shipped through another EPD pipeline to the customer. Enterprise was involved every step of the way and Enterprise was paid at every step.
Enterprise's assets include:
50,700 miles of natural gas, NGL, crude oil, refined products and petrochemical pipelines,
190 million barrels of NGL, refined products and crude oil storage capacity as well as 14 billion cubic feet of natural gas storage capacity
25 natural gas processing plants
21 fractionators
6 offshore hub platforms
NGL import/export facilities
All of these pipelines and facilities are interconnected to provide EPD with a steady fee based stream of cash which leads to increased distributions for unit holders.
Unlike Kinder Morgan, Enterprise's corporate structure is very simple; there is Enterprise Products Partners and nothing else. No General Partner to pay Incentive Distribution Rights to, no sister stock that pays stock dividends instead of cash distributions, just the limited partnership and nothing else. This benefits the unit holders because with no Incentive Distribution Rights payments to make, more income is shared with the unit holder.
Enterprise has increased its distribution 33 straight quarters, recently raising the quarterly payout to $0.65 per unit, an increase of 6.1% from the previous year. Yielding 5.1% EPD has richly rewarded its long-term shareholders with a total return of 31% over the last three years. With a number of large growth projects to be completed over the next few years, EPD should continue to increase its distribution and reward shareholders for years to come. With the market in decline over the last few weeks EPD has seen its share price decline to $51.69, below its recent secondary offering price of $53.07. I consider $51.69 a bargain and an excellent entry point for anyone interested in owning this well run company. I believe EPD is the best run midstream partnership, better than Kinder Morgan. However, EPD, being an MLP, does not allow me the opportunity to own it inside a tax deferred account without the tax hassles associated with K1s etc.
More information on Enterprise Product Partners can be found here.
Trend Summary
The United States is in the early stages of an energy revolution, the IEA states, "Energy developments in the United States are profound and their effect will be felt well beyond North America - and the energy sector. The recent rebound in US oil and gas production, driven by upstream technologies that are unlocking light tight oil and shale gas resources, is spurring economic activity." The production of all these newly available resources will require pipelines to move the products to markets. The two companies I mentioned in this article are the two biggest pipeline operators in the country; as such, they can use the vast pipeline networks they already own to connect to new pipelines, or to expand an existing pipeline to a new market. They also have the financial muscle to acquire another smaller operator if needed. Both companies would make excellent additions to a dividend growth portfolio as they have a strong history of steadily raising their dividend and should continue raising the dividend long into the future.
Some forecasters have projected the United States could become energy independent somewhere around 2025. It would take efficiency gains, increased use of renewables, and continued increased development in domestic energy resources. Looking out to 2025, I don't know if the U.S. will be energy independent, I do know vast amounts of oil, natural gas, and the various products made from these resources will be flowing through pipelines. Investors looking for healthy growing yields and capital gain should add a pipeline company to their portfolio.
Final Thought
Buy and monitor dividend growth investors look for companies that have products a person or society requires and that will be needed long into the future. Oil and gas production, and oil and gas transportation will be needed for as far as my eyes can see. I believe every portfolio should have some exposure to the oil and gas industry because energy is a basic human need and in the future, that need is going to grow.
Disclosure: I am long XOM, KMI. I wrote this article myself, and it expresses my own opinions. I am not receiving compensation for it (other than from Seeking Alpha). I have no business relationship with any company whose stock is mentioned in this article.