I am getting incrementally bullish on the investment thesis underlying Allscripts (NASDAQ:MDRX). Allscripts, which is the nation's leading electronic health records (EHR) and e-prescribing player, recently merged with Misys Healthcare (a unit of UK-based Misys plc), itself a major player in the practice management systems (scheduling/billing) arena. The deal was announced back in March and closed on October 10th.
On Monday, Allscripts was in New York City presenting their story to the street as well as explaining the rationale behind the deal. Here are some quick notes I put together; as readers will see, the opportunities for this company are many and large in dollar terms,and assuming management can execute operationally on this merger's proposed synergies, the shares should rebound once the overall market recovers in 2009.
Investors with a 24 month outlook, at least, may want to model MDRX out for themselves and scale into a position at the currently depressed price level.Obviously, beta risk is insanely heightened right now, but health care should provide relative outperformance in these turbulent times given weak correlation with macroeconomic shocks and the propensity of most HC companies to avoid leverage
Rationale for Doing Deal
The combined company will have a physician base of 150,000 and 700 hospitals and aim to help physicians provide better care for their patients. Management is looking for a $715M top line number for the year, 50% of which should be recurring. Misys was especially interested in using Allscripts to lessen its dependence on Western Europe banking customers and Allscripts, meanwhile, saw in Misys a large installed base of physicians to cross sell its clinical software. Within that base, only one third currently have EHR. 
Execution Strategy
MDRX CEO Glen Tullman noted that the Misys/Allscripts integration is well underway, with a 13 team and 230-member salesforce already trained on the cross-selling opportunities and company-wide prerogative to support existing products. MDRX wants to make life for customers easier. As Tullman joked, "our customers want one throat to choke." I expect margins to continue to come under pressure in 2009 buy should stabilize in 2010 as the merger synergies begin to materialize and they spread their overhead over a larger sales base. 
"Big Picture" Investment Drivers
Information technology in health care is on everyone's mind as the election nears; no matter who ends up in the White House, management thinksthe push for health care reform will benefit their business: containing medical costs is the biggest health care policy the US has to wrestle with. Politics aside, the aging population and escalating costs of health care (17% of GDP and more on a per capita basis than any other country although we rank far from highest in terms of quality) will drive demand for MDRX services.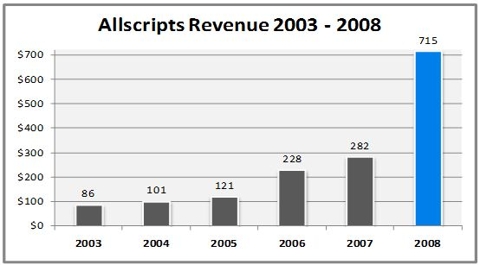 It should be no news to anyone that physicians in the US are spending more time doing paperwork than they are helping patients; moreover, preventable medical errors result in an estimated 100,000 deaths every year (1.5 million adverse drug events and $880 million in unnecessary expenses). The Rand Corporation estimates that IT like Allscripts' software has the potential to save health care stakeholders as much as $162B a year. In the US, 70% of the physicians practicing have yet to deploy EHR, a $5B market opportunity for MDRX, which dominates the ePrescribing space in terms of users and script volume.  
Adoption Made Easier
80% of HC spending begins with the physician.MDRX will likely benefit from the Medicare Improvements for Patients and Providers Act of 2008 (HR 6331) passed by Congress. This Act incentivizes physicians to implement ePrescribing. Physicians who begin now will see a 2% increase in Medicare payments for 2 years while physicians who do not will see a 1% cut beginning in 2011 and a 2% cut after 2013.
Beginning to Think About Valuation
Every industry in the, US, except health care, has utilized IT to cut costs, improve quality, and facilitate delivery. But that is rapidly changing, and MDRX is in the sweet spot of the market. As health care delivery in our country becomes increasingly automated, MDRX will enjoy the benefits of being the go to player in this field and most recognized EHR brand among physicians. My next goal will be to find a floor valuation for this stock and I will post that as soon as I am done. Prospective investors should keep in mind that a 17-22x PE is not unreasonable for this company and that management is using "conservative" estimates in what they are providing analysts. Assuming MDRX hits its 2008 EPS target and we use an industry mean P/E of 17, the stock has at least $2 dollars in upside.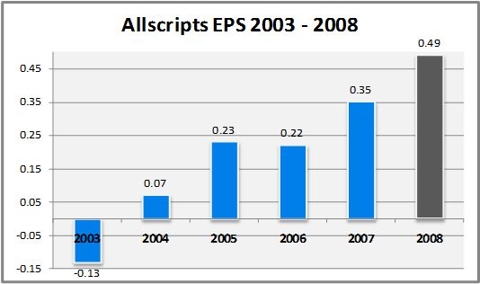 Disclosure: none