Rio Tinto plc (NYSE:RIO) is one of the largest mining companies in the world. The company has major interests in copper, iron ore, aluminum, coal, borax, and mineral sands, and lesser exposure to gold and diamond. Iron ore and copper accounted for 46 per cent and 12 per cent of the company's revenues respectively in 2011. The company's world-class operations are located in North and South America, Indonesia, Australia, Europe, and Southern Africa.
The company recently released its production data for the third quarter. This quarter proved to be a good one for all important iron-ore business with production hitting record levels at Pilbara. The iron-ore production of 52.6MT was up 8 per cent sequentially and 6 per cent YoY. Pilbara production was 62.9MT (Rio's share 50MT) up 7.9 per cent QoQ and 5.1 per cent YoY.
Shipments were 1.9MT less than production as the company continued to build inventory to prepare itself for expansion to 283MTPA. Year-to-date, the company has delivered 74 percent of the total iron-ore production guidance of 250MT for 2012.
Copper production, on the other hand, fell 1 per cent QoQ, but increased 21 per cent YoY. The company expects production to further increase in the last quarter on the back of a grade improvement.
We have a bullish stance on RIO. The company's strong growth, low-cost and low-capex intensity give RIO an advantage in the flat/declining commodity prices and rising costs environment. Capacity is on the track to increase from 230MTPA to 353MTPA by mid-2015 in Western Australia's iron ore operations. Moreover, the world-class Oyu Tolgoi copper and gold project should also start commercial production before mid-2013. We expect higher iron-ore production to drive the future earnings. The company also has a strong balance sheet as is evident from its gearing ratio of 18 per cent compared to 27 per cent of BHP Billiton Limited (NYSE:BHP), and the management also has a prudent approach towards capex. All these reasons make RIO a good investment, especially if one is bullish on a rebound in metals and mining stocks.
We believe iron-ore prices will increase in the near term before reverting back to their long-term average as supplies increase. However, in the short-term, a further recovery should see Rio outperform its larger peer, BHP. Analysts expect average iron-ore price of $120/t for 2013 and $118/t for 2014. On the other hand, copper prices are expected to increase to $3.9/lb in 2013 from $3.5/lb today.
Even with lower prices going forward, the capacity growth and low-cost operations of RIO support our analysis.
Lights on at Oyu Tolgoi:
Oyu Tolgoi (the partnership between Rio Tinto and Turquoise Hill) has signed a binding power purchase agreement with the Inner Mongolia Power Corporation to supply power to the Oyu Tolgoi mine. Thishas been waited for long and was critical to enable commissioning of the operations. The company is expected to start commercial production by mid-2013.
The agreement reads that Turquoise has the right to acquire electrical power from both internal and external sources, including China for up to 4 years after the commercial production; however, after four years all the power requirements must be sourced from within Mongolia. The contract also allows Turquoise Hill to build or subcontract construction of a coal-fired power plant at an appropriate site in Mongolia's South Gobi Region to supply power to Oyu Tolgoi. Turquoise Hill continues to evaluate the development of a dedicated power plant.
According to UBS, based on the reserves only, the project has an NPV of $6.8 billion and an IRR of 17 per cent.
Financials:
Sales, after growing by a whopping 37 per cent in 2010, only grew by 40bps last year and this year the sales growth is expected to be negative. However, the sales are expected to grow at a healthy pace in 2013 and 2014. According to Citi analyst, the sales are expected to grow by 20 per cent next year and by 12 per cent in 2014.
As you can see from the chart below, both the company's gross profit and EBIT margins have been increasing in the past couple of years; however, the net profit margin, after increasing to 28.7 per cent in 2010, the highest in the last five years, dropped to 9.6 per cent last year.
RIO's margin (%) in the past five years
Similar to the net profit margin, RIO's EPS also declined to $3.12 in 2011 after surging to $7.3 in 2010.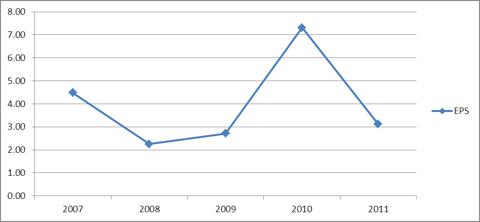 RIO's EPS in the last five years
The company also has a strong balance sheet. Back in 2007, debt was 190 per cent of the equity; the company reduced it down to 42 per cent of equity by the end of 2011. According to the Citi analyst, RIO will reduce the debt down to only 15 per cent of the equity by 2014.
The company is also trading at cheap valuations compared to its peers. It has a P/E ratio of 6.8x and PEG ratio of 0.47x. RIO has a dividend yield of 3.1 per cent; however, as you can see from the chart below the company's average-dividend yield for the past five years has been 1.7 per cent. The company has a float ratio of 100 per cent; all of company's stocks are freely available to public.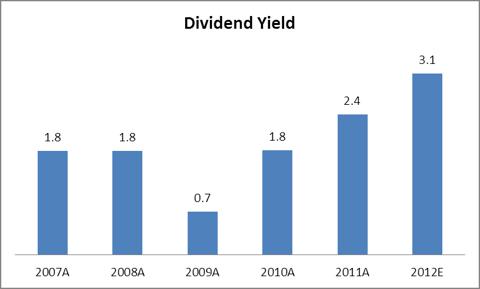 | | | | |
| --- | --- | --- | --- |
| Comp Sheet | RIO | BHP Billiton Limited | Vale S.A (NYSE:VALE) |
| Forward P/E (1 year) | 6.8 | 12.8 | 7.1 |
| PEG ratio (5 year expected) | 0.47 | 1.6 | N/A |
| EV/EBITDA (NYSE:TTM) | 4.6 | 6.4 | 5.3 |
| Dividend yield | 3.10% | 3.30% | 3.60% |
| Long-term earnings growth rate | 17.00% | 6.30% | N/A |
| Share price Performance (YTD) | -8.00% | -6.00% | -25.00% |
Source: Yahoo Finance
Conclusion:
We think that the volume growth combined with cheap valuations, a strong balance sheet and low-cost operations give RIO a competitive advantage and make us bullish on the stock.
Disclosure: I have no positions in any stocks mentioned, and no plans to initiate any positions within the next 72 hours.
Business relationship disclosure: The article has been written by Qineqt's Basic Material Analyst. Qineqt is not receiving compensation for it (other than from Seeking Alpha). Qineqt has no business relationship with any company whose stock is mentioned in this article.