Do you worry about volatility when considering stocks? One idea is to keep in mind is a stock's historical correlation to volatility. Stocks that are highly correlated may have been treated as "safe havens" for uncertain times.
We ran a screen on stocks trading under $5 for those that are highly positively correlated to volatility, as measured by the VIX index, over the last two months. This means that these stocks have historically tended to move up as volatility spikes.
Interactive Chart: Press Play to compare changes in analyst ratings over the last two years for the stocks mentioned below. Analyst ratings sourced from Zacks Investment Research.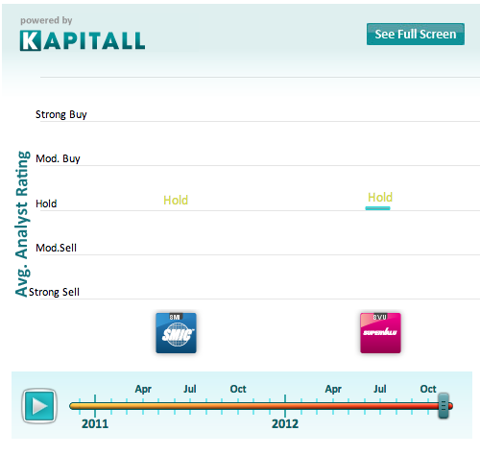 Do you think volatility is ahead for the market? Use this list as a starting point for your own analysis.
1. Semiconductor Manufacturing International Corp. (NYSE:SMI): An investment holding company, engages in the computer-aided design, manufacture, packaging, testing, and trade of integrated circuits. Market cap at $1.46B, most recent closing price at $2.28. Correlation with the VIX index at 0.501 over the last 60 days.
2. SUPERVALU Inc. (NYSE:SVU): Operates retail food stores in the United States. Market cap at $570.07M, most recent closing price at $2.67. Correlation with the VIX index at 0.571 over the last 60 days.
*Price data sourced from Yahoo! Finance, all other data sourced from Finviz.
Disclosure: I have no positions in any stocks mentioned, and no plans to initiate any positions within the next 72 hours.
Business relationship disclosure: Kapitall is a team of analysts. This article was written by Sabina Bhatia, one of our writers. We did not receive compensation for this article (other than from Seeking Alpha), and we have no business relationship with any company whose stock is mentioned in this article.