Have you ever watched a stock rise and just wished it would pull back? Then, it did and you didn't buy because you were nervous about the price dropping? Don't make that mistake here with one the best performers over the past few years: Apple (NASDAQ:AAPL). Despite a drop in price, Apple is stronger than ever.
Here's the current chart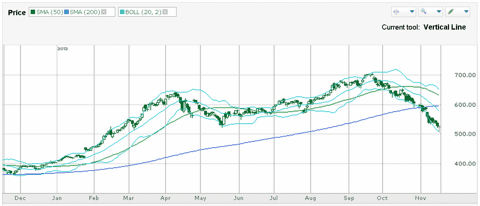 What happened? After hitting $700/share, Apple started declining, and this accelerated with their earnings report on October 25, 2012. There were concerns about gross margins, as well as sales momentum in both the iPhone and the iPad and perhaps a lack of innovation moving forward. Can we account for these uncertainties before investing?
Analysts are predicting gross margins to decline with the introduction of the iPad Mini. Since the Mini is less expensive, there just isn't as much profit to be had compared to the premium iPad . While GMs are important, keep in mind what is happening here: the iPad Mini is designed to appeal to more bargain oriented customers, ones that are currently interested in cheaper rival Android tablets. Increased sales to these consumers who might not buy an expensive Apple product could potentially make up for a small margin compression. Additionally, their purchase of a Mini gets these new customers involved in the whole Apple ecosphere of iTunes and related content and products. Many of these customers are younger, so getting them addicted to Apple now could have a big pay off down the road.
Another concern is that with Steve Jobs passing, there will be a lack of new products that could really drive new sales. However, let's not forget the Apple TV. Shortly before his death, Jobs claimed he had finally figured out TV after many years of trying. Although this hasn't materialized, this could be a big driver of growth going forward as people still watch plenty of television and this is another great way to draw customers into the integrated world of Apple products.
And Apple's current product line isn't chopped liver. Take a look at the Macintosh. It continues to inch into a Windows dominated market, gaining about 3/4 of 1% share over the last year to stand at 7.16% of the PC market and continuing a trend for the last 5 years (compare 2012 4th quarter to 2011 4th quarter). Macs are generally very profitable products. As for the iPad and iPhone, Netmarketshare.com shows a 5% increase in share for iOS systems form last year(compare 2012 4th quarter to 2011 4th quarter). As you can see, Apple products are still gaining traction and are generally recognized as products to beat.
Let's say though that Apple is not growing as fast as it was. That would mean you'd need a discount on AAPL shares to be safe, right? It's currently trading at 11.5 times earnings, which, while not expensive as say Home Depot (NYSE:HD) at 21X earnings or Wal-Mart (NYSE:WMT) at 14X earnings is still not as discounted as some other great companies like say Caterpillar (NYSE:CAT) or Chase (NYSE:JPM) at 8X earnings. But there's a caveat here with Apple and that's cash. Apple has about $128 per share of cash on their books and essentially no debt! Take that cash out and Apple is less than 9X earnings, and with a less cyclically risky business than Chase or Caterpillar. Amazingly for such a fast growing company, Apple is actually cheap.
I want to talk about one other intangible factor before looking at some analyst and technical info and that is strength of brand. Warren Buffett is a big believer in the power and recognition of a company's brand driving future earnings. It is one of the reasons he is so fond of Coca Cola (NYSE:KO). Apple has built a tremendous brand known throughout the world over the last decade, a brand synonymous with quality, service and innovation. Customers often come across as groupies, waiting for weeks to be the first to get new products. While it is hard to place a value on this factor, nevertheless, it should be considered.
Analysts are taking note of Apple's pull back. For instance, Jeffries just reiterated a $900 price target and addressed some of the Gross Margin questions. A recent note from the always respected Standard And Poor's just upgraded Apple to Strong Buy
11/14/2012
S&P UPGRADES OPINION ON SHARES OF APPLE (AAPL 537 *****) TO STRONG BUY FROM BUY:

AAPL has fallen 23% from an all-time high hit September 21, and we now believe it is a compelling value, especially as the holiday shopping season is about to begin.

We think AAPL will benefit from a number of recent product refreshes, including its key iPhone and iPad offerings. We also think the new iPad Mini will contribute to share gains. We acknowledge some slip-ups and management changes of late, but see the fundamental story as intact. We also believe AAPL could decide to allocate additional capital to dividends and buybacks. Our 12-month target price is $700./S. Kessler
Finally, in the technical analysis world, I saw an interesting graph from Credit Suisse (NYSE:CS). It showed Apple troughs around 10X forward earnings estimates. That would be around $500. CS has a price target of $750 for Apple.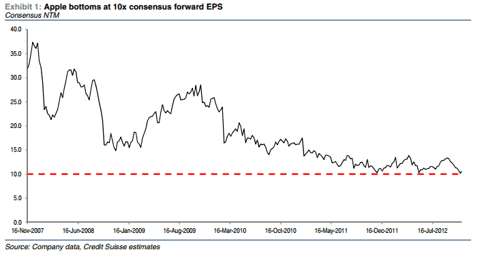 Also, for those of you familiar with the Relative Strength Index indicator, the RSI dropped to 24 on Nov 15. Under 30 is considered oversold, so 24 is well into the oversold range. I used that opportunity to buy Apple stock and write this article.
Don't let the pullback fool you; Apple is stronger than ever with massive amounts of cash, a worldwide brand of quality, no debt, and an exciting lineup of new and established products. It is even armed with a dividend now. This is a great chance to buy into one of the best consumer products and electronics companies in the world.
Disclosure: I am long AAPL. I wrote this article myself, and it expresses my own opinions. I am not receiving compensation for it (other than from Seeking Alpha). I have no business relationship with any company whose stock is mentioned in this article.
Additional disclosure: Initiated position in Apple on November 15th