On Friday, November 23, while many consumers were out shopping for the hottest new tablets and smartphones, Apple (NASDAQ:AAPL) filed a Motion seeking to add multiple Samsung (OTC:SSNLF) devices to its ongoing patent infringement claim before the U.S. District Court, Northern District of California (12-cv-00630). The addition involves devices running the Jelly Bean and Ice Cream Sandwich versions of Google's (NASDAQ:GOOG) Android operating system, including the Galaxy Note 2, Galaxy S III, Galaxy Tab and Rugby Pro. It is almost certain that the devices will be added to the lawsuit.
According to Apple's court filing, "these newly released products do infringe many of the same claims already asserted by Apple, and in the same way that the already-accused devices infringe." This is the latest step in an ongoing and escalating battle between these two market leaders in the smartphone and tablet markets. Just before Thanksgiving, Samsung filed a request for the iPad Mini, the fourth-generation iPad, and the fifth-generation iPod Touch to be included in its counterclaim.
Samsung previously moved to include the iPhone 5 in the case, as Apple released the device after the initial suit was filed. On November 15, the Court ruled that the iPhone 5 would be included. As a result of that prior determination, it is highly probable that these other Samsung devices will also be included in the matter, as will those other Apple devices. The case, filed in February of this year, is set to go to trial on March 31, 2014. Given that discovery in the case is scheduled to continue into the Summer of 2013, more devices may and up being added by both sides, provided they release any before then.
This summer, on a prior claim that was also filed in the Northern District of California (11-cv-01846), a jury found that Samsung infringed six Apple patents and awarded $1.05 billion in damages. See a copy of the jury's handwritten breakdown of damages per device: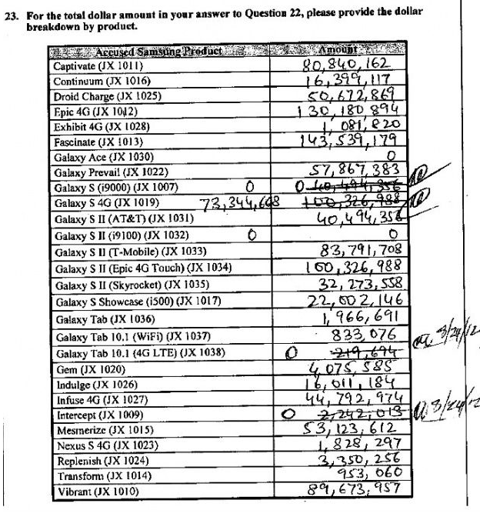 Apple subsequently asked the Court for a permanent U.S. sales ban on the infringing devices, while Samsung asked for the verdict to be set aside due to alleged juror misconduct. A hearing on these issues is scheduled is scheduled to occur on Thursday, December 6. The Court should make a determination on these issues well in advance of the new case's going to trial, and will likely attempt to persuade the parties to settle their claims
The prior lawsuit primarily involved exterior design patents, while the newer claim is more involved with software and user interface patents. Such matters may be bigger than Samsung, as they are more directly related to the operating systems (iOS versus Android). As a result, Google may be a necessary party to the resolution of at least some of the infringement claims being raised.
In the meantime, these unresolved patent disputes will add an extra layer of uncertainty to Apple shares, which trended lower between mid-September and mid-November, declining by over 20 percent and falling through their 200-day moving average. Apple's last leg up from $600 to $700 per share occurred following its Summer victory over Samsung, though the company has since surrendered all of those gains, and then some. See a recent performance chart for Apple: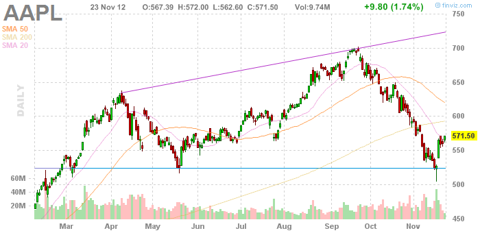 The setting aside of Apple's prior victory against Samsung would likely further hurt Apple's equity. Though the banning of the Samsung products at issue in the first claim sounds like a far worse fate for its competitor, the confounding issue of such a ban is that Samsung is largely done selling those devices. Instead, Samsung is now selling the newer devices that Apple now seeks to add to the newer lawsuit. Chances are that no new information or claims will be made by either side in advance of their December 6 hearing. Nonetheless, the heating up of the newer lawsuit is a concern for both sides, with the only certainty being a growing legal bill.
Disclosure: I have no positions in any stocks mentioned, and no plans to initiate any positions within the next 72 hours. I wrote this article myself, and it expresses my own opinions. I am not receiving compensation for it (other than from Seeking Alpha). I have no business relationship with any company whose stock is mentioned in this article.